29+ Fun Things to Do in Spokane, Washington [With Photos!]
This post may contain affiliate links. This means if you make a purchase, we may receive compensation at no cost to you. Please view our full disclosure policy for more information.
Are you looking for something to do, but just can't think of anything fun to do around Spokane? Lucky for you, we've been there, so we decided to put together a list of the best things to see and do in Spokane.
Spokane has scenic views, beautiful parks, fun indoor and outdoor activities, and plenty of walking trails. Whether you've lived here all your life or just moved here, we think we've come up with something for everyone! Here are some of our top 20+ things to do in Spokane, WA.
Looking for things to do this weekend in Spokane? Our events and deals in Spokane page will help you find something fun to do today!
Outdoor Things to Do in Spokane, WA
In the historic Manito neighborhood, Manito is the perfect place to take your family, your significant other, or your flower-loving friend for photos and a stroll around Mirror Pond.
1702 S. Grand Blvd
Spokane, WA 99203
The photos below are from fall and summer, but Manito is truly gorgeous to visit year-round!
One can find ponderosa aplenty alongside buttes of basalt in the state's second-largest state park. Sixty miles of winding, forested trails are just that close to downtown Spokane.
4427 N. Aubrey L. White Pkwy
Spokane, WA 99205
Not to be confused with Riverside State Park, Riverfront Park is right in the center of everything downtown. Riverfront boasts the Looff Carousel of 1909, Spokane Falls, the Pavilion (which hosts concerts!) and the SkyRide Gondola, not to mention miles of the Centennial Trail.
507 N. Howard St.
Spokane, WA 99201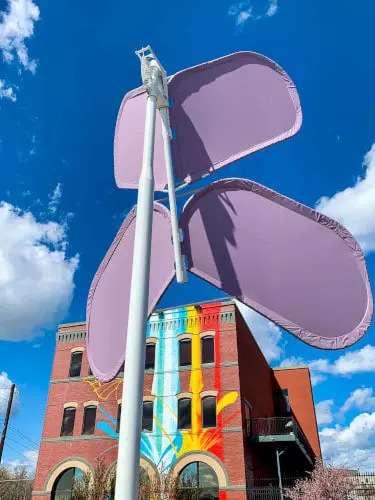 4) Garbage Goat
Can you really say you've experienced Spokane if you haven't visited the Garbage Goat? I would argue you cannot! Luckily, the Garbage Goat is downtown in Riverfront Park, so you can't miss him – just looks for a line of people holding trash!
Make sure you definitely add this photogenic goat to your list of 'things to do in Spokane' while you're here visiting – or if you're a recent transplant.
This park offers beautiful views of waterfalls and a multi-sensory discovery playground for active and curious kids.
13500 Mirabeau Pkwy
Spokane Valley, WA 99216
Liberty Lake's Pavillion Park hosts summer concerts and family fun, including Spokane's Lilac Festival in mid-May.
727 N Molter Rd
Liberty Lake, WA 99019
7) Hiking Trails Around Spokane
Take a hike around Spokane! While you can certainly visit sites like AllTrails to learn about tougher, more challenging hikes, there's something to be said for 'easier' hikes, too!
Some of our favorites include Bowl and Pitcher Loop, Iller Creek Trail and more. Check out our full list of hiking options here: Hiking in Spokane.
8) Have a Picnic Around Spokane
One of the best things to do in Spokane? Get outside and enjoy the weather (in the spring, summer and fall – maybe not winter, unless you're skiing/snowboarding/snowshoeing. Learn more about winter in Spokane here!)
However, when the weather is nice, we love to visit local parks, including Riverfront Park, and bring a picnic basket and blanket. Especially at Riverfront Park in downtown Spokane, people watching in the summertime is the best!
Looking for more fun things to do around Spokane? Check out these posts below!
9) Enjoy a Farmer's Market
If you love farmers markets, you're going to LOVE the summer season in Spokane! There is a farmers market almost every single day of the week in Spokane, including several on Saturdays.
Check out the video below to see which farmers markets around Spokane are our favorite, and for the full list of farmers markets around Spokane, visit our guide to Spokane County Farmers Markets.
10) Finch Arboretum
Finch Arboretum is an incredible gem almost in the middle of Spokane. The Arboretum offers a self-guided walking tour and encourages guests to visit at any time of the year, but particularly the fall!
According to Finch Arboretum "the Mountain Ash, Maple and Oak trees are the most well-known for their berries and leaf colors. The artistry of these fall colors create incredible photographs and backdrop for beautiful wedding events."
Finch Arboretum is a definite 'can't miss' activity, especially if you're looking to celebrate fall in Spokane.
11) Spokane Indians Baseball Game
The Spokane Indians baseball team is a beloved institution in Spokane, and for good reason! From all of the community-building they do, to their commitment to recycling and reducing plastic waste, the Spokane Indians baseball team and organization are truly one to give kudos to!
In addition to their community-building efforts, attending a Spokane Indians baseball game is just good old fun! Throughout the summer, the team has different events and theme nights, from Star Wars to 'Bark in the Park' (yes, you can bring your furry friend!) – and even fireworks on many nights!
Pro-tip: Fireworks nights at the stadium get PACKED, especially in July! Make sure to go early and consider ducking out a little earlier to beat the traffic… otherwise pack a lot of patience and just be kind to your fellow baseball game attendees!
Indoor Things to Do in Spokane, WA
It's no surprise the Northwest Museum of Arts and Culture is always on lists of 'things to do in Spokane'. In Browne's Addition neighborhood, find this Smithsonian-affiliated museum that showcases culture from the international to the local, including those from the Five Nations Tribes. Don't miss the Campbell House, a "living history" home.
The MAC's exhibitions are always rotating, and they've brought incredible sights from the clothing of Downton Abbey to Dreamworks Animation and more! Check out the MAC here.
The science center is home to the Mobius Children's Museum. Mobius frequently has events for the whole community (some are free but some require admission), so make sure to head over to the Mobius Science Center list of events for all the latest.
The Spokane Symphony Orchestra has its home at the historic theater, which was built in 1931 and, after closing for some years beginning in 2000, reopened in 2007.
1001 W Sprague Ave
Spokane, WA 99201
Come catch a basketball game, a campus tour, or grab a book in the Foley Center Library. The Jundt Art Center and Museum, the St. Aloysius Church, and the John J. Hemmingson Center, a three-story building with an all-glass exterior and almost 4 acres of floor space are work a visit.
502 East Boone Avenue
Spokane, WA 99258-0102
16) Throw Some Hatchets!
Axe throwing, hatchet throwing – whatever you call it, it's taking off in Spokane! From Heber Hatchers to Jumping Jackalope and more, this one-of-a-kind experience is unique and fun. The perfect way to enjoy a night out in Spokane!
17) Paint and Sip in Spokane
Want to feel like a professional artist among friends? Visit one of the many paint and sip locations around Spokane to paint beautiful images while drinking (alcoholic and non). You'll be taught by a professional to ensure the best quality artwork, even if you're the complete opposite of Picasso (or maybe if you're exactly like him!)
18) GoKarts and DirtKarts
If you really want to get your adrenaline pumping, check out FastKarts or DirtKarts – two options in Spokane for fast paced fun! There, you can race gokarts or dirtkarts against family and friends – it also makes a great date night for those competitive couples!
19) Trampoline Parks
One of the best things to do in Spokane for families is definitely get out kids' excess energy out at trampoline parks! There are several trampoline facilities around Spokane, and many offer opportunities to book time for parties, compete in Wipeout games, dodge lasers through the Lazer Maze and much more!
20) Escape Rooms in Spokane
There are several escape rooms all around Spokane and Spokane Valley, with varying levels of difficulty – and horror! During the Halloween season, several escape rooms offer haunted options, but there's something for everyone year round!
Eating and Drinking Things to Do in Spokane, WA
21) Hitters Batting Cages
You don't have to be a baseball or softball pro to visit Hitters! Hitters batting cages in Spokane are for people who want to hit the ball around while catching up around good drinks.
If you want to happen to improve your form and get better – well, that's a bonus! Learn more about Hitters here.
22) Flatstick Pub
If you can't decide what to do around Spokane or where to go, but know that you'd like to actually do something instead of 'just' eat, head to Flatstick Pub in downtown Spokane!
In addition to drinks and pizza, Flatstick Pub offers mini golf and duffleboard, getting you out of your seat, moving around, and enjoying your time spent with friends (or maybe a first date?!)
Learn more about Flatstick here.
Looking for date night ideas around Spokane?
23) Spokane Comedy Club
If the Spokane Comedy Club isn't on your list for 'things to do around Spokane', you definitely need to add it! Spokane Comedy Club is a city staple, and has a variety of acts and activities going on all the time.
Visit a comedian, of course, but also check out the Comedy Club for trivia, local stand up, and so much more. Check out the Comedy Club's calendar here.
On this unique street, find many options for food and fun, including the Garland Sandwich Shoppe and Mary Lou's Milk Bottle. In the summer, visit the Garland Farmers Market, where you'll find fresh produce, locally made products and more. Check out our list of farmers markets around Spokane for more information!
25) Walk Around Spokane Neighborhoods
The best time of year to walk around Spokane neighborhoods? Let's be upfront: it's fall! Particularly in parts of Spokane with big trees (South Hill, Audubon, Peaceful Valley, Browne's) and decent sidewalks, you can't miss a walk around our neighborhoods in the fall.
Almost every single neighborhood has a delightful park with big old trees, but the ones listed above are virtually guaranteed to have every park in the neighborhood a dazzling shade of red, orange, or yellow – depending on when you go!
Pro-tip? Plenty of neighborhoods have coffee shops and bakeries tucked in between rows of houses, like Garland, South Hill, and Kendall Yards. Grab a coffee and a cookie and get outside!
Summer Fun in Spokane
Planning out your summer bucket list in Spokane? Spokane really comes alive in the summer. If you want to plan your Spokane summer bucket list, make sure to check out our Instagram Reel all about summer fun, from outdoor concerts to food truck festivals, here!
Some can't miss activities?
Riverfront Moves (free outdoor exercise classes, like yoga and barre!)
Arbor Crest's summer concert series
Shakespeare in the Park
Storytime at the Carrousel
Fall Events in Spokane
If you're visiting Spokane in the fall, you're arriving at a beautiful time! Spokane in the fall is one of our favorite seasons, and there are so many things to do! Must do fall activities in Spokane include:
Green Bluff for fall festivals
Haunted Houses
Corn mazes
Pumpkin patches
Manito Park for the fall leaves
And much more! Check out our article on your guide to fall in Spokane here.
What do you think of this list – agree, disagree, or think we should add something? Let us know on the Everyday Spokane Facebook page!