Fun Long Weekend Getaway Ideas: Seattle
This post may contain affiliate links. This means if you make a purchase, we may receive compensation at no cost to you. Please view our full disclosure policy for more information.
Warmer weather and gorgeous, sun-filled days are here, so it's time to start planning weekend getaways! Consider spending a weekend in Seattle, the lively and bustling city on the shores of the Puget Sound.
Because it's the largest city in Washington, it can be a little overwhelming trying to decide how to spend just two days in Seattle. But it is possible to see big attractions and get a taste of some local favorites in 48 hours.
Two days in Seattle is enough if you pace yourself, accept that you might not get to see everything, and focus on some popular sights and a few hidden gems.
Want to know how to get the most out of a short visit to the Emerald City? Keep reading for the ideal two-day Seattle itinerary!
Have a longer weekend to spend in Seattle? Keep reading, because we have more ideas for that, too!
Quick Tips for Visiting Seattle
Want the quick, TL;DR version of this? Here are some quick tips for visiting Seattle:
There's a good chance it might rain, no matter when you go! Bring a light, waterproof jacket, even if you're visiting in the summer
You can get to Seattle easily by flight or car, and getting around is easy. You can rent a car, take an Uber or Lyft, walk, or use e-bikes or scooters
No matter your budget, you can find a great place to stay in Seattle!
Yes, you should definitely take a tour to get the lowdown on Seattle from a local! We recommend food tours, but there are also plenty of walking tour options
This complete two day itinerary is packed! If you can visit Seattle for a long weekend, you'd get even more enjoyment from 3-4 days – but 2 days is fun, too!
Looking for a stay outside the busy city center? Stay at The Guest House Bed and Breakfast in Burien, only ~20 minutes from downtown Seattle and with much more space – perfect for a family!
Best Times to Visit Seattle – When to Visit Seattle
Seattle is gorgeous – rain or shine. While Seattle has a reputation for being a rainy city, it's not a constant downpour of rain. In fact, summer in Seattle is a bit drier and overcast in comparison to the cooler months.
If you want to visit when you're the least likely to experience rain, and most likely to enjoy higher temperatures, take a look at the graphs from Google below. July and August are your best bets for least amount of rain and highest temps in Seattle, but be prepared you may still get some precipitation!
During the summer, you'll find festivals, farmers' markets, outdoor concerts, and other fun activities. If fun in the sun is calling your name, the best times to visit are in the summer and shoulder seasons.
If you're looking for smaller crowds and don't mind a little rain, April is a great time to visit. While still a bit rainier than summer, April in Seattle has plenty of sunny days mixed with lower airfare and hotel rates, since the majority of tourism happens in May-September.
What to Pack for Seattle
What you'll pack for a weekend in Seattle depends on the season and what you're planning on doing, but here is a rough guide for what you won't want to forget.
In the summer, temperatures range in the mid- to high-70s, although it can get warmer. In the last few years, Seattle has seen temps in the 80s and 90s.
If you visit Seattle in the summer, packing shorts and t-shirts is fine. Feel free to bring summery dresses and sandals, although you may also want to pack a light shawl if you're taking a boat cruise, and sneakers if you're planning on doing a lot of walking (especially downtown).
From fall to late spring, temperatures drop and the weather in Seattle gets a little more unpredictable. Expect rain from November through March, and occasionally Seattle has even received a sprinkling of snow!
During the fall and late spring, layers are key – and don't forget your waterproof jacket and shoes!
Overall, Seattle is a laidback city. You certainly can dress up if you want to, but don't be surprised if you see people out at "fancy" restaurants still wearing hiking sandals or a Patagonia puff vest.
Also – yes, it's true that Seattleites don't use umbrellas. I know, I thought it was strange too, but they really just don't! You, of course, can, but if you forget to pack one and/or don't want to buy one, don't worry – you won't be alone.
You will, however, want to get a rain jacket with a hoodie that covers your face! The rain typically isn't hard, but it is a mist that can get annoying after a while. A good rain jacket with a solid hoodie will be a good call for a day out exploring Seattle.
Getting to Seattle
Seattle's main airport is the Seattle Tacoma International Airport, known as SeaTac. SeaTac Airport offers major airlines such as Alaska, Delta, American Airlines, Southwest, Frontier, United, Virgin, and dozens more.
SeaTac Airport is located about 14.5 miles from downtown Seattle. Depending on traffic, that's about a 30-minute drive but during rush hour traffic, that can be closer to 45 minutes.
Getting to downtown Seattle is super easy! You can get to downtown by heading southeast on Departures Drive for 1.5 miles, then take the ramp on the right for I-405/I-5/WA-518 East toward Seattle and Tacoma. In a mile and a half, take the ramp for 1-5 North and head toward Seattle. In about 11 miles, take Exit 165 and follow signs for Seneca St. In about a half-mile, bear to the right onto 6th Ave. Then you'll find yourself in beautiful, downtown Seattle!
Another option for traveling from SeaTac to downtown Seattle is to take Sound Transit's Link light rail, which ends at the University of Washington and stops in downtown Seattle.
While you can take Uber and Lyft to get around, a better bet may to be rent some of the e-scooters or bikes you can find around the city. Getting around, especially during the busy summertime, can be tricky as Seattle is fairly compact. Sometimes you'll get around faster walking than you will taking an Uber!
Getting Around Seattle
Exploring Seattle By Car
Car is the best way to get around Seattle by far, however, you'll want to avoid rush hour traffic as much as possible. Downtown Seattle's parking can be a bit difficult between pricey lots and the lack of street parking spaces available.
As a result, many who want to visit Pike Place or the Space Needle find it worthwhile to take a taxi, Uber, or Lyft through downtown Seattle.
Public Transportation In Seattle
Another option is public transportation through King County Metro. With an ORCA card, you can use public transportation as much as you want, excluding ferries and the monorail.
We recommend double-checking your route on King County Metro's website since schedules can vary between bus lines. Sound Transit's Link Light Rail, Street Car, and Monorail are also options, though routes are limited.
Ferries and water taxis are a fun form of transportation throughout Seattle and the surrounding waterfront cities. Water Taxis are also able to be paid for using an ORCA card.
Other Transportation Options in Seattle
Uber and Lime also offer electric scooters and bicycles throughout Seattle.
Another fun way to explore downtown Seattle is the city sightseeing hop-on, hop-off bus tour. You can explore the Space Needle, Chinatown, Pike Place Market and several other locations. Melissa loves hop-on, hop-off tours because you're able to get off to see what you want, when you want, or stay on to head to the next stop if you don't want to stop at a particular location.
Routes depart every 30 minutes from 10 AM to 4 PM, so you can hop on and off as much as you want. The full loop (which you can go through first to get notes of where you "must stop" takes around 1 hour and 20 minutes. Get your ticket ahead of time here!
Where to Stay In Seattle
Seattle is full of incredible hotels, ranging from budget-friendly hotels to luxury accommodations.
Budget-Friendly Seattle Hotel: Days Inn by Wyndham SeaTac Airport
The Days Inn by Wyndham SeaTac Airport rooms start at just $155 per night and offers free parking plus a free airport shuttle. In the morning, you can also enjoy a complimentary on-the-go breakfast to hold you over until you get to one of the many incredible restaurants and coffee shops on your trip.
Being next to the SeaTac Airport, this restaurant means you can get to and from the airport easily, meaning you'll only need to plan transportation to and around downtown Seattle.
Mid-Price Seattle Hotel: The Edgewater
In between the luxury and budget options is a fantastic choice for Seattle visitors who want to be in the middle of it all – and get a lovely view of the water! This 4 star hotel is located on Pier 67, offers free shuttle service, free bicycle rental and honeymoon suites.
Yes, Seattle made our list of most romantic getaways in Washington state!
The Edgewater is only a few minutes walk from the Space Needle, Museum of Pop Culture, and more.
Luxury Seattle Hotel: Four Seasons Hotel Seattle
Watch a stunning Seattle sunset from a rooftop pool at the Four Seasons Hotel Seattle while the Seattle Great Wheel dances with bright lights. The Four Seasons Hotel Seattle offers a full-service luxury spa, premier dining at Goldfinch Tavern, and much more. With sleek accommodations in a sophisticated atmosphere, the Four Seasons Hotel Seattle is a superior hotel to indulge in everything Seattle has to offer.
Looking for a little more room and don't want to stay in Seattle center? You can't miss staying at The Guest House in Burien, Washington. Located only 25 minutes outside of Seattle city center, Burien is a lovely, laid-back suburb that offers a lot of space at great prices.
Stay at The Guest House B&B, a charming bed and breakfast run by the friendliest (and also the most relaxed) bed and breakfast proprietors you'll ever meet. At The Guesthouse B&B, you'll stay in a suite that includes two bedrooms, one bath and a sitting room. You are the only guests while there, which makes it perfect for families or those who just want to take a breather from the Seattle hustle!
The Guest House Bed and Breakfast is only 7 minutes from SeaTac.
48 Hours in Seattle: The Perfect Itinerary for Spending Two Days in Seattle
Day 1: Seattle Waterfront, Pike Place Market, Seattle Center, and Capitol Hill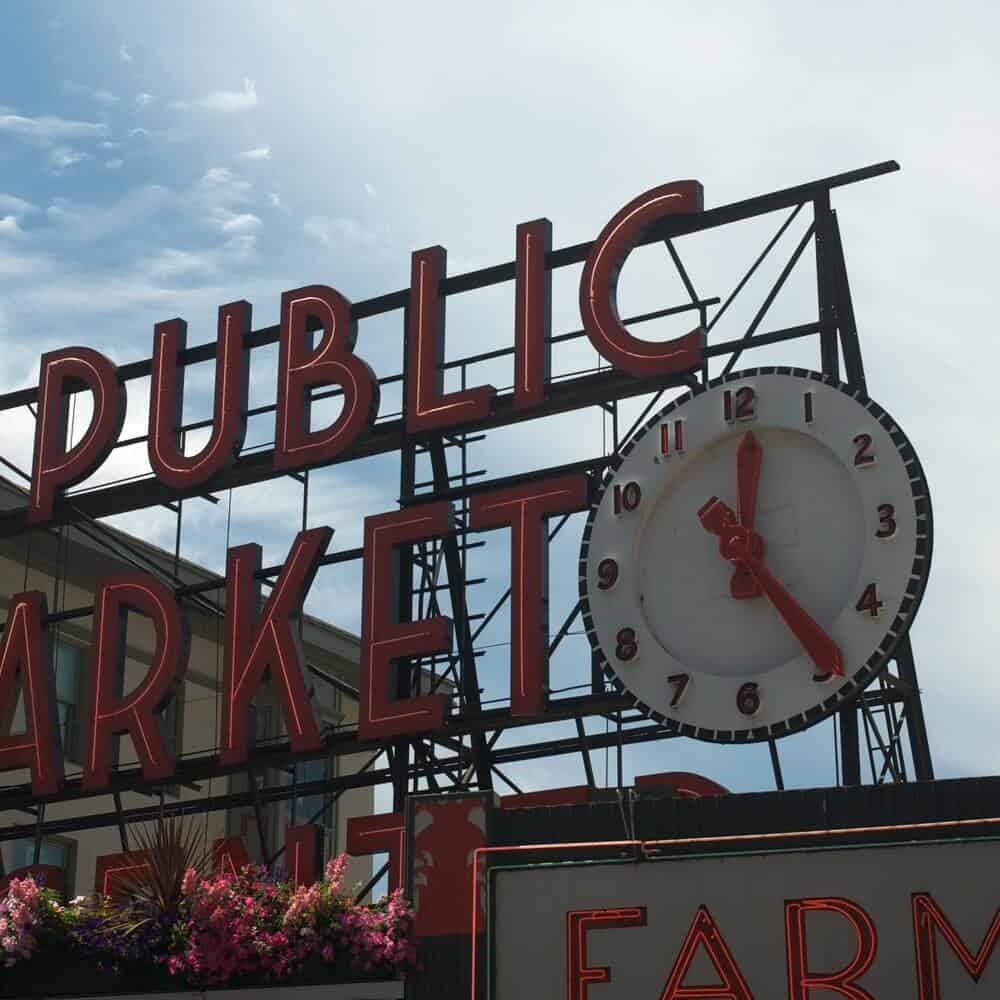 Morning
We'll begin your first day in a typical Seattle fashion: at a coffee shop.
Head to Caffe D'arte in Pioneer Square, a cozy spot with delightful Italian coffees and tasty pastries in Seattle's oldest neighborhood. Grab your drink of choice and a light snack to hold you over (I recommend a latte and a slice of their chocolate pound cake), but don't stay here.
Take your coffee to go, and start walking north along Seattle's gorgeous waterfront. On a clear day, you'll have views of the Olympic Mountains across the Puget Sound, and you're guaranteed to see ferries on their way to or from Bainbridge Island. Take your time on your stroll and admire the beauty as you go.
When you reach the Seattle Aquarium, head east up the stairs past Pike Street Press and follow the signs to the famous Pike Place Market.
Pike Place Market is a must-see in Seattle. This historic market has been in operation for over 100 years, and it's home to some of the best vendors, produce, and artisan shops in the city.
It's an understatement to say there's a lot to do here. While part of the fun of Pike Place Market is wandering through and discovering the spots that interest you, here are a few of my suggestions for where to begin:
Watch the famous fishmonger fish throw
Take pictures in front of the gum wall (it's both gross and fascinating!)
Grab mac-n-cheese, cheese curds, or grilled cheese at Beecher's Handmade Cheese
Sip something yummy at Rachel's Ginger Beer
Check out the unique artisans within the market
Taste all the samples!
Mostly, have fun exploring. Do make sure you grab a couple of light bites if you feel yourself getting hungry because after Pike Place Market we're heading to the next big Seattle attraction: The Seattle Center.
Not sure you'll be able to find and see it all? Take a tour! Everyday Spokane Founder Melissa and her husband took a chef-guided tour of Pike Place and had an incredible time not only tasting and learning about the incredible food Pike Place has, but also got great advice on more places to see from the local chef!
Interested in more tour options around Seattle? Check out our list of the best Seattle tours!
Afternoon
The Seattle Center is home to a lot of major attractions, cultural events, festivals, performing arts shows, and, of course, Seattle's iconic Space Needle.
To get here from Pike Place Market, walk to Westlake Center and catch the monorail.
The monorail will drop you next to the Museum of Pop Culture (MoPoP) and the Space Needle. Once you arrive you'll be able to "choose your own adventure" once more.
My suggested things to see and do here are:
Snap pictures by the Space Needle (ride to the top if you want, though it's a bit pricey and we'll check out some better views on day two!)
Check out the exhibits at the MoPOP
Rest and people watch by the International Fountain
Visit the Pacific Science Center
Admire mesmerizing glass sculptures at Chihuly Garden and Glass
Pro-tip: Get the Seattle CityPASS if you're planning on visiting the Space Needle, Museum of Pop Culture (MoPOP), or Chihuly Garden and Glass. The CityPASS will get you prepaid admission into five must-see attractions (like the ones mentioned!) – plus you'll get admission to the Argosy Cruise Harbor Tour!
By now you're likely feeling pretty hungry. Don't worry, our next stop is Toulouse Petite, a Cajun-Creole restaurant that will delight your taste buds.
Toulouse Petite is a five-minute walk from the Seattle Center and has a moody ambiance and a wide selection of food and drinks. The menu is tempting and you really can't go wrong with your choice, but you have to get the beignets. The shrimp and grits will also blow you away.
Once you finish your meal, return to your hotel. You'll have time to rest a little before you head out for the evening.
Evening
Your evening adventure takes you to an exciting neighborhood: Capitol Hill. Here, you'll grab dinner and dessert and then decide if you want to go bar hopping and dancing or end the night in a cool wine bar.
Take an Uber or the light rail to Plum Bistro, a modern vegan restaurant. Even if you're not vegan this place will satisfy your hunger with generous portions of their plant-based offerings.
If you saved room for dessert, head to Molly Moon's for some delicious, locally made ice cream. Molly Moon's offers both rotating seasonal and permanent flavors (I swear by the salted caramel), and you can't go wrong with either.
Take your ice cream in a waffle cone and eat it outside the shop or while strolling through Cal Anderson park across the street.
You have a few choices for what to do next.
If you prefer a quieter night, you can wander the book-laden aisles at Elliott Bay Book Company (they're open till 9 on weekends!) and then have a glass of wine at Belmont, a classy bar down the road.
Just a six minute walk around the corner is Neko, a cat cafe (much like Spokane's Kitty Cantina), which is open until 10 PM every day. You'll want to book a visit ahead of time, but if you've got to visit a cat cafe in your travels, Neko is amazing!
If you want to do a bit of partying, Cap Hill will deliver. Try out Unicorn, a carnival-themed bar, to mingle with a younger crowd, head to Rock Box for Japanese-style karaoke, or go to Q Nightclub if you want to dance the night away.
Once you're finished, catch a ride back to your hotel and get some good sleep in preparation for day two.
Day 2: Discovery Park, Ballard, University District
Morning and Afternoon
Day one of your Seattle trip was dedicated to seeing some of the top attractions in the city. For day two, we'll go a bit further afield.
You'll start the day by driving or catching a car to Discovery Park. At 534 acres, this is Seattle's largest city park, and it's perfect for hikers of all levels.
Grab a coffee for a jolt of energy or let the fresh air and morning birdsong wake you up as you explore. You can walk the 2.8-mile loop trail or wander further down to the picturesque West Point Lighthouse to admire the view along the shore.
If you have time or prefer water excursions to hiking, consider a cruise! One of the most popular cruises around Seattle is the Harbor Cruise with Live Narration – be sure to book your tickets ahead of time!
After you've had your fill of nature exploration, make your way back to the park entrance. Next, you'll go to Ballard, a cool neighborhood in north Seattle.
Your first stop should be Hattie's Hat since you've likely worked up an appetite. This is one of the best brunch spots in Ballard. They serve delicious brunch classics like eggs benedict, scrambles, and biscuits and gravy.
The area around Hattie's Hat is part of the main retail and restaurant sector of Ballard. Stick around Ballard Ave NW and NW Market Street once you finish eating so you can check out some of the unique shops.
A few of my favorites are:
September: Wonderful mix of clothing and jewelry along with lifestyle goods
Prism: A small and eclectic shop with fun homewares
Culinary Essentials: A cool shop for anyone who likes to cook
This doesn't begin to cover all the great shops that await you in the neighborhood, though. I fully suggest looking at ones that aren't on this list too.
Besides shops and eateries, Ballard also has many spots to grab a beer. Once you finish shopping, get ready to do a little brewery hopping.
Most of the breweries are east of 17th Ave NW and within a mile radius of each other. Drive over to Stoup Brewing and try a beer flight, taste some IPAs at Ruebens, sip a brew out on the patio at Urban Family Brewing Co or try out any of the other nearby breweries.
After you've had your fill of beer and snacks (and have waited long enough to sober up if you're driving), it's time to get started on your evening.
Evening
Your final stop is The Mountaineering Club in the U-District (make sure you book a reservation in advance!). Besides a cozy, laid-back vibe, creative drinks, and yummy dinner bites, this rooftop bar offers one of the most coveted things in Seattle: a gorgeous view of the city.
Snuggle up on the outdoor patio and admire the views of the skyline and Mount Rainier. Order the bacon sandwich, s'mores, and the Meany Ski Hut, and take it all in.
I recommend staying here long enough to watch the sunset. And when you're ready to call it a night, head back to your hotel and bask in a weekend well spent.
How Many Days Do You Need in Seattle?
Obviously, now you know exactly how to get the most out of your two days in Seattle without feeling rushed or unsure where to turn your attention. However, it's pretty clear this is a packed two days with plenty of activities, and you still might not be able to see it all!
I definitely recommend booking tours to see a lot in a compact amount of time, but if you have the availability to tack on a longer stay (maybe a Friday through Monday stay), you'll get more out of your trip to Seattle. Don't forget, the drive from Spokane can feel long (roughly 5 hours one day, depending on where you start in Spokane).
A flight will get you there faster, but if you can make a trip to Seattle into a long weekend, I recommend it! If you have 3 to 4 days to explore Seattle, you'll be able to experience the best of it – and fit in a tour and possibly a sunset cruise!
With a longer stay in Seattle, you'll be able to visit places like Gas Works Park, which is just a bit outside of city center, a cruise on Lake Washington, explore the Queen Anne area, and more. Plus, I haven't even covered the Dale Chihuly museum, Olympic Sculpture Park, visiting Mt. Rainier, or checking out one of the local farmers markets!
Just remember, this itinerary is meant to be a guide, not the rule. Feel free to add or drop things from it as you see fit, and mold it to your likes and interests.
Chelsea is a Seattle-based freelance writer with an adventurous spirit and a passion for all travel, whether it takes her across the globe or down the street. She enjoys writing about her trips, whipping up articles on health, wellness, and personal development, and working on her novel. When she's not traveling or writing, she's reading any fantasy book she can get her hands on, tending to her rapidly expanding houseplant collection, and honing her strategy skills so she can always beat her husband at board games.
Instagram – @chelseareana
LinkedIn – Chelsea Booker
Website – Chelsea Figures It Out