Your Ultimate Washington State Bucket List
This post may contain affiliate links. This means if you make a purchase, we may receive compensation at no cost to you. Please view our full disclosure policy for more information.
If you're looking for the best bucket list for Washington state, obviously Spokane is a great starting point. Spokane offers a wonder of summer activities to travelers and locals alike. After all, look at this big list of the best things to do in Spokane!
However, if you're looking to get out of the city and explore more of Washington, there's plenty to do outside of Spokane, too.
Below are some of our favorite adventures, sights and places to visit in Washington State.
Reach thousands of locals a month.
Unforgettable Adventures Await: Discover the Best of Washington State this Summer
The Columbia River gorge stretches for eighty scenic miles, making it the largest National Scenic Area in America. A road-trip from Spokane will take you past cliffs, ridges, swimming areas, and camping spots. The river winds through the Cascade Range to the west and acts as the boundary between Washington and Oregon.
Nestled on the cliffs of the Columbia River gorge's spectacular river canyon lies one of the world's most beautiful amphitheaters. The Gorge Amphitheater is visited by people from all over the world because of the main stage's gasp-worthy backdrop, unique roadway into the festival venue, on-site wineries and a grassy campground with potable water, hot showers, restrooms, convenience stores, food vendors, mom-and-pop merchandise sellers and full-time security personnel.
Many shows and artists are featured at the Gorge, from hardstyle electronic music, to pop-music, to boot-stompin' country and bluegrass. Whether you're going for a one-night concert, or a three-day weekend festival, it's a must to wake up to the sunrise in the campground and watch the sunset over the mainstage at The Gorge Amphitheater.
Quincy, WA is close to The Gorge, and is also home to many of the potatoes grown in Washington state! This charming little town is worth a stay and a walk through, so instead of driving back to Spokane, stay in Quincy and take a walk!
Tucked away in the Cascade Mountains of central Washington State, lies a sweet little picturesque Alpine style village. Leavenworth is known to many as a place that offers a taste of being in a Bavarian township without leaving the state of Washington – it's no wonder it's one of our favorite unique mountain towns in Washington!
Here, you'll find a mixture of delightful on-theme shops, eclectic dining experiences, world-class spas and warm options for lodging. With a mixture of Northwest hospitality and Bavarian charm, you'll want to stay in Leavenworth for a week.
Of four distinct seasons, summers in Leavenworth are some of the best. Beautiful rivers and wildlife run through, hiking trails are found all over, beautiful snow-capped mountains are seen in the distance, and there are secret hot springs to bathe in. Beauty year round is why Leavenworth makes another one of our lists: one the best romantic getaways in Washington state!
Restaurants serve German beer and a Nutcracker Museum is open all year. May we also suggest dining at Mana Mountain, orchestrating a multi-course wild-foraged culinary experience? You'll never want to leave Leavenworth's quaint streetscapes, restaurants, mountains, woodlands, and wineries.
A trip to Leavenworth isn't complete without viewing the beautiful fall colors around Washington – especially those in Leavenworth. Leavenworth has some of the best, but you'll find fall colors all throughout Washington state!
There are many incredible hotels and places to stay around Leavenworth, including the Posthotel (adults only!). Take a look at the options when you visit here:
Chelan's population grows from 4,000 to 25,000 during the summer, as it is a popular Washington tourist destination. Historic Downtown Chelan is devoted to developing the city's historic core, creating a vibrant community, and enhancing, emphasizing and preserving this town's characteristic features.
Lake Chelan is known for world-class fishing of Cutthroat, Kokanee, Rainbow Trout, Bluegills, and Large Mouth Bass. Stretched from north to south, you'll find 110 miles of gorgeous shoreline and lakeside activities.
Locals view Lake Chelan as Washington's playground, offering swimming in the clean blue waters and fabulous wine tasting found throughout the valley. Here, there's something fun for the entire family including kayaking, boating, and jet skiing.
Finding a place to stay around Chelan can be tricky, so be sure to book early and try to be flexible in your stay dates:
Your days at Lake Chelan can be packed with action, spent lounging lakeside, eating at delicious local restaurants, or immersing yourself in the town's bustling nightlife.
Discovering Olympic National Park's diverse wilderness is a must-do when in Washington State. The park has an incredibly wide range of precipitation and mountainous to shore-rimming elevation. This special park encompasses almost a million acres, protecting vast areas of wilderness, local human history spanning thousands of years, and ecosystems that distinctly differ throughout. Ecologies include snow-capped mountains, old-growth forests, and forever-wild coastlines.
Olympic National Park is located on Washington's Olympic Peninsula, sprawling over seventy miles along the coast. The dramatic peaks of the Olympic Mountains are a popular place for climbers, hikers, and backpackers alike. Many trails exist throughout the park's rainforests and the Pacific coastline, and if you're not into climbing, the scenic road alone is a great place to roam.
There a variety of places to stay around Olympic National Forest, beyond the typical camping experience. Head north to Port Angeles for a stay on the water, west to Forks to live out your Twilight dreams, or south east to Olympia to enjoy the beauty of our capitol city!
Looking for an off-the-beaten path place to stay in Washington? Check out our article on unique places to stay in Washington state!
Serene Calm in Port Ludlow
Located just a short 2-hour drive from Seattle, Port Ludlow is a delightful and close-knit community blessed with breathtaking hiking trails and a picturesque local waterfall. While Port Ludlow was once primarily home to retirees and vacationers, the recent rise in remote work has attracted a growing number of individuals who choose to reside in this charming town year-round.
During your visit to Port Ludlow, make sure to explore the wonders of Shine Tidelands State Park. This enchanting park offers exciting activities such as shellfish harvesting, kayaking adventures, and leisurely walks amidst its serene surroundings. Also, be sure to take a short stroll or hike down from the gravel parking lot to discover the captivating Ludlow Falls—an experience not to be missed.
Port Ludlow is an excellent place to add to your Washington state summer bucket list because of how quiet and off-the-beaten path it is. If you're looking for true escape, Port Ludlow is the place to be.
Want to explore more of Washington's coast? Check out our favorite coastal towns in Washington state.
Mount Rainier is another National Park that's a must-see for nature lovers in Washington. Mount Rainer attracts tourism from all over the world as its peak is iconic.
With all its beautiful scenery, outdoor enthusiasts flock to Mount Rainier for all sorts of activities like fishing, climbing, and hiking keeping them active. Here, it's important to be well-prepared when adventuring out – bug spray, bear repellent, food, phoning a friend to let them know you've arrived and having the proper safety and weather equipment is a must to make sure your journey goes as smoothly as possible.
Walla Walla, Washington is where wine, culture, history, and natural beauty collide. This small town is funky, eclectic, full of energy and the best wine in Washington. On nearly every block, you'll find a picture-perfect restaurant, idyllic tasting facilities, and amazing retail shops. Iconic Washington wineries, unforgettable views, epic adventures, and fabulous historic accommodations make Walla Walla a traveler's dream destination.
One of the nation's finest regions for fine-wine, Walla Walla has over 100+ wineries amongst a ripening backdrop of 2,800 acres growing vineyard vines. The fresh grown grapes offer robust, exceptional flavors, yet Walla Walla hosts a refreshing and relaxing attitude. You can stay in the downtown's welcoming atmosphere, or lodge off-site surrounded by endless vineyards and natural landscapes. Great food, world-renowned wine, adventure, and small-town-vibes are all found in Walla Walla.
Stonehenge is an ancient Neolithic structure found in Wiltshire County, on the Salisbury Plain in England. This place has stirred thoughts, emotions and religious questioning since it was discovered. There's nothing like this prehistoric monument found anywhere else—or is there?
Seated near the town of Maryhill, Washington, lies an incredible replica just three miles from the Maryhill Museum of Art. The full-scale replica was envisioned and built by the museum's founder, Sam Hill.
Commissioned during the 20th century, this artifact utilized knowledge of leading authorities in the realms of archaeology, astronomy, and engineering. Now, you get to experience this Stonehenge duplicate, designed to match the original design and size of the famous ancient English ruins from the comfort of Washington State's backyard.
Learn more about Washington's state Stonehenge (and add this stop on your Washington state bucket list!) in this video:
Wander Seattle's Museums, Architecture & Markets
The Museum of Pop Culture is dedicated to showcasing contemporary popular culture. Here, you'll find Hip-hop, Grunge, Jimi Hendrix, Guitar, and Science Fiction collections. Seattle Art Museum hosts global art, installations, and exhibitions that bridge cultures and time periods dating from antiquity to present. The museum's collection contains 25,000 works from all over the globe, including African, American, Asian, Mediterranean, Islamic, Oceanic, Native American, modern contemporary art, and more.
Read all about our tips for enjoying a fun Seattle weekend getaway.
Experience a whole new level of thrill at the Space Needle. Standing above the all-glass floor is a "must-do" in Seattle, Washington. A restaurant found within, The Loupe is the world's first-constructed and only rotating glass floor to this day. Orbit Seattle city in fine-dining fashion in The Loupe or sip on a beer, wine or coffee at Atmos Wine Bar located on the upper observation deck.
Seattle's Central Library is the flagship library featuring incredible postmodern architecture. This 11-story all-steel-and-glass building is a must-visit in downtown Seattle.
Pike Place Market is great for those of you looking for a gourmet shopping and dining experience. Find the freshest produce, catch-of-the-day fish, flowers, artisanal wares, and some of the best ingredients in Washington. The market provides the occasion to sample delicacies, restaurants and cuisine that can't be found anywhere else in the state.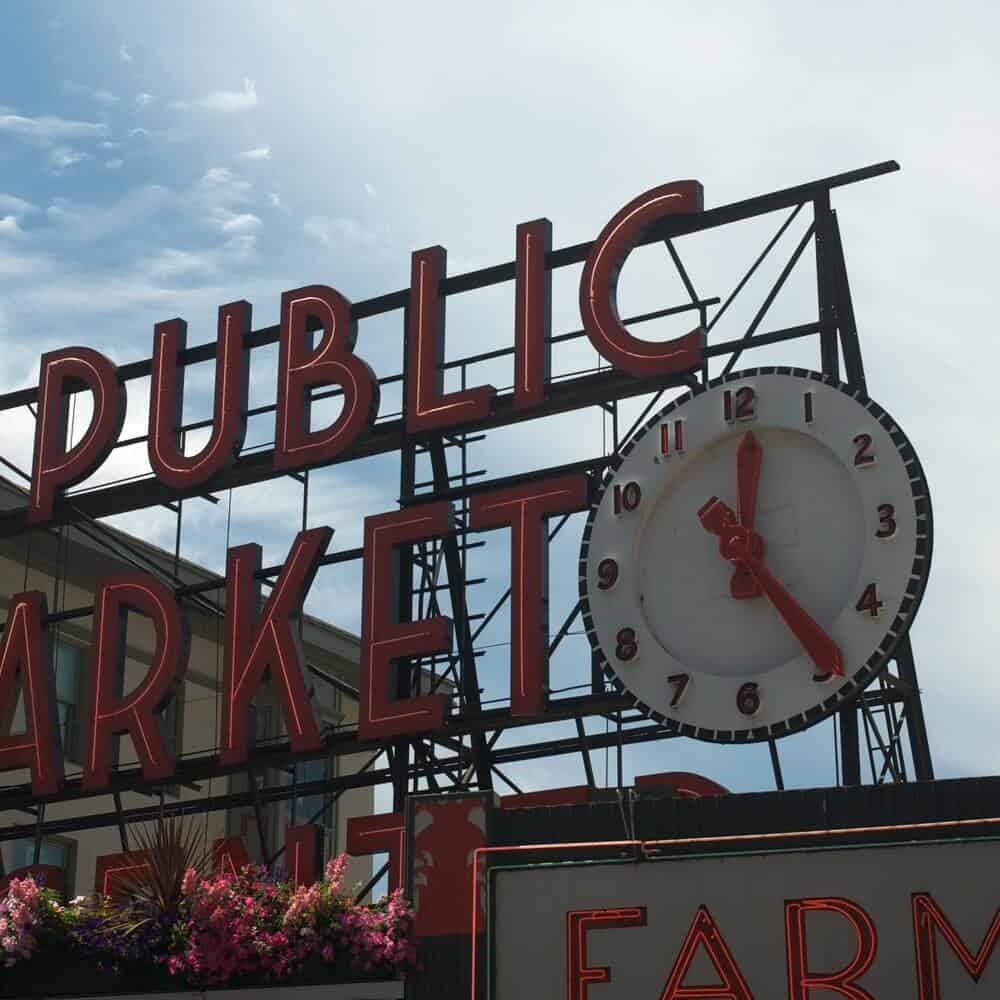 When we visited Seattle recently, we took the Pike Place Market Chef-Guided Tour and it was amazing! There's one thing about exploring Pike Place as a tourist, and a completely different thing exploring Pike Place with a chef! With our guided tour, we got free samples (included in the tour menu), conversations with chefs all around Pike Place, and a front row seat to some of the busiest restaurants in the area.
Check out all of our top recommended Seattle tours and find something that suits you!
Take a Ferry Boat Across the Puget Sound
Washington State Ferries are a crucial method of transport, connecting many island-dwelling communities scattered across the Puget Sound. These ferries are also a tranquil tourist-attraction, providing explorers a unique way to witness the beauty of this estuary area. Hop onboard one of these ferries at any of the major downtown Seattle docks, at Mukilteo, or at cute and quaint Bainbridge Island.
The ferry ride itself is an adventure filled with charm and wonder. It provides a unique perspective of the region, allowing you to marvel at the panoramic views of the water, mountains, and coastline. When I took it as a kid, it was fun, exciting, and mesmerizing. As an adult, and with more traffic and congestion, taking the ferry can seem arduous. However, once you're on it and going, it's such a fun and unique way to travel!
Outdoor Adventures in Spokane
No Washington state bucket list would be complete without mentioning Spokane! There are so many things to do in Spokane, Washington, but if you're only driving through and checking off your bucket list, here are the top spots you can't miss:
It's amazing to think Riverfront Park went from a busy railyard to the incredible park we know it as today, but luckily, in the 1970s, several Spokane leaders had the idea of turning a busy, dusty railyard into a popular, bustling park the whole family could enjoy.
Nowadays, summer in Spokane means Riverfront Park is busy almost daily! From events to celebrations, 4th of July fireworks, Pig Out in the Park, and many more Spokane events, there's something to do year round – even for winter in Spokane!
While you're at Riverfront Park, make sure to visit the Garbage Goat and get a look at the iconic clock tower!
Another must-visit stop? Manito Park in the South Hill Spokane neighborhood! Depending on when you visit, you can see the incredible rose garden, perennial garden, Japanese Garden, the famous Duncan Garden – plus, enjoy tons of events like music in the park, Art in the Park, and more.
Manito Park has five major garden areas, and "major" is an understatement. We highly recommend you bring a picnic or stop at the Park Bench Cafe if you plan to walk the entire park! The entire park is free to visit and is an absolute must stop for your Washington state bucket list.
Storied History Throughout Olympia
Olympia, the state's capital city, offers a diverse range of attractions and experiences that make it a must-visit destination. It's also on our list of the best places to retire in Washington state!
Here are a few reasons why you should add Olympia to your travel itinerary:
Rich History: Olympia boasts a rich history and is home to numerous historical landmarks and museums. Visit the Washington State Capitol, a magnificent building with stunning architecture and learn about the state's governance. Explore the State Capitol Museum, where you can delve into Washington's political history and discover fascinating exhibits. Don't miss the opportunity to visit the Hands On Children's Museum, a fun and educational attraction for families.
Natural Beauty and Outdoor Recreation: Nestled at the southern tip of Puget Sound and surrounded by natural splendor, Olympia offers ample opportunities for outdoor adventures. Take a stroll along the scenic waterfront and enjoy breathtaking views of the sound. Visit the beautiful Percival Landing Park, where you can walk, bike, or simply relax by the water. The nearby Nisqually National Wildlife Refuge is a haven for birdwatchers and nature enthusiasts, with its diverse range of bird species and stunning landscapes.
Walking along the waterfront was one of our favorite things to do when we visited Olympia. Even though it was March and overcast, it's a great walk and takes you by plenty of delicious places to eat. Our recommendation? The Olympia Oyster House! It's right on the water and has, you guessed it, delicious oysters!
Craft Beer and Culinary Delights: Olympia is a haven for craft beer enthusiasts and food lovers. The city is home to several breweries and brewpubs (plus wine bars!), where you can sample a variety of locally crafted beers. Explore the downtown area and discover an array of restaurants, cafes, and food trucks offering diverse culinary experiences. From farm-to-table cuisine to international flavors, Olympia's food scene is sure to satisfy every palate.
Experience the Magic of Washington State with this Washington State Bucket List
Washington state offers a wide range of summer adventures and experiences for travelers and locals alike. Starting in Spokane, visitors can enjoy the plethora of activities and attractions the city has to offer, including exploring Riverfront Park and visiting Manito Park in the South Hill neighborhood. However, for those looking to venture outside of Spokane, there are numerous other destinations worth exploring.
With its diverse landscapes, experiences, and outdoor adventures, Washington state offers an unforgettable summer bucket list for travelers seeking to explore the wonders of the Pacific Northwest.
Considering a move to Washington state? Next, check out our list of the cheapest places to live in Washington state!