13 Best Seattle Tours for Small Groups & Sightseeing
This post may contain affiliate links. This means if you make a purchase, we may receive compensation at no cost to you. Please view our full disclosure policy for more information.
There's truly nothing more fun than going on a tour in Seattle. From small group tours dedicated to eating and drinking your way through Seattle, to tours that take you out for hikes, wine sipping, and fall leaves, there are a ton of options for sightseeing through Seattle.
But what are the best Seattle tours for small groups and sightseeing? As someone who visits Seattle frequently (every birthday!), I've gone on a lot of Seattle tours – many of them listed below. I love learning more about Seattle from local experts, and I've discovered some delicious restaurants and tucked away parks I never would have found on my own.
Check out some of the best Seattle tours below and make sure to book them for your next visit!
Looking for a place to stay after your tours around Seattle? Check out our recommend places to stay in Washington state!
Here are some of the best tours in Seattle, from wineries to food and more!
Best Haunted Seattle Tours
I absolutely love haunted tours! Ever since I took my first haunted tour throughout Dublin and London, I've been hooked. So trust me when I say these haunted tours of Seattle are spooky – but not too scary!
This tour will take you back in time to experience tragic Seattle events, lawless characters, and spooky tours. Seattle has some seriously haunted history, particularly underground – I won't say any more just in case I spoil it for you! But you won't want to miss learning about the people and places that made Seattle.
This haunted Seattle tour gets high praise for being informative, entertaining – but not too terrifying. It's a great haunted Seattle tour for the whole family. Book here!
Personally, I love tours that combine light drinking with scary stories, as it helps me get me a little scared but also have a ton of fun. If that sounds like you, check out the Guided Haunted Pub Crawl in Seattle, which will take you to four historic pubs and walk you in the footsteps of two infamous serial killers.
This tour is a little more spooky than the others, plus it involves drinking, so it's adults-only. Book this spooky haunted pub crawl tour here.
This two hour, 5. mile walking and happy hour tour will take you through Seattle's old cobblestone streets, along with a few stops at pubs and other drinking establishments. You certainly don't have to drink to enjoy tales of Seattle's past, including learning about how Pike Place Market changes when the sun goes down.
This tour gets good reviews for showing a side of the market that many don't get to see, while providing a fun and spooky atmosphere. Book your Pike Place Market Haunted tour here!
Best Seattle Tours for Small Groups: Active Tours
Here are excellent tour options for those of you who love to hike, get outside and explore!
Sure, you could plan a Seattle houseboat, chocolate and Fremont walking tour by yourself… I tried, and failed miserably. Planning Ubers, finding the right spots, making sure the places are open… it's a lot to do, especially when you're on vacation!
So make it easy on yourself by booking this fun tour of "the center of the universe" (aka the Fremont neighborhood) and climb aboard a houseboat, check out the art scene, and visit the famous troll under the bridge! Book your tour here.
This all day tour is completely guided (either a walk or snowshoe adventure, depending on the season) and includes a stop for lunch. This small group tour is 10.5 hours long, so plan ahead!
This is the perfect small group tour, as it is capped at 10 people. During this tour, you'll spot wildlife and incredible scenery around Mt. Rainier. You'll also learn about the geology of the area from an expert, and savor a local lunch.
Pick up and drop off is included in the price, and you are shuttled to Mt. Rainier in a Mercedes Van or SUV. All entry fees are included!
The Mt. Rainier Park All-Inclusive tour gets high ratings from customers, who comment on the exceptional experience, views, and professionalism of the tour guide.
Talk about an incredible tour for sightseeing: this Olympic National Park tour has it all! Pick up and drop off is included in this full day tour (12 hours!) and includes a highly qualified naturalist guide, snacks and refreshments, and all entry fees.
You will also be provided a locally sourced and/or organic lunch – the only thing that's not included is gratuities for your guide!
This Olympic National Park tour is 12 hours long, and can include snowshoeing if you go during the winter, so you'll want to plan ahead! It's the perfect tour for small group sightseeing, as this tour is capped at 10 people.
Explore the unique terrain of Mt. St. Helens with this small group, guided tour (12 hours long!) During your time on the tour, you'll visit Mt. St. Helens, get a guided, naturalist-led walk, spot local wildlife, and learn about the history of Mt. St. Helens.
All entry fees are included on this tour, as is pick up and drop off, plus snacks and refreshments. The St. Helens National Monument tour is capped at 10 people.
On this new walking tour, delve into the history of LGBTQ+ rights in the United States and Seattle specifically. You'll also visit queer-owned shops, get a tour from a local expert on LGBTQ+ history, and much more. This is a two hour walking tour you can't miss!
Book your Seattle LGBTQ+ walking tour here.
Looking for a slightly less time-intensive tour, but still want to get outside and walk around? This one hour underground Seattle tour is perfect for those with limited time!
With this underground tour, you'll explore three passageways and learn about the Seattle fire that destroyed the city. You'll explore just over four city blocks of historic Pioneer Square along with a guide!
Best Seattle Tours for Small Groups: Tours for Foodies
The tours below are perfect for small groups, and speak to my heart as a foodie! If you love to explore a new place with your stomach, you won't want to miss out on these excellent Seattle tours.
This tour is similar to the one we went on when we last visited Seattle, and we highly recommend this tour, especially if you're a foodie!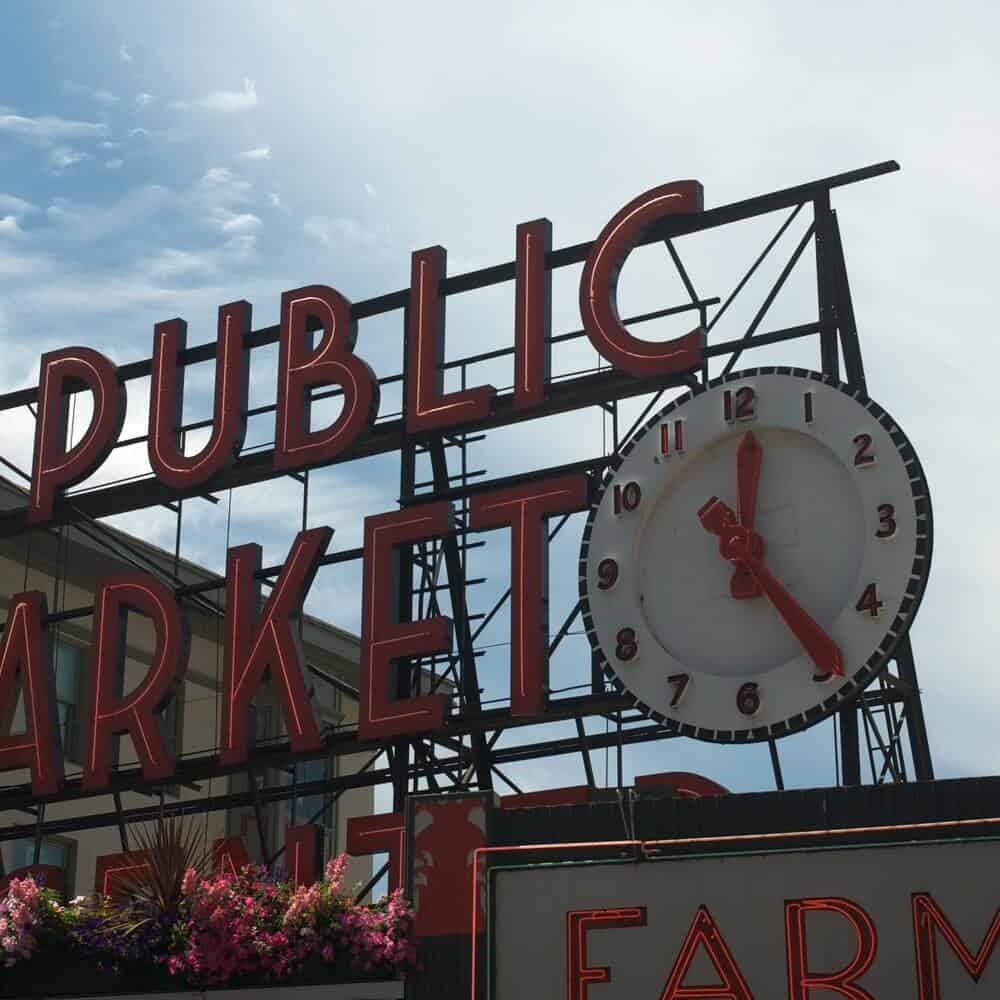 While the tour guide we went through shuttered its business, this Pike Place Market Chef-Guided Tour looks very similar! Some standout highlights?
Skipping the line for some of the best restaurants and foodie spots!
Discover smaller, hidden foodie locations
Learn about bean-to-bar chocolate and get a 10% discount card to shop at partner vendors
With this tour, you'll stop at 9 different places and get to sample around 15 small bites. Hotel pick up and drop off is not included, nor are gratuities for your tour guide.
Prefer a dessert tour? This underground donut tour has you covered! For 2 hours, you'll sample Seattle's best donuts on the city's only donut tour, and celebrate things all donut with like-minded donut aficionados.
Your guide is a "passionate donut expert" and will take you to four of the top donut shops around Seattle.
The Seattle Underground Donut Tour includes your tour guide and snacks throughout the tour.
Best Seattle Tours for Small Groups: Wine Tasting
Do you like the best of both worlds: some hiking and exploring combining with wine tasting? These tours below are perfect for sightseeing and wine tasting!
On this small group, guided tour, you'll enjoy a beautiful hike with incredible views of Mt. Rainier, an organic picnic lunch outside, and wine tastings at wineries in the Yakima Valley.
This tour is 12 hours long and includes all park entrance fees, breakfast, lunch, drinks and transportation (plus pick up and drop off!)
The Hike Mt. Rainier and Wine Tasting tour is 21 and up, and the tour group size is limited to 10 people.
This tour takes off from Seattle (it includes pick up and drop off) and takes you to Snoqualmie Falls and Woodinville Wine Country. You will taste wines at 3 boutique wineries and take interpretive nature walks along with a tour guide.
This tour does take 8 hours and includes a fresh, family-style lunch made with local ingredients. You also have free access to snacks, water, coffee, tea – and the wine tasting is included!
The Snoqualmie Falls and Woodinville Wine Tasting tour is capped at 10 people – perfect for a small group!
No matter which Seattle tour you choose, you can't go wrong! Taking a local tour is truly one of our favorite things to do when we travel, and tours are a great way to quickly learn about a new place.
With these tours, you can learn about local history, explore beautiful, incredible locations, or sample some delicious cuisine!