8 Best Seattle Tours for Small Groups & Sightseeing
This post may contain affiliate links. This means if you make a purchase, we may receive compensation at no cost to you. Please view our full disclosure policy for more information.
Seattle is the biggest city in Washington (followed by Spokane!), and it's no surprise there are a ton of fun tours all throughout Seattle. If you're planning a visit to Seattle (maybe a weekend getaway to Seattle?), we highly recommend you go on at least one tour while you're there!
Seattle offers tours for all interests, including food tours, hiking tours, and wine tours. Experiencing a new city's cuisine is always our favorite thing to do when we travel, so we'd recommend one of the food tours below, but there is truly a tour for everyone in Seattle!
Looking for a place to stay after your tours around Seattle? Check out our recommend places to stay in Washington state!
Here are some of the best tours in Seattle, from wineries to food and more!
Best Seattle Tours for Small Groups: Active Tours
Here are excellent tour options for those of you who love to hike, get outside and explore!
This all day tour is completely guided (either a walk or snowshoe adventure, depending on the season) and includes a stop for lunch. This small group tour is 10.5 hours long, so plan ahead!
This is the perfect small group tour, as it is capped at 10 people. During this tour, you'll spot wildlife and incredible scenery around Mt. Rainier. You'll also learn about the geology of the area from an expert, and savor a local lunch.
Pick up and drop off is included in the price, and you are shuttled to Mt. Rainier in a Mercedes Van or SUV. All entry fees are included!
The Mt. Rainier Park All-Inclusive tour gets high ratings from customers, who comment on the exceptional experience, views, and professionalism of the tour guide.
Talk about an incredible tour for sightseeing: this Olympic National Park tour has it all! Pick up and drop off is included in this full day tour (12 hours!) and includes a highly qualified naturalist guide, snacks and refreshments, and all entry fees.
You will also be provided a locally sourced and/or organic lunch – the only thing that's not included is gratuities for your guide!
This Olympic National Park tour is 12 hours long, and can include snowshoeing if you go during the winter, so you'll want to plan ahead! It's the perfect tour for small group sightseeing, as this tour is capped at 10 people.
Explore the unique terrain of Mt. St. Helens with this small group, guided tour (12 hours long!) During your time on the tour, you'll visit Mt. St. Helens, get a guided, naturalist-led walk, spot local wildlife, and learn about the history of Mt. St. Helens.
All entry fees are included on this tour, as is pick up and drop off, plus snacks and refreshments. The St. Helens National Monument tour is capped at 10 people.
Looking for a slightly less time-intensive tour, but still want to get outside and walk around? This one hour underground Seattle tour is perfect for those with limited time!
With this underground tour, you'll explore three passageways and learn about the Seattle fire that destroyed the city. You'll explore just over four city blocks of historic Pioneer Square along with a guide!
Best Seattle Tours for Small Groups: Tours for Foodies
The tours below are perfect for small groups, and speak to my heart as a foodie! If you love to explore a new place with your stomach, you won't want to miss out on these excellent Seattle tours.
This tour is similar to the one we went on when we last visited Seattle, and we highly recommend this tour, especially if you're a foodie!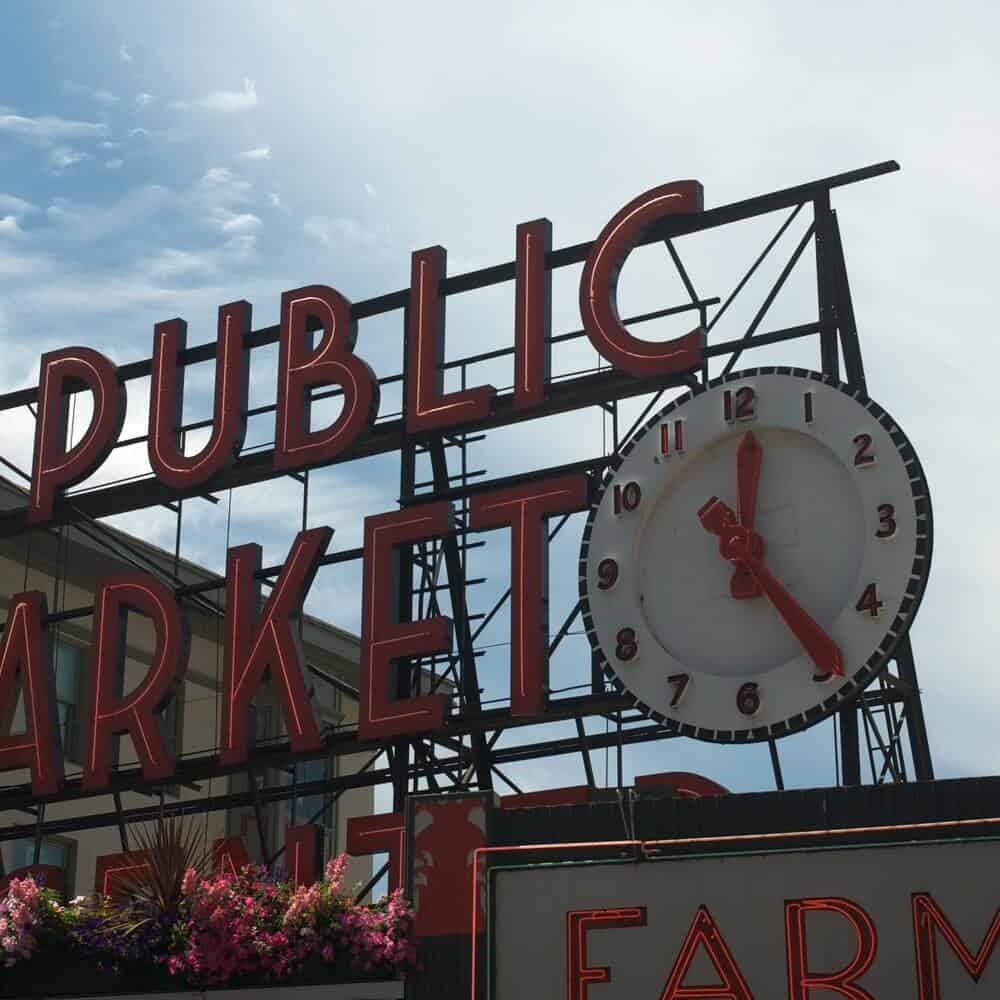 While the tour guide we went through shuttered its business, this Pike Place Market Chef-Guided Tour looks very similar! Some standout highlights?
Skipping the line for some of the best restaurants and foodie spots!
Discover smaller, hidden foodie locations
Learn about bean-to-bar chocolate and get a 10% discount card to shop at partner vendors
With this tour, you'll stop at 9 different places and get to sample around 15 small bites. Hotel pick up and drop off is not included, nor are gratuities for your tour guide.
Prefer a dessert tour? This underground donut tour has you covered! For 2 hours, you'll sample Seattle's best donuts on the city's only donut tour, and celebrate things all donut with like-minded donut aficionados.
Your guide is a "passionate donut expert" and will take you to four of the top donut shops around Seattle.
The Seattle Underground Donut Tour includes your tour guide and snacks throughout the tour.
Best Seattle Tours for Small Groups: Wine Tasting
Do you like the best of both worlds: some hiking and exploring combining with wine tasting? These tours below are perfect for sightseeing and wine tasting!
On this small group, guided tour, you'll enjoy a beautiful hike with incredible views of Mt. Rainier, an organic picnic lunch outside, and wine tastings at wineries in the Yakima Valley.
This tour is 12 hours long and includes all park entrance fees, breakfast, lunch, drinks and transportation (plus pick up and drop off!)
The Hike Mt. Rainier and Wine Tasting tour is 21 and up, and the tour group size is limited to 10 people.
This tour takes off from Seattle (it includes pick up and drop off) and takes you to Snoqualmie Falls and Woodinville Wine Country. You will taste wines at 3 boutique wineries and take interpretive nature walks along with a tour guide.
This tour does take 8 hours and includes a fresh, family-style lunch made with local ingredients. You also have free access to snacks, water, coffee, tea – and the wine tasting is included!
The Snoqualmie Falls and Woodinville Wine Tasting tour is capped at 10 people – perfect for a small group!
No matter which Seattle tour you choose, you can't go wrong! Taking a local tour is truly one of our favorite things to do when we travel, and tours are a great way to quickly learn about a new place.
With these tours, you can learn about local history, explore beautiful, incredible locations, or sample some delicious cuisine!