Valentine's Day in Spokane
This post may contain affiliate links. This means if you make a purchase, we may receive compensation at no cost to you. Please view our full disclosure policy for more information.
Valentine's Day is just around the corner, and people are ready to celebrate! From delicious meals to fun treats, Galentine's celebrations and even 'gifts' for your ex, there's something for everyone this Valentine's Day in Spokane.
Valentine's Day in Spokane: Things to Do
Wander Spokane Valentine's Tours
What better way to celebrate Valentine's Day with a tour around Spokane? Choose from two options, a Food Tour or a Beer Tour, with Wander Spokane, which offers guided walking tours. Your Food Tour will come with a glass of bubbly for those over 21!
Book your tour (they go fast!) here.
Taste Spokane [almost sold out!]
Want to dress up, enjoy a night out with tasty treats and sips, and support the community? Get tickets to Taste Spokane: An Evening Under the Stars, which will benefit the Wishing Star Foundation, an incredible local nonprofit.
This event takes place February 12, meaning you can enjoy a night out for a good cause and still have your actual Valentine's Day (February 14) free!
Take a listen to our podcast episode with Director of Community Partnerships & Development Cindy Guthrie to learn more about the Wishing Star Foundation, or watch our video interview with her below:
Get your tickets for Taste Spokane here!
Cheney Recreation
Cheney Recreation has been going above and beyond, and once again they've knocked it out of the park with this fun activity!
Cheney Rec's Valentine's event is a French Baking Class on February 12 from 3-5 PM via Zoom, where you (and your sweetie!) will learn how to make fun, fancy French desserts.
You'll want to call to register for these events – call 509-498-9250 to register and reserve your spots!
Wanderlust Delicato
Enjoy two of my favorite things, wine and cheese, on February 12 at Wanderlust Delicato! Starting at 5 PM, join Wanderlust Delicato for a Valentine's Day meal featuring oysters, shrimp ceviche, cheese plate, and of course – wines!
Register for this event here.
EMO 2000 V-Day Edition
Would you or your sweetie prefer to party to some emo music? Then Lucky You Lounge is the place to be on February 12 (doors open at 7!)
DJ Unifest and DJ Powers Hour will be serving up emo and screamo hits from the early 2000s. This event is free for all (21+). Learn more here!
The Chocolate Affair (Coeur d'Alene)
What's better than getting some fresh air and enjoying delicious chocolate? (Nothing!) If that sounds like a great day for you and your loved one, head to downtown Coeur d'Alene for the Chocolate Affair on February 11 from 4-7 PM.
Wander around local businesses' pop up shops downtown and enjoy locally hand-crafted sweet treats. Your tickets to the event will get you a bite-sized gourmet chocolate treat at each tasting location (15+) with the option to add 8 1oz wine tastings to create the perfect pairing!
Get tickets here!
Valentine's Day Specials and Places to Eat Around Spokane
So you've done some of the fun events leading up to Valentine's Day, but now the big day is here and you're wondering where to go! Don't worry – the following restaurants have you covered with Valentine's Day specific meals.
Kismet
Enjoy a five course plated dinner for $65 per person at Kismet! Seatings will be at 4, 6, and 8 pm and reservations are required.
Call 509-309-2944 to make your reservation.
Zona Blanca Valentine's Dinner
Ain't no party like a Zona Blanca party, and that's still true even for Valentine's Day! Technically, this event is on February 12, so celebrate a few days early!
You'll enjoy:
Welome Glass of Champagne
Oysters + YingYang Style (cold): osetra caviar + hoja santa granita (hot): spicy banana ketchup + sesame
Scallop Tiraditto + Beet Caviar + Pea Salsa Verde + Pinenut-Chile Foam
Foie Gras + Ginger-Mango Jam + Macadamia + Mint
Pork Secreto + Chilmole +Yuzo Kosho Tomato + Cabbage + Epazote Consume
Chocolate in Textures + Banana + Potato-Peanut Sand + Passion Fruit + Hoja Santa
Get your tickets here.
Melting Pot
For many of us, Valentine's Day or a special date at the Melting Pot is a rite of passage. Enjoy that experience all over again this Valentine's Day with a cheese or chocolate fondue
You can also upgrade your Melting Pot experience with Valentine's weekend package options and add-on's, like the Diamond Package, which comes with:
"a 1/2 dozen rose bouquet, rose petals & candles waiting for you at the table accompanied by 6 of our hand dipped signature chocolate covered strawberries & Oreos and a bottle of featured wine or bubbles. Then you will be treated to our exclusive 4-course Valentine's menu, completing your experience with a toast of champagne or sparkling cider served with your chocolate fondue. Additionally, we will send you home with a photo of your special evening."
Check out the full menu and package add-ons here.
Hunt Spokane
Enjoy a Mediterranean feast at Hunt! On Valentine's Day, head to Hunt for a six course wine pairing dinner with Spanish-themed dishes paired with Spanish wines. Take a look below at their menu!
Spokane Club
Bring your sweetheart to the Spokane Club's annual Valentine's Sweetheart Dinner in the Cutter. This historic dining room adds the perfect amount of charm to your 4 course dinner!
Make your reservation here.
Valentine's Day Dinner at Inland Pacific Kitchen
Want to celebrate Valentine's Day on Valentine's Day itself? Inland Pacific Kitchen has your back with their Valentine's Day 4-course dinner on Monday, February 14 from 5:30 – 7:30 and again from 8 – 10 PM.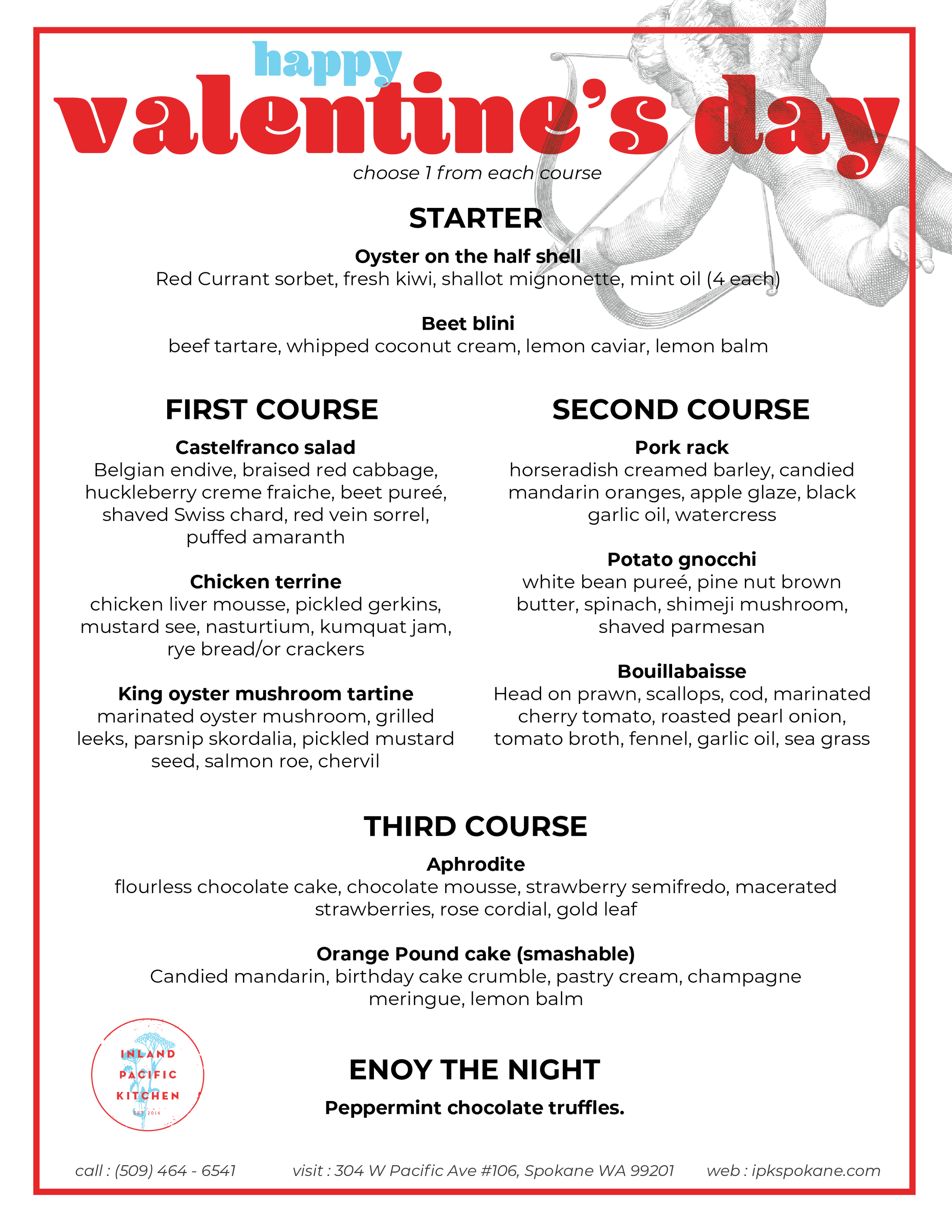 You'll choose one item from each course. Reservations required! Learn more and book here.
That's not all for delicious Valentine's Day dinners!
Most restaurants will be open for romantic dinner dates, but aren't necessarily hosting a Valentine's-specific dinner. Take a look at our full list of the best romantic dinner date ideas around Spokane for more inspiration!
Valentine's Day Gift Ideas & Tasty Treats
Looking for a unique Valentine's Day gift? Go above and beyond with these local Valentine's Day gifts!
Kitten-Grams
Valentine's Day Kitten Grams from Spokane's Kitty Cantina are back! Last year, Kitty Cantina was able to raise over $500 for their Disadvantage Kitty Sponsor Program (DKSP), which helps to change the lives of senior kitties and cats with special needs.
So what is a Kitten-Gram? It's a digital Valentine 'card' featuring one of Kitty Cantina's adopted shelter cats, complete with a witty kitty pun!
As someone who ordered… quite a few… last year for my husband, it's such a delight to see your recipient read and appreciate a Kitten-Gram! Some are sweet, some are sassy – and some are designed specifically for your ex(es). Check out the Kitty Grams and place your orders here!
Made With Love Bakery
Nothing says I love you more than a tasty treat (that can't just be my motto, right?!) and what better place to get a yummy treat than local business Made With Love Bakery?
MWL Bakery has a variety of options for Valentine's Day, including a single Valentine's Day cookie to a full on Red Velvet cake and more!
MWL is taking orders until February 7, so get your orders in soon.
Annie's Ice Creams
Yes, indulge in some ice cream this Valentine's Day season! Annie's (worth the drive to Liberty Lake!) is offering mini cakes for Valentine's Day, with decadent flavors like:
Chocolate Cherry Bomb: A Chocolate cake with 'Very Very Cherry' ice cream, topped with dark chocolate ganache and a chocolate-dipped maraschino cherry
Young Love: A Confetti cake with 'Strawberry Bubblegum' ice cream, strawberry jam, and marshmallow whipped cream frosting
You Are My Sunshine: A Lemon cake with fresh 'Lemon Créme' ice cream, raspberry jam, and topped with marshmallow whipped cream frosting
Peanut Butter Flutter: A Chocolate cake with 'Crunchy Peanut Butter'ice cream, dark chocolate ganache, and peanut butter whipped cream frosting
Check out and place your order here!
Sweet Frostings
Need something extra special and unique this Valentine's Day? Look no further than Sweet Frostings, which is offering up quite the array of fun Valentine's Day goodies – for both your sweetie and those who are saying "love stinks!" this Valentine's season.
Some tasty treats we're looking forward to? This cactus cake:
.
The football-themed "You're a catch!" cookie set, and for those who prefer to poke fun at Valentine's Day, this "love stinks!" cookie.
Place your order with Sweet Frostings here!
Anthesis Co. Flowers
Of course, for many of us, Valentine's Day isn't the same without flowers! Show them you care with 'can't live without it' size flowers from Anthesis Co.. While supplies last, order a Valentine's Day Flower Hat Box from Anthesis Co.
You will want to place your order early though – they sell out quickly!
Winc Wine Subscription
Do you have a wine lover in your life who seems to have, and know, every wine? Or maybe your loved one likes wine, but doesn't know what type of wine is their 'favorite' yet. Give them a gift that keeps giving with a Winc wine subscription!
Winc has you take a short survey to help identify the type of wine you like, then sends you 4 bottles of wine in 1, 2, or 3 month subscriptions. You can subscribe for as long or as little as you like, and you can review each wine to let Winc know what you love – and don't love – to get a better match next time.
Give your loved one (or yourself!) a Winc subscription here.
Fruit Bouquet
Is your sweetie more into sweet treat bouquets vs. flower bouquets? If so, then check out Fruit Bouquets dipped strawberries! You can choose from traditional chocolate dipped strawberries to 'gourmet dipped fancy strawberries' with nuts and more.
You can also order a traditional edible fruit bouquet, which comes with tons of fresh fruit and chocolate goodies. Find the perfect gift from Fruit Bouquet here!
Weav Spokane
Looking for a delightful gift basket, but not quite sure what to get your loved one? Visit Weav for local gifts, like this Garland Mini Gift Basket (my personal favorite!). You can also choose from tasty treat gift boxes, housewarming gift boxes, and one off gifts to create your own basket!
Visit Weav and place your Valentine's Day order today.
Valentine's Day in Spokane
If you're looking to celebrate Valentine's Day in Spokane, you won't go wrong with any of these options. From fantastic Valentine's Day-specific meals to Valentine's Day-focused events, there's something for everyone to enjoy.
Find even more February events over on our Events Calendar here!