Father's Day Events and Activities in Spokane
This post may contain affiliate links. This means if you make a purchase, we may receive compensation at no cost to you. Please view our full disclosure policy for more information.
Father's Day is a big deal in Spokane! From Father's Day events in Spokane, to brunches, dinners, fun gifts and so much more, Spokanites take Father's Day seriously.
Why? Because Father's Day began in Spokane! It's true, keep reading to see how. If you're looking for fun ways to celebrate Father's Day this year, take a look at the brunches, BBQs, car shows and more below.
This post may contain affiliate links. This means if you make a purchase, I may receive a commission at no cost to you. Please view our full our advertising policy for more information.
Did You Know Father's Day Started in Spokane?
It's true! In 1909, Sonora Smart Dodd (one of six children raised by her father, William Smart, a widower) established a Mother's Day equivalent for male parents. She wanted to create a holiday to honor the work her single father did.
Dodd was inspired after listening to a Mother's Day sermon, and she believed her father, a Civil War veteran who cared for his six children after his wife died in childbirth, had plenty of reasons for praise.
According to History.com, Dodd went to local churches, the YMCA, shopkeepers and government officials to drum up support for her idea. She used her prominence in the Spokane community to gather endorsements, and Washington State celebrated the nation's first statewide Father's Day on June 19, 1910.
You can actually visit the Dodd home, a 2010 addition to the National Register of Historic Places, while walking through the East Central neighborhood of Spokane.
Father's Day itself however did not gain national prominence until 1924, when President Calvin Coolidge recognized Father's Day and encouraged states to do the same. In 1966, President Lyndon B. Johnson signed an official proclamation calling for the third Sunday in June to be recognized as Father's Day. And to think – it's all thanks to Sonora Smart Dodd's hard work and love for her father!
Father's Day Events and Activities Around Spokane
Of course, Father's Day has evolved a lot since the early 1900s. Nowadays, many people get together to celebrate Father's Day, showering Dad with love and sometimes gifts, crafts, activities – and of course, food!
If you're looking for fun things to do with Dad this year, take a look at the events, activities and more below.
1) Longhorn BBQ Take Out Special
Looking to spoil Dad with ribs? Longhorn has you covered with this Father's Day deal! For $44.95, you'll get:
2 lbs Longhorn Ribs
1 lb German Sausage
1-quart Beans
1-quart Salad of Choice
Barbecue Sauce
Corn Muffins
For more information, call (509) 924-9600.
2) Max at Mirabeau BBQ
For $99, get an absolute feast at MAX! Take a look at the menu below, which features pork ribs, chicken, slaw, cornbread and so much more.
You'll want to get your orders in soon!
3) A picnic or cheese platter from Wanderlust Delicato!
If your Dad loves picnics, cheese, or charcuterie platters, there's no better place in Spokane for all three of those things than Wanderlust Delicato!
4) Beer, Brats and Brownies with Beacon Hill
Place your order through Beacon Hill for beer, brats, brownies and more! This is THE perfect meal option for Dads (or anyone!) who loves grilling.
Take a look at this delicious menu:
Sonnenberg's Beer-braised Brats (Dad just finishes on the grill), Outdoor Rolls, Stone Ground Mustard & Caramelized Onion Spread

Candied Bacon and Whiskey Baked Beans

Classic Potato Salad

Beacon Hill Brownies

Brickwest 32oz. Crowler Westbound Train Juicy Pale Ale
5) Kagen Coffee and Crepes
Looking for a sweet treat this Father's Day? On Sunday, Father's Day, Kagan Coffee and Crepes is offering half off their full savory crepes, including:
The Breakfast in Bed

The All-American

The Chipotle Chicken
And more! Take a look at their menu and start planning here.
Father's Day in Spokane Events
1) 2021 Spokane Speed and Custom Show
Head to the Spokane fairgrounds if your Dad is into cars, music and more. This car show will take place all Father's Day weekend and begins on June 18!
2) Dads & Dudes Night 2021
Is kicking around a soccer ball, playing basketball, or hitting some baseballs more your Dad's idea of a good time? If so, head on over to The HUB for some quality time with Dad and "dudes" (sons and daughters welcome.) According to The HUB's website:
We'll have opportunities for basketball, football, soccer, baseball, pickleball, martial arts and more.

Come have a ball and a barrel of fun at the HUB Sports Center. We will have opportunities for basketball, football, soccer, pickleball, martial arts and more. There will be relay races, skill competitions and other fun games to play.
All ages are welcome, and registration is $15 for Dad and a 'dude.' Additional children under 18 are $5 each. Learn more here.
3) Dad's Day Dash
Is Dad more competitive? Would a race be more of his style? If so, take him to the Dad's Day Dash, a staggered in-person race (virtual is an option as well).
You'll want to register soon – learn more here!
Gift Ideas for Father's Day
1) Subscription to the Grill Masters Club
Speaking of grilling, if you want to get your grill-happy father a great gift, get him a subscription to the Grill Masters Club!
Known as 'the best BBQ box', your Dad will receive a monthly delivery of the best grilling and BBQ goodies hand-selected by a certified BBQ pitmaster. What could be better than that?!
Check out the Grill Masters Club gift here.
2) Personalized Grill Tools
Get your Dad some personalized grill tools, like a new spatula, tongs, and more. You can have the gift personalized with his name, a quote, or an inside joke!
Check out this fun and useful gift idea here!
3) Celebrate Father's Day with Some New Hops!
Maybe Dad is less into grilling and more into trying cool new brews – in that case, get him a subscription to the Hop-Heads Beer Club!
Every month, your gift recipient will receive a variety of hoppy beers from two or more breweries, plus a newsletter detailing tasting notes, beer and brewery profiles, and recommended food accompaniments. If your Dad (or the Dad in your life) loves hoppy beer and learning about it, this is the perfect gift!
Get him the Hop-Heads Beer Club subscription box here!
4) Personalized Decanter Set
This personalized decanter set is perfect for the Dad who likes to sip! Best of all, it's very sturdy for being glass, making it elegant but durable. Check it out here!
5) Shaving Box Club
At this point, who couldn't use a good shave at home? If the Dad in your life wants to have his own unique and efficient shaving instruments, the Shaving Club Box is perfect!
Once a month, he will receive a shaving soap or cream, 10 replacement blades and 2 full-size grooming products. Learn more and order Dad a subscription here!
6) A family-friendly hike
Sometimes the best gifts for Dads are free, and that's absolutely true here in Spokane. Take your Dad out for a hike among one of the many family-friendly hiking trails in Spokane.
Some of these hikes will require a Discover Pass, which, if you don't have it already, makes a great Father's Day gift too!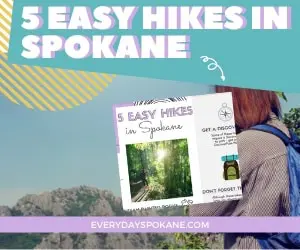 7) A camping trip
What else could be more fun than stepping up a hike into a full-blown camping trip? Some of my best memories with my Dad were spent camping, even if things went terribly wrong (like a rainstorm while we were making s'mores!).
Make those same memories by picking a close by camping spot this summer. We recommend Farragut – it's beautiful, with tons of space and even offers a lake for swimming and picnics!
Take a look at our video featuring Farragut below:
8) Personalized camping mugs
Commemorate your hiking or camping trip with these adorable, personalized camping mugs! My favorites are these if you're just relaxing by the campfire with coffee, or these options if you need a lid!
More Fun Ways to Celebrate Father's Day
1) Creative, homemade gifts for Dad
How cute are these fingerpainting card and gift ideas? This idea from Mama's Chaos and Cuddles is super cute, and incorporates your child's fingerpainting and a current photo of them. A keepsake!
This idea from the Printables Fairy gives older kids an opportunity to get even more creative with the fingerpainting craft gift for Dad! It's also very easy and doesn't require many extra supplies – just paint!
2) Make a Father's Day Card
The Spokane Public Library is offering card-making kits for Father's Day cards for a limited time – learn more and pick up your card making kit here!
We hope you and your family have a lovely Father's Day, however you choose to celebrate it.