20 Pros and Cons of Living in Spokane, Washington
This post may contain affiliate links. This means if you make a purchase, we may receive compensation at no cost to you. Please view our full disclosure policy for more information.
So you're thinking of moving to Spokane, WA but you're not completely sold yet? That's okay – neither was my husband when I first pitched Spokane to him! In the spirit of accurately describing the pros and cons of living in Spokane, WA, after several years of living here, we've come up with a list of the best and worst parts of living in Spokane.
As much as I love living in Spokane (just check out my Instagram – it's an homage to this city!), no city is "perfect" – and that's okay! If you're trying to figure out if Spokane, WA is the right city for you, check out our list of pros and cons below. Then head to our Facebook page and let me know if you agree or disagree!
Population in 2021: 229,071
Elevation: 1,843′
Average high temperature: 86 degrees in July and August
Average low temperature: 27 degrees in December and January
Average snowfall: 44 inches annually
Average rainfall: 17 inches annually
Sunny days: 171 sunny days per year
Read all about what winter is like in Spokane and what Spokane neighborhoods are like.
The Pros and Cons of Living in Spokane, WA
Spokane is a great place to move to if you like the outdoors, but it's not all outdoor-centric! There are many great restaurants, coffee shops, breweries, parks, museums, and other attractions here. Over the past few years, Spokane has grown from a quiet, family-friendly town to a town that's more welcoming to all, including retired folks, singles, people without kids, and many more. There are so many events in Spokane that there's almost something going on every day (minus any crazy snow days!)
Reach thousands of locals a month.
So let's get into the nitty-gritty: why should someone move to Spokane? What are the pros of moving to Spokane, and what are the pros to living here? This list is in no particular order!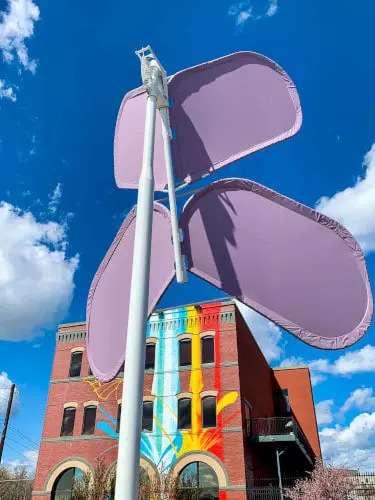 Pros of Living in Spokane, Washington
1. Seasons
One of our favorite reasons for choosing to live in Spokane? Seasons! Spokane actually has four distinct seasons, even though we may say our two favorite seasons, spring and fall, don't last long enough!
If you love the changing leaf colors of fall, if you love seeing new blooms in the springtime, if you love a warm (sometimes hot!) summer and inches of snow in the winter, then Spokane is for you. You'll get all of that, plus seasonal activities throughout the year, including baseball, hockey, ice skating, hiking, gardening, and much, much more.
Coming from Phoenix, AZ, where we only got "hot, hot summer" and "mild-ish winter/more like spring", moving to Spokane was a treat. Spokane is a good place to live if you're a seasons fan!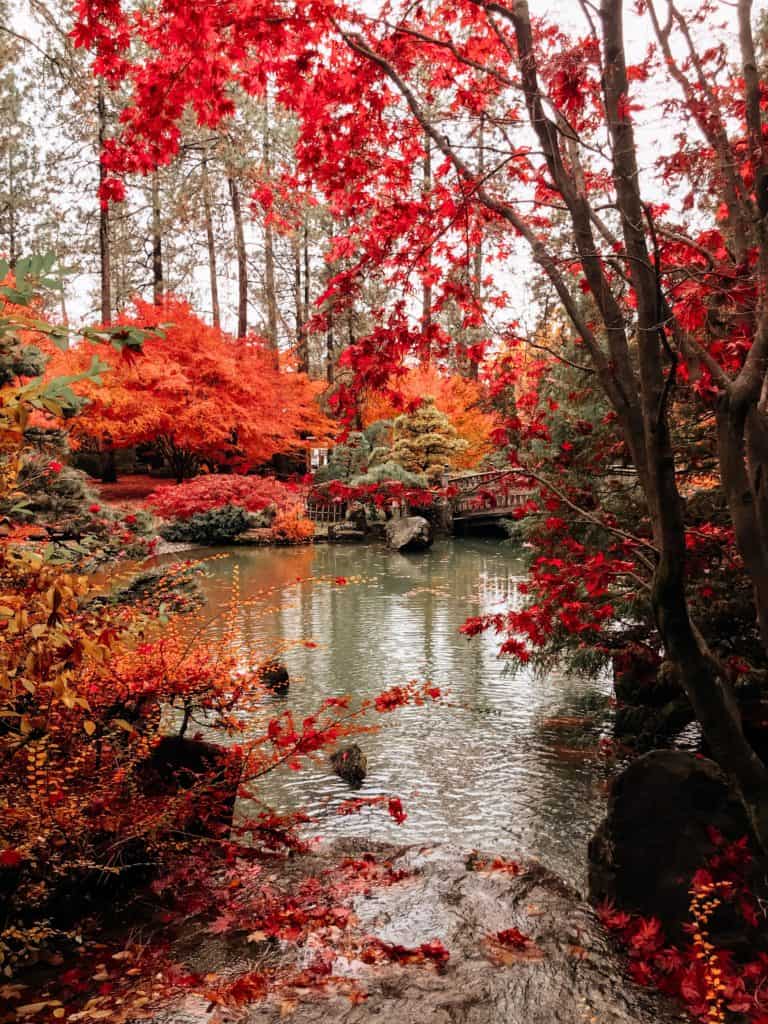 2. Lively Downtown
Have you ever lived somewhere where downtown was a ghost town? Maybe it was busy during the weekdays, when people worked downtown, but otherwise it just emptied out after 5 PM? Or maybe your downtown is adjacent to a loud, busy freeway, making it impossible to enjoy.
Washington state's second largest city is the opposite of all of that, thanks to some incredibly forward-thinking people from the 1970s. Prior to 1974, Spokane's downtown was busy, but for all the wrong reasons. Sure, it was a hub for commerce, but it wasn't a pleasant place for families or events.
Luckily, Spokane's Riverfront Park was transformed for the better, and now is a beautiful space hosting a redesigned Pavilion (concerts! Markets!), several playscapes, basketball courts, food trucks, and more. In addition to Riverfront Park, River Square Park is one of those rare malls in the United States that's doing well – it's easy to get to, has plenty of shopping both inside and nearby, and offers a variety of places to eat.
Around downtown is growing, too, with more restaurants than ever before. Yes, downtown also has its issues (see the Cons section below) and it's an ongoing issue that's not easy to solve. However, downtown Spokane has a lot going on with it and is a truly enjoyable place to spend time!
Plus, young professionals will really enjoy all of the fun things to do around Spokane. In addition to events in activities, Spokane has a vibrant business scene, with networking groups for all ages. It's a great way to get to know your new city!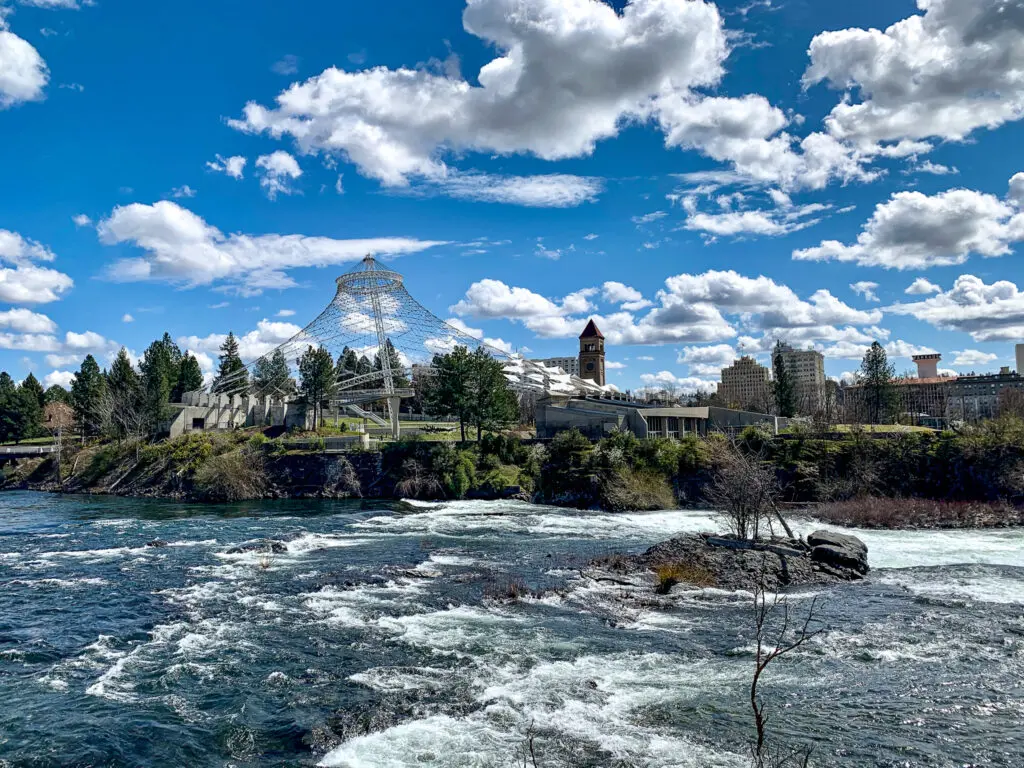 3. Outdoor Activities
Spokane's old motto was 'Near Nature, Near Perfect' and it's not hard to see why. Year round there's something to do outside around Spokane, from the warm summers filled with lake visits, to the winter months of skiing, snowboarding, snowshoeing and more. You can hike, fish, camp, garden – almost any outdoor activity you can imagine, you can enjoy all within an hour around Spokane.
This beautiful city has outdoor activities I still haven't tried yet (like Mount Spokane!) because there just aren't enough days in the year! If you love hiking trails (visit Riverside State Park!), camping, spending time on lakes, or really anything outside, you can definitely enjoy it here in Spokane. The Pacific Northwest in general is beautiful, and if you haven't lived here before, you'll love the easy access to nature this great city offers.
4. Winter Activities
We've already gone over all of the outdoor activities you can enjoy around Spokane, but now we're talking specific winter activities. Many people like to stay indoors during the coldest months, and that's fine!
However, if you're a "holidays person", let me give you the scoop: Spokane LOVES the holidays! From drive thru light shows, to multiple holiday markets, Santa sightings everywhere and so much more, there's something for everyone during the winter holidays in Spokane.
If you're looking for a city that hosts varied activities through the winter season, including tree lighting and New Year's Eve fireworks, you'll get your fair share in Spokane. Best of all? It's never really that crowded to try to see the fireworks, Santa, etc. People may complain about the long lines, but if you're coming from a really big city, it will feel like nothing to you!
Outside of the metropolitan area, Washington's second-largest city also offers plenty of good things to enjoy on the slopes. You can ski, snowboard, cross-country ski and so much more at one of the nearby slopes, or take a class as new residents to learn how to ski!
5. Less Traffic
Okay, so we have to put this in perspective: will there be traffic during rush hour on the highway, especially if you live far from downtown Spokane (and assuming you work in downtown Spokane)? Yes. There is definitely quite a bit of traffic, particularly for people who work traditional hours in downtown Spokane and live out in Idaho, Liberty Lake, or Spokane Valley.
That said, there is so much less traffic in Spokane than the major cities I've lived in (Denver, Phoenix). This is all relative depending on where you're coming from, but overall it's easy to get around the city. Your biggest disruptions will be any kind of streets maintenance, driving during rush hours, and of course, hitting stop lights and stop signs.
But huge, multi-hour traffic jams? It taking 1+ hour to get from the north of the city to the south of the city? Very, very rare.
6. Lower Cost of Living
As mentioned previously, 'low cost of living' in Spokane is relative to where you're coming from! From our experience, however, the cost for energy is far lower than what it was in Phoenix versus what it is in Spokane (hundreds of dollars less!)
Water is also fairly cheap, and food prices are comparable. Since moving to Spokane, we've prioritized shopping more at farmers markets or using community supported agriculture to support local farmers, which can be a little more expensive, but it's a choice we've made because of where we live now.
You can use cost of living calculators to see what the differences may mean for you – we like this one from Best Places, as we found it lined up very well with our experience moving from Phoenix to Spokane. If you're moving within the state of Washington, where you're coming from matters. If you're moving to Spokane from Seattle, you'll likely see a decrease in your cost of living.
Not coming from the state of Washington? Did you know there's no state income tax in Washington state? While other taxes make up the difference, no state income tax is pretty nice!
Another thing that became cheaper/more accessible when we moved? Health care! We were able to sign up with direct primary care in Spokane, which wasn't an option when we lived in Phoenix. We're now able to see a doctor much, much faster than we ever could before, and we haven't had to wait too long to see specialists (roughly 2 weeks for non-emergencies).
7. Family Friendly
Spokane is absolutely a family-friendly city, with plenty of parks, cultural activities, and free things to do in Spokane. One of the best examples of how family-friendly Spokane is? The fact that our downtown park has several playscapes for kids of all ages, from an area for little ones to a climbing wall, basketball course and so much more.
Add to all of our parks (including splash pads at City parks during the summer) are the variety of recreational activities put on by the county and cities around Spokane, plus the variety of library events in Spokane for kids, and you've got a place that wants to see your family healthy and happy!
8. Proximity to Seattle
One of the secretly great things about living in Spokane? How you're only around five hours away from Seattle! It's the best of both worlds: you're not super close to all of the people (and traffic) that Seattle creates, but you're also close enough to take a weekend visit to Seattle to visit IKEA, Whole Foods, and anything else Spokane doesn't have (yet) that you miss! It's the perfect opportunity for a weekend getaway to Seattle from Spokane.
In addition to being close-ish to Seattle, that also means you're close-ish to the Washington coast – if you want to take a weekend or long weekend to visit the coast during the summer, you can do that without having to book a flight!
Of course, if you want to book a flight, Alaska Airlines has plenty every single day, and they're only about an hour long. From Seattle, you can get almost anywhere, in terms of flying, but your home terminal is cozy Spokane International instead of busy and chaotic SeaTac.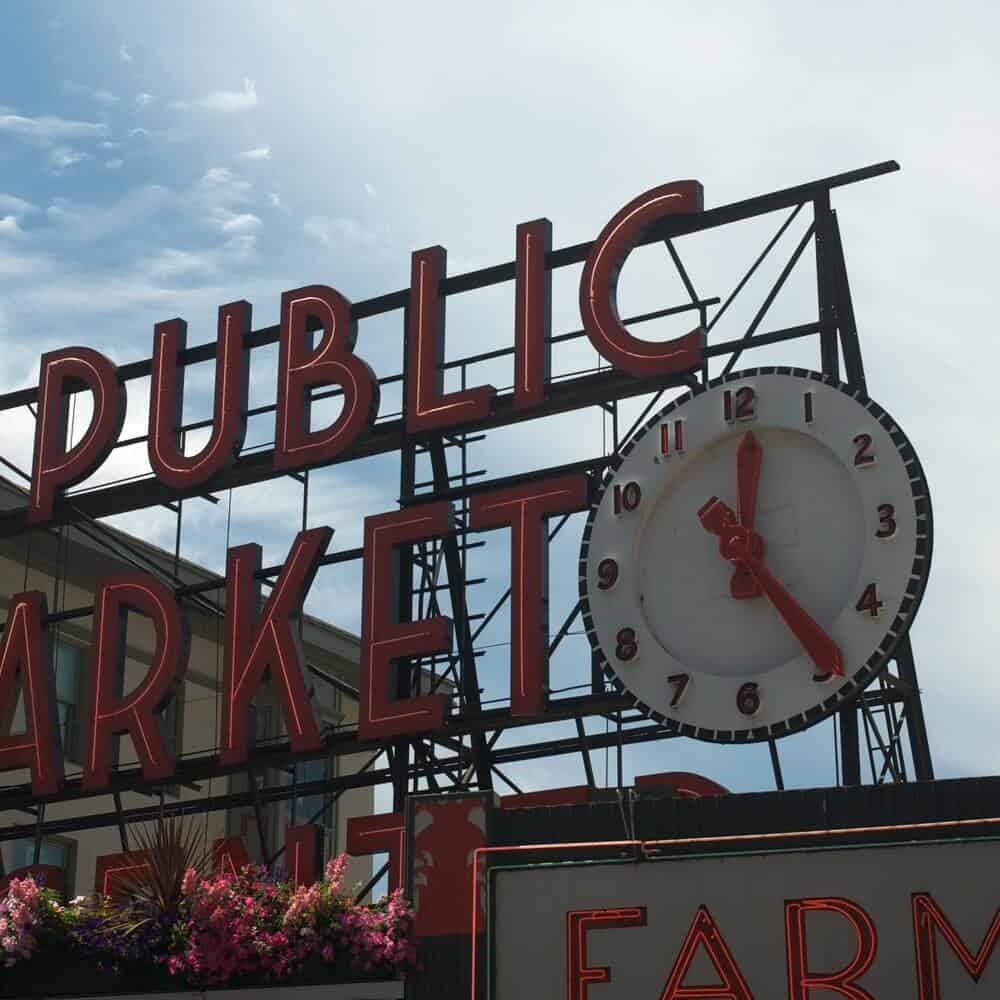 9. Availability of Locally Grown Food
If you're a community supported agriculture or farmers market fan, you'll find all of that in spades here in Spokane. Spokane is surrounded by farmers of all sizes, and there's a type of CSA or farm share out there for you – like LINC, one of our favorite CSAs!
The availability of locally grown food is, of course, dependent on the time of year, but it's not a surprise to see a bounty of fresh veggies and fruit at your local Spokane farmers market – or in your neighbor's garden! Spokane is the perfect place if you like to grow your food, too, as we have a good growing climate that supports a variety of veggies and fruits.
10. Small Town Feel with Big City Amenities
One of the best parts of Spokane, particularly as it continues to grow, is its small town feel with big city amenities. That wasn't necessarily the case 15 years ago, when Spokane lacked many of my favorite stores (we were all very excited when Nordstroms Rack came to town!) but now, you don't have to go very far for many of the same stores your favorite big city has.
As mentioned above, if you're looking for IKEA or Whole Foods (the two main places I get questions about from family and friends), you will have to go to Seattle for them – for now! Everyone also said we'd never get a Chick-Fil-A, and we recently did, so never say never.
11. University Quality
From Spokane Falls Community College (did you know they have a bakery?!) to Gonzaga, Whitworth and more, Spokane has a ton of universities, including satellites from University of Washington and Washington State. What does that mean for Spokanites? Access to high quality cultural activities and discussions, lots of fun student activity, and a bustling environment.
It's not a stretch to say having so many universities close to downtown Spokane has been a huge win not only for Spokane residents, but also Spokane businesses. Ever since Spokane expanded its University District with more schools and programs, downtown has grown by leaps and bounds. It's truly a gift to the city of Spokane!
Cons of Living in Spokane
1. Job Market Can be Rough
For being such an affordable city, Spokane's unemployment rate, while low, can be an issue depending on what sector you work in. It's advisable that you only move to Spokane when you have secured a job (or at least one person in your family has secured a job) due to these issues.
Another reason to find work (or bring work with you) before moving to Spokane? Renting! If you are renting or even trying to qualify for a mortgage in Spokane, you will need to show proof of income and 2-3x+ your rent to qualify for an apartment or decent mortgage.
While Spokane's unemployment rate may fluctuate, you'll want to see about job opportunities to move your job or apply virtually to make sure you have some type of job before moving here.
2. Fire Season and Air Quality
Well, there's no way to get around this one: fire season in Spokane is becoming worse every year, and it's make air quality/air pollution some of the worst in the world. Yes, I said world!
For several years now, Spokane has been receiving high marks for something we wish we wouldn't: poor air quality and high air pollution. This is due to our fire season, which is increasingly becoming worse as climate change continues apace. According to the Washington State Director for the American Lung Association, "exposure to wildfire smoke place our health and our lives at risk." It's a big reason why so many people are buying plug-in air purifiers for the summertime.
This is a very big deal for everyone, but particularly children, people with asthma, people with heart conditions – plus, it's just not great for anyone who wants to be outside!
Related: The Best Plug-in Air Purifiers for Living in Spokane, WA!
4. Seasonal Changes
This goes somewhat along with fire season, but is also an entirely different con for Spokane: the seasonal changes the bring the ash aphids and the winter season/time change that brings along Seasonal Affective Disorder (SAD).
For those of you who don't live in Spokane yet, you may think "ash aphids? Those don't sound that bad!" Well, just wait until September-early October when the little gnat-like bugs are swarming you, your kids, your dog – everything you love, including your nostrils. Don't believe me? Check out this coverage on ash aphids by local news station KREM.
Seasonal Affective Disorder/SAD is another serious condition, and, whether or not you suffer from SAD, it's a common complaint among Spokanites that the days are too short (especially after Daylight Saving Time). Once Daylight Saving time takes effect in November, expect it to get around 4 PM and not get light again until around 7 AM. You may not mind the darkness in the morning, but trust me – it affects everyone when it's 4 PM but looks like it's 8 PM outside.
The solution is, of course, to get rid of Daylight Saving time (something that, as an Arizonan, I refuse to acknowledge except when forced) and have the darkness welcome us at 5 PM. While unpleasant, it's better than 4 PM!
And finally: cold winters. Yes, Spokane has them. Are they like Buffalo, NY or much of the Midwest? Absolutely not! Are they worse than the Sunbelt states and the coasts? Well, yes, of course. The temperature in winter can drop down low, sometimes even into the negative digits (although that's less common!)
It's a fact of life and you become accustomed to it – it's not a surprise to see many Spokanites revel in the news that we'll get a snowstorm, since it means better ski conditions. However, pretty much everyone is over it after the holidays are over, and by February we're all cursing the snow in earnest.
5. Crime
This is tough to answer yet everyone asks it because crime in Spokane is relative to where you're coming from! Much like housing affordability, are you coming from a city with high crime rates? Have you personally been affected by crime in your city? All of that factors in to your perspective on crime in Spokane.
The facts: The violent crime rate in Spokane is lower than the national rate. Yes, that's right – the national average says violent crimes are lower than other cities. The property crime rate is higher than the national rate. Anecdotally, I've lived all over the city and I've never been the victim of property crime, but I know several people who've had their cars broken in to.
Is Spokane one of the worst cities for crime? Absolutely not. Is homelessness an issue, particularly in downtown Spokane? Yes – but it is everywhere! We travel a lot, and every city we've been to has consistently brought up the issue of homelessness and property crime. There are no easy ways to solve homelessness, other than to get informed and get involved, so that's something that affects every city nationwide.
As far as crime rates, I can only share anecdotes from family and friends as well as facts and statistics. If you're considering a move to Spokane, I highly encourage you to talk to people you know (if possible) and your realtor. There can be a lot of fearmongering online and plenty of people who want to dissuade you from moving to Spokane, so do your research and think about your own experiences before making a move to Spokane.
6. Lacking Diversity
Is Spokane diverse? This one is easier to answer based on facts: Spokane is 83.7% White. Coming from Phoenix, Arizona, where there is more diversity, it was different to arrive in Spokane and see a lot more people who looked like us and… that was pretty much it.
All this to say that Spokane still has a ways to go in being a diverse city, but it doesn't mean Spokane completely lacks diversity. We have the Carl Maxey Center, the Latinos en Spokane advocacy group, and a vibrant LGBTQ community, among others. There are opportunities to participate, get involved, attend events, and much more. You can get involved by checking out some of these volunteer opportunities in Spokane!
We hope to see, as more people move to Spokane and live in Spokane, greater diversity of ideas, people, and of course, more delicious food.
7. Lacking Walkability
This one is a personal pet peeve of mine, since I like to walk: Spokane lacks sidewalks in many neighborhoods and in general is not an inviting place to walk. There are some Spokane neighborhoods, like Manito and Garland, where walking is fun and easy. There are many more neighborhoods where walking is difficult and unpleasant. If you've ever wanted to walk to grocery stores or neighborhood shops, you're out of luck in Spokane unless you live downtown or in certain pockets of the city like South Hill or Garland.
Is Spokane working on being a more walkable city? Somewhat – the City of Spokane seems to be prioritizing bikes over pedestrians and, while bikes are great, they're not the answer for everyone. This is an issue I personally hope the City of Spokane addresses as the city grows.
8. No Major Sports Team
This one is disappointing for many people moving to Spokane – no major professional sports team! Yes, you have to drive to Seattle for professional football, and good luck with a basketball team (they've been teasing us for years).
On the other hand, we have Gonzaga basketball! And… WSU for football if you don't mind making the drive! And yes, Eastern football as well. And our baseball team is very good! It all works in a pinch.
9. Distance from Seattle
Seattle is so close!… Until it isn't. Driving 4+ hours to Seattle is all fun and games until you want/need to do it more frequently, or until you're stuck in a massive traffic jam. Then it becomes 7+ hours of hell (ask me how I know!) Add the cost of gas and the horrible Seattle traffic…
Sometimes, you just want to go to Seattle, but you dread it because of the drive. Your options are a flight, if you can get one cheap enough, or sucking it up and driving. It's not the end of the world, but it can be annoying.
Summary of Pros and Cons of Living in Spokane, WA
Pros of living in Spokane:
Seasons
Lively downtown
Outdoor activities
Winter activities and events
Less traffic
Lower cost of living
Family friendly
Proximity to Seattle
Availability of locally grown food
Small town feel with big city amenities
University District
Cons of living in Spokane
Job market
Fire season and air quality
Seasonal changes
Crime
Lacks diversity
Lacks walkability
No major sports team
Distance from Seattle
You'll notice I didn't mention sales tax in Spokane as a con, mainly because I've never really lived anywhere that sales tax was "cheap." Yes, sales tax is a regressive tax and it is annoying to compare Idaho costs to Washington's, but "sales tax" never been enough incentive for me to move to or from states. If you're coming from Oregon or another place that has no sales tax, this could be a major drawback, but I don't find it a defining reason not to live somewhere.
After living here for nearly a decade and talking to friends who've lived here their whole lives, I can with confidence say this is the ultimate list of pros and cons of moving to Spokane. Do you agree or disagree? Follow me on Instagram and share your thoughts!