10+ Things to Do at Riverfront Park
This post may contain affiliate links. This means if you make a purchase, we may receive compensation at no cost to you. Please view our full disclosure policy for more information.
Looking at Riverfront Park in Spokane, Washington today, it's amazing to think that fewer than 50 years ago, the park was an old train yard. It took a while, but finally in the early 1970s, Riverfront Park began to take the shape of the park we all now know and love.
Thanks to some innovative and tenacious city leaders, in just three and a half years, Riverfront Park went from the railyard to the site of the World's Fair 1974. With the World's Fair came our beautiful Pavilion, removal of the train tracks, and the park we love.
Riverfront Park is 100 acres of park, entertainment space, river and Spokane Falls, and so much more. Looking for things to do in Riverfront Park? Here are some of our favorite ways to enjoy, sightsee, and take in our fabulous downtown park!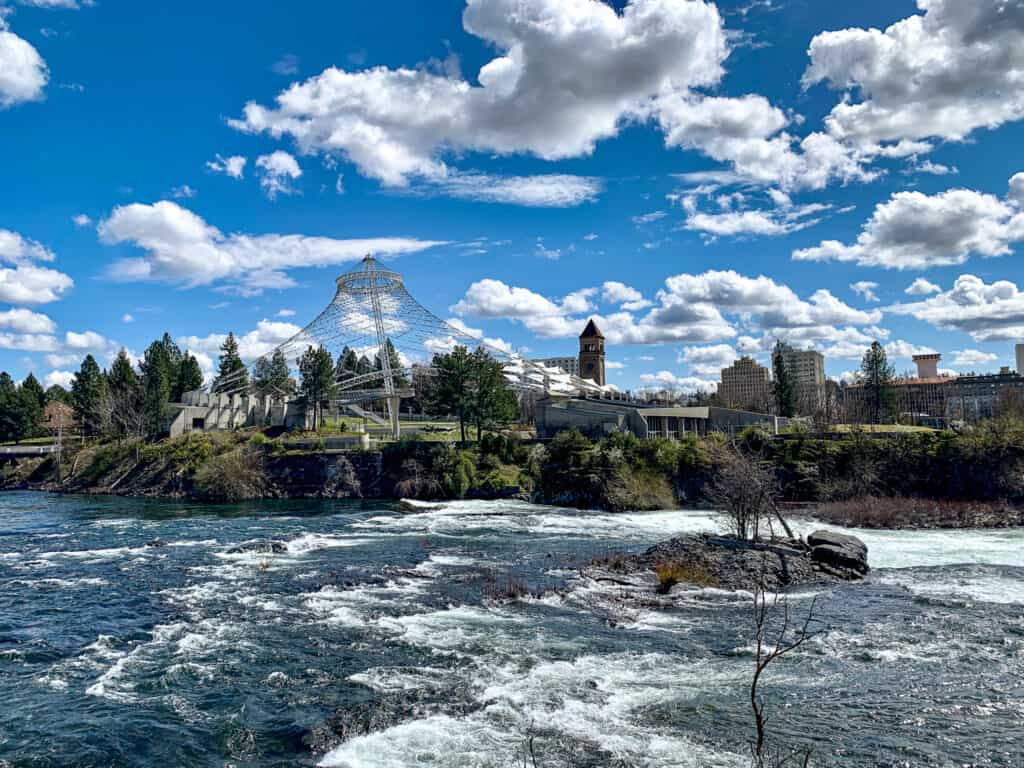 Riverfront Park, Spokane, WA: Location and Parking
There are many ways to get to Riverfront Park in Spokane, WA, in the Riverside Spokane neighborhood. Riverfront Park is located at 507 N Howard St, Spokane, WA 99201.
Free parking options:
Parking in the non-pay for parking spots at Kendall Yards and walking across the bridge, or parking north of the river and walking across the Monroe or Washington St. bridge
Downtown parking in Spokane is free on Sundays and after 7 PM on weekdays, so that's another free option as well (although you will have to pay during the week before 7 PM)
Pay park options:
Park at River Park Square (the mall) in their parking garage – it's the closest and, depending on how long you're at the park, a reasonable option.
Not recommended: downtown parking lots. Parking rates are variable depending on when you're visiting the park, and this is one of the priciest options. In almost all cases, parking at Riverfront Park Square is a better option if you can't find on street parking elsewhere.
You can also take the city bus into downtown Spokane, as well as take an Uber or Lyft to get to the park.
Where to Stay Near Spokane Riverfront Park
There are many places to stay in downtown Spokane, from the luxurious Davenport to the ideally located Ruby River Hotel (on the river!) and everything in between.
Plug in the dates you're looking to stay here in Spokane below and you're sure to find an excellent option, from hotels to local stays and more:
Things to Do at Riverfront Park, Spokane, WA
Visit the U.S. Pavilion
The downtown Pavilion at Riverfront Park has undergone some major changes since it was first welcomed to Spokane in 1974. The Pavilion was originally a gift to Spokane from the United States government.
Since Spokane implemented its Master Plan, the Pavilion has been restored from the tent-like display to a modern, flexible use event space. Now the Pavilion offers light shows (every weekend and on special holidays) and hosts everything from the Hoopfest Nike Court game to the Bloomsday Award Ceremony, summer concert series and outdoor giant screen film festivals.
Curious about how the Pavilion illumination works? They're called "Illumination Blades", and this is how the City of Spokane describes them:
"The remodeled and revitalized Pavilion features 479 high‑tech, programmable illumination blades that light up the iconic structure like a lantern, and are capable of performing dazzling light displays with various patterns and colors. The light blades vary from 3 to 6 feet in length, with a total of 2,262 linear feet of illumination. Each one foot increment of blade can be controlled separately."
The Pavilion is an excellent place to bike ride, rollerskate (rollerblade, skateboard, etc.), walk, run and everything in between. One of our favorite things to do is have a picnic on the Pavilion amphitheater grass. With over 37,000 square feet of grass-covered seating, it's a great spot to relax, have both shade and sun access, and get a great view of the river!
Take a Ride Above Spokane Falls on the Numerica Skyride
Possibly Spokane's most-famous natural attraction, the Spokane Falls have been featured in movies and television series, such as "Smoke Signals."
Curious about other movies that feature Spokane? Check out our list of movies filmed in Spokane!
With an upper and lower falls, the area is one of the most-beautiful spots in the Pacific Northwest. The falls are the perfect backdrop for the Numerica Skyride, a gondola-style attraction that takes you in front of the Spokane Falls.
The ride – named one of the most scenic cable rides in the world – take you past city hall, with its art deco design, descending about 200 feet to provide an aerial view of Huntington Natural Area, before returning to Riverfront Park, including a ride under historic Monroe Bridge.
The total trip time on the gondola is about 15 minutes in an 'all weather' enclosed cabin. Each cabin can hold 6 people.
Note: Numerica Ride is currently accepting only credit or debit cards, no cash.
As of 2021, this is the cost to ride the Numerica Skyride in Spokane:
Costs
Adults: $9.95
Youth (3-12): $6.95
Ages 2 and under : Free
(Ages 15 and under must be accompanied by an adult)
The Numerica SkyRide is wheelchair accessible.
Feed the Garbage Goat
A fixture since the 1974 World's Fair, the Garbage Goat has been consuming paper and other garbage for nearly 50 years. The sculpture actually consumes garbage when you press a button and hold paper under its mouth. A vacuum activates and inhales the garbage. Not only is it a fun attraction, it helps keep Riverfront Park clean.
Joining the Garbage Goat will be the White Elephant from the former White Elephant store. Donated to the city as a gift if appreciation by the store's owners, rides will continue to cost a dime. Based indoors, the White Elephant may be moved outdoors when weather permits.
Take a Sculpture Walk
Along Spokane's Riverfront Park and Centennial Trail, you can take a walk through Spokane's Sculpture Walk and observe incredible, outdoor works of art. These include pieces like:
Centennial Sculpture, located in the Spokane River (see if you can spot it!)
The Garbage Goat, designed by Sister Paula Turnbull for Expo '74
The Childhood Express, aka the big red wagon created in honor of Washington State's 1989 Centennial
and many more, including the Rotary Riverfront Fountain and the Vietnam Veteran's Memorial
You absolutely won't miss the Sculpture Walk if you're in downtown Spokane, and specifically at Riverfront Park. The sculptures are everywhere – make sure to grab a brochure if you want to find every one of them!
Speaking of the Riverfront Rotary Fountain, in the summer, the fountain turns into a great area for kids to cool down and play! The Fountain was dedicated in 2005 to 'the people of Spokane' and is under the care of the Spokane Parks Department.
View the Washington Water Power Building
The iconic Washington Water Power building is considered a Spokane architecture icon. Built in 1910, the building served as the city's primary electric power provider. With a brick exterior, its design helped the building mesh with others in the downtown area.
The Washington Water Power building has been at the forefront of several key achievements, including the world's largest transmission line, which ran from Spokane to Burke, Idaho. Employees developed the nation's first temperature control for electric stoves and invented the first electric water heater. The building's iconic "Washington Water Power" block letters remain in place.
Located directly behind the Washington Water Power Building is Huntington Park, with statues, the Veterans Park Overlook (ADA-friendly), and wonderful views of the river. Take a look at this Huntington Park walking tour map and make sure not to miss anything!
Be Inspired by the Clock Tower
Standing 155 feet tall, the Clock Tower on Havermale Island serves as a connection to Spokane's days as a railroad town. As part of the Great Northern Railroad Depot, the clock tower was saved when the depot was razed for the 1974 World's Fair.
Today, the nearly-120-year-old tower continues to work and ring in the hours. The clock tower occasionally needs adjustments, with a technician climbing five stories to make the fixes.
Curious as to how (and how often) the clocktower needs to be kept 'on time'? Check out this informative video by KREM – it's pretty cool how they do it!
Take a Ride on the Looff Carrousel
Named to the National Register of Historical Places, the 111-year-old Looff Carousel is among the most popular attractions at Riverfront Park. With hand-carved wooden carousel features 54 horses, two Chinese dragon chairs, a giraffe, and a tiger. The carousel invites kids of all ages to enjoy the ride.
You can even 'feed the goat' while on the Looff Carrousel- take a look at this video from Terradrift below!
In addition to the Carrousel, you can also enjoy Riverfront Park attractions like the bungee jump and pedal karts (note: these attractions aren't open all year, so make sure to check in advance.)
Show Off Your Skills at the Numerica Skate Ribbon
During winter months, Riverfront Park is home to an unusual ice skating rink. The Numerica Skate Ribbon is a 650-foot-long frozen pathway with inclines and declines. Featuring a 3,500 sq. foot pond, the ice skating attraction is among the best in the country. With firepits located around the ribbon, you can also enjoy hot chocolate and snacks.
During non-winter months, the skate ribbon is available for roller skating and blading.
Feeling hungry? Stop in at the Sky Ribbon Cafe, which offers tasty treats like sandwiches, pizza, tacos, and classic park fare such as hotdogs and French fries.
Play at the Ice Age Floods Playscape
With interactive attractions, Ice Age Flood Playscape will soon call Riverfront Park home. Planned for a 2021 spring opening, the park will combine activities with an opportunity to learn about the affect the ice age had on Spokane's geology. With water features, basketball courts, and a skate park, the acreage will offer fun, along with a little education.
Should You Visit Riverfront Park? Absolutely!
It's an easy question: you should visit Riverfront Park, whether you're here just visiting or if you're a lifelong Spokane native. Riverfront Park is not done growing – the city is still building out the new Ice Age Floods area, Hoopfest court, and much more.
There's plenty to do at Riverfront Park, including strolling along Spokane Falls, taking a ride on Looff Carousel, relaxing at Huntington Park, visiting the Rotary Fountain splash pad and so much more. Spokane is such a beautiful city – get out and enjoy it!
Can't get enough of downtown Spokane? We highly recommend you check out the Spokane Area History walk, a 4.5 mile along walk, mainly around downtown Spokane. You'll learn about local people, places, and art that have, in their own ways, shaped the Spokane we know and love today. You can access and download the walking tour here.