The 10+ Best Happy Hours in Spokane
This post may contain affiliate links. This means if you make a purchase, we may receive compensation at no cost to you. Please view our full disclosure policy for more information.
The Best Happy Hours in Spokane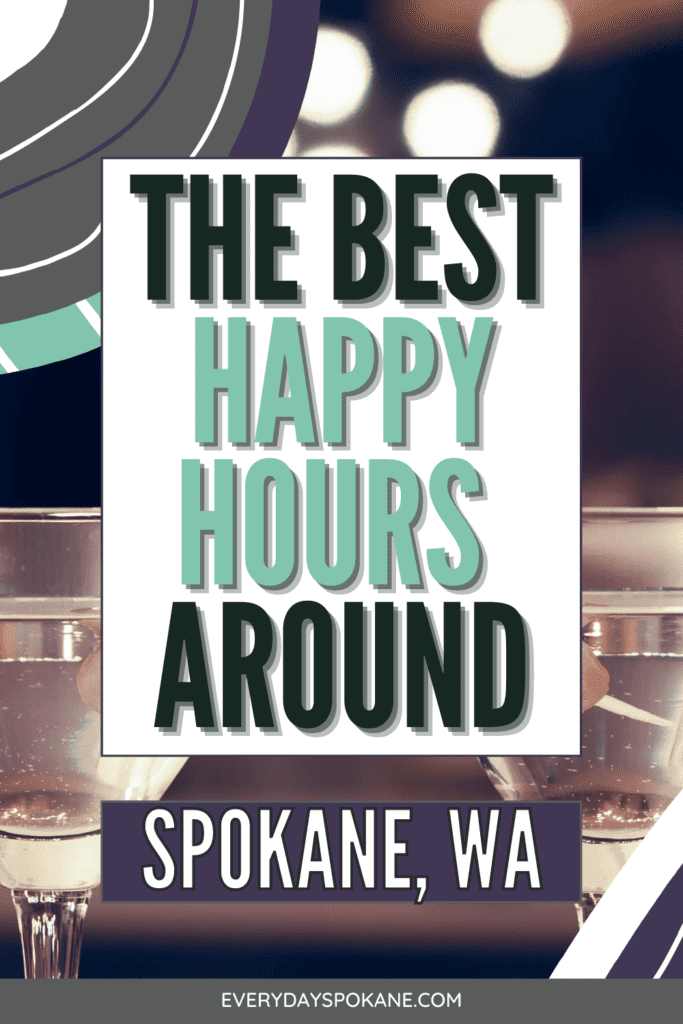 Are you looking for the best happy hours in Spokane, WA? Look no further! Whether you're looking for a great happy hour location after work, a night out with friends, or a romantic date night, you're sure to find something you love with this list of happy hour specials in a variety of Spokane neighborhoods.
Happy Hour in Spokane
When it comes to the toil of the workday, few traditions are more beloved by the tired masses than happy hour. This tradition actually began in one of the driest periods in history – Prohibition. The failed social experiment led to one of the pillars of American food culture.
Instead of abiding by the new rules set across the nation regulating the consumption of alcohol, people across the nation just became more inventive (like a forbidden teenager). This led to gathering in speakeasies and an ever-growing number of tantalizing drink specialties to lure people out of their homes and into wetting their whistle illegally. Luckily you don't have to know the secret password to get into any of these watering holes hiding in Spokane.
Today we are experiencing a revolution of a different sort – the renaissance of craft cocktails (where every element is handmade especially to suit the drink). This has completely changed what consumers expect, and we sought out some fun places near the heart of downtown that you can unwind as well as appreciate the work of the in-house mixologists.
From small-batch bitters to house-made shrubs to specialty glassware that makes anyone feel like royalty, you'll find something truly memorable in this list. We did a little research of our own (the fun kind), and discovered some fantastic spots for you to get comfortable and unwind from the office.
Check out our top favorites at our video here: Best Happy Hours in Spokane, Washington
Looking for more things to do before or after happy hour? Check out our top recommendations for the best things to do in Spokane here!
1) Whim Wine Bar
This gorgeous spot tucked away in River Park Square is a pink dream and perfect for a get together after work. Comfy and cozy seating, low lighting and a spectacular wine list that will make anyone feel like an expert (because it's all fabulous no matter what you pick) make for a great destination after a long work day.
If you want to grab a uniquely curated bottle, they have a retail section for you to start the party at home instead!
Happy Hour everyday from 1-3 PM:
$7 glass house red or white
$12 meat and cheese boards
$5 draft beer
2) Bon Bon at the Garland Theater
Happy hours:
Monday-Thursday: 4PM – 7PM
Friday & Saturday: 10PM – Close
All-Day Sunday
If you haven't had the absolute pleasure of popping into this Art Deco style treasure out in Garland District, what are you waiting for? It's a tiny spot, so probably best to just catch up with one or two pals to vent about your crazy boss, or to meet up with a lover over a perfectly mixed cocktail.
Want to make it even more of an escape? Head out for a movie afterward in the same building at the Garland Theater. Bonus points if you visit on Totally Tubular Tuesday for a throwback movie that will have you forgetting your worries in no time.
3) 1898 Public House
With Spokane Guild Award-Winning Rising Star Chef, Blake Kaba, this spot is a sure fire win. Craveable shareables like the Wicked Shrimp (which I am still DREAMING about) with mascarpone polenta, harissa sauce and grilled crostini and their short rib egg rolls with slow-braised short rib, roasted corn and char-roasted tomato aioli will make you a super fan of this north side destination.
Don't be limited to just the shareables, though – go for the gold with their entrees and the famous "Ooey Gooey Lemon Bar" to satisfy your sweet tooth.
Find 1898 Public House menu here.
4) Safari Room
The Safari Room at the Davenport Tower is filled to the brim with fun, and it comes with the bonus of free valet parking with your happy hour purchase. A huge perk in the busy downtown area!
All of their flatbreads and alcoholic drinks are half-off from 4pm to 6pm, and you have so many options. Tomato basil, Thai chicken, mushroom, fontina and truffle oil, and pepperoni, sausage and red sauce.
Still hungry? They have a large dinner menu to keep your kitchen clean. The seating is extra comfortable, too, after a long day at the office.
5) Luna Restaurant
Arguably one of the most beautiful restaurant spaces in Spokane both inside and out, Luna is a destination that truly has a menu to match.
Under the leadership of Chef Joseph Morris, Luna really nails upscale casual dining and is the Guild Award Winner for 2020 in this category (i.e. the awards for the Best Restaurants in Spokane!). Their happy hour is one of the best-kept secrets in Spokane, and we are so pumped to give you the inside scoop.
Cocktails by Guild Award Winner for Best Bartender 2019 Cody Winfrey are a work of art in both taste and presentation, and will make you feel fancy and fancy free. Favorite appetizers to accompany your beverages are the tuna tartare, crab cakes made with Dungeness crab meat and deftly mixed with old bay aioli, fried to a perfect crisp and topped with a sweet chili slaw, and oysters on the half shell.
6) Saranac Public House
Located in the historic Saranac building adjacent to the Saranac Commons, this is a must-try. With a wide variety of vegetarian, vegan and gluten-free options (before it was cool), this is a spot that is diner-friendly no matter what your dietary needs happen to be.
I am a BIG fan of the pretzel with beer cheese, and the pizzas here aren't to be missed.
7) Twigs Bistro and Martini Bar
Twigs is a long-time happy hour champ, and for good reason. I am a huge fan of the River Park Square location with dining overlooking downtown, and their diverse menu of appetizers and cocktails. It's LONG, with something for everyone.
Happy hour at Twigs is from 3-6 PM daily and 9-close.
I absolutely love their famous Twigs fries with Gorgonzola cheese dip, and my go-to martini is the Jalapeño cilantro margatini. It's sweet, spicy, and acidic in every sip, and it's been my favorite for years.
8) Bark, A Rescue Pub
When it comes to casual cocktail hour – this is your spot. Plus, you have the benefit of getting to peek in and see sweet doggies from the Spokane Humane Society who are up for adoption! Talk about a win-win! Bark's Happy Hour is Monday through Friday from 3 to 5pm.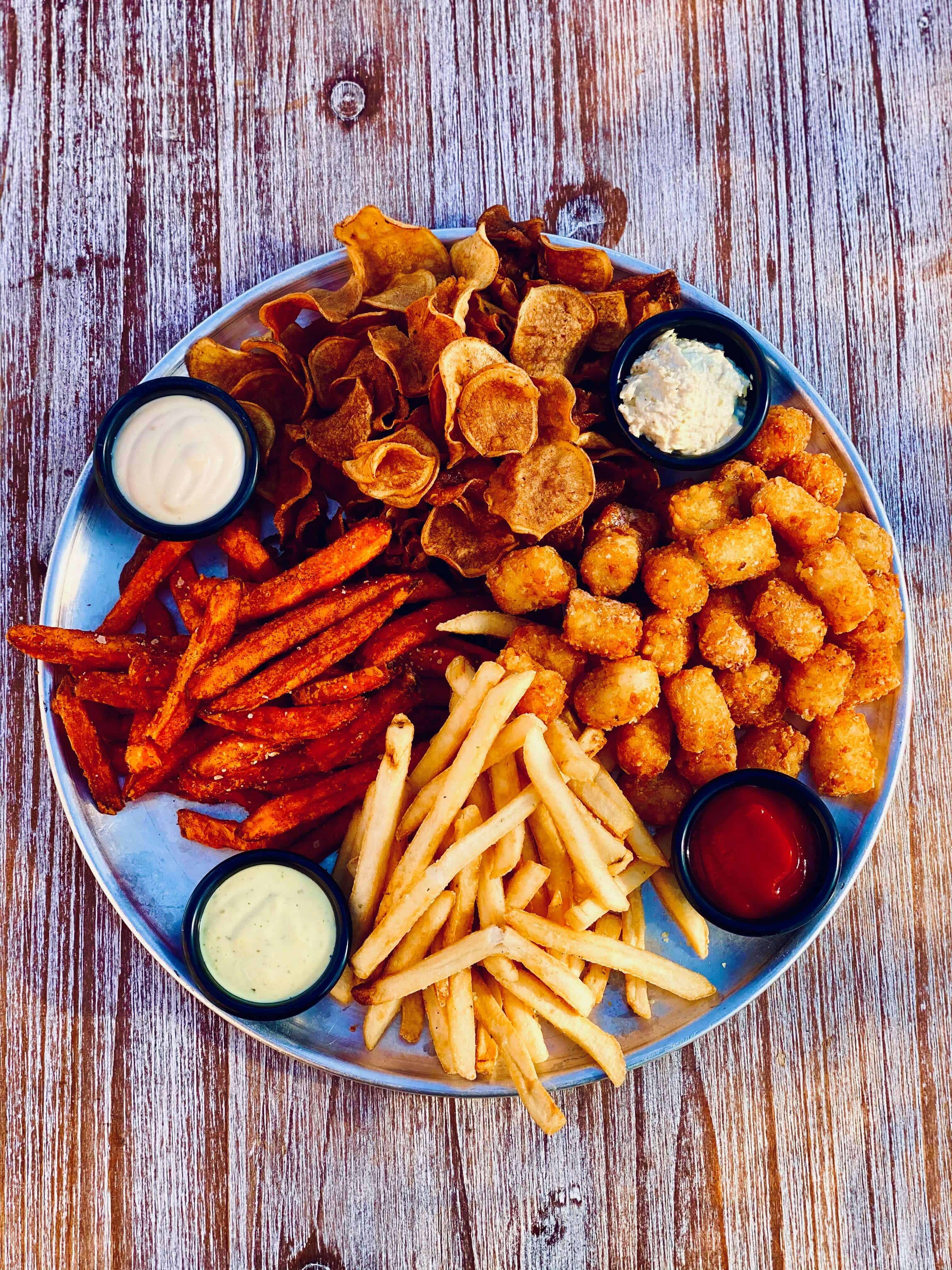 I'm a big fan of the dog bone pretzels with an assortment of toppings and the Bark Boards, which are perfect for sharing. Don't forget the epic Bloody Mary for either happy hour or brunch! It's a show-stopper.
9) Gilded Unicorn
This underground Spokane favorite (literally, the whole restaurant is underground!) has imaginative comfort food down pat in a stunningly beautiful space in the heart of downtown near Railroad Alley.
Happy hour is Sunday through Thursday until 6pm, Friday and Saturday until 5pm, and again at 10pm to close.
It's a historic, brick walled space that instantly makes you feel like you've been transported somewhere back in time and with sweet touches like vintage china and flatware, twists on old classics like bananas foster bread pudding, and their famous deviled eggs that are a must-try – you'll feel like a treasured guest.
10) Tavolata
Deal – Discounted appetizers, entrees and drinks listed.
Happy Hours – Available for Bar or Patio Dining 4PM to 6PM Nightly
Tavolata is one of the most celebrated new restaurants in the city thanks to multiple award-winning Chef Ethan Stowell and his team – read our full Tavolata in Spokane review!
From a phenomenally stocked bar with all kinds of specialty spirits to the drool-worthy Italian menu including handmade pasta, artisan charcuterie and more, you won't want to go home. You'll want to stay forever and keep ordering item after item until you can't move anymore. Speaking from experience? Maybe.
11) Max at Mirabeau
Over in the Spokane Valley lies a treasure in an unusual location just off the freeway that you'll want to have on your rotation for a few reasons – some of the best bargains (nearly 50% off most appetizers) and a HUGE list of cocktails, all with some warm, welcoming ambiance and a great patio when the weather permits.
Because I live close by, this is one of my favorite haunts, and pretty much everyone knows me by name. The service here is top-notch, and it's a popular spot for after-work shenanigans.
Happy Hours 3-6pm daily and 9pm-close
Deal – Heavily discounted appetizers and discounts on cocktails beer and wine.
$5 house well drinks, $ select red or white wines and $5 max signature press drinks
$4.50 Max pale ale from TT's Old Iron Brewery $7 house martini and manhattans
12) Lucky You Lounge
Happy Hours – 3-5pm
Deal – $6 starters, $4 wells and drafts, $5 wine and $2 off cocktails
Menu Link – http://luckyyoulounge.com/menu/
The hottest hangout in town is Lucky You Lounge, and they are crushing the happy hour game. The 70's decor and swanky feel make this oh-so celebratory no matter what night of the week you stop by.
Catering to vegan, gluten free and vegetarian customers, they really understand the needs of modern culinary clientele. They have an eclectic menu with some killer appetizer offerings during happy hour, including shitake dumplings with a black vinegar broth, and cauliflower fritters with pear-raisin chutney and herbed yogurt. Get both.
When it comes to cocktails, they show off the best of the era with the Aquafaba Whiskey Sour – it's the perfect nightcap.
13) Baba
Happy Hours – 3-5pm
Deal – Appetizers from $3-$8, Craft Cocktails $8, Well Cocktails $7, Beer $4, Wines $5-6
Menu Link – https://babaspokane.com/happy-hour/
With so many inexpensive but sophisticated appetizer options right in the heart of Kendall Yards, you'll wonder why it took you so long to try Baba.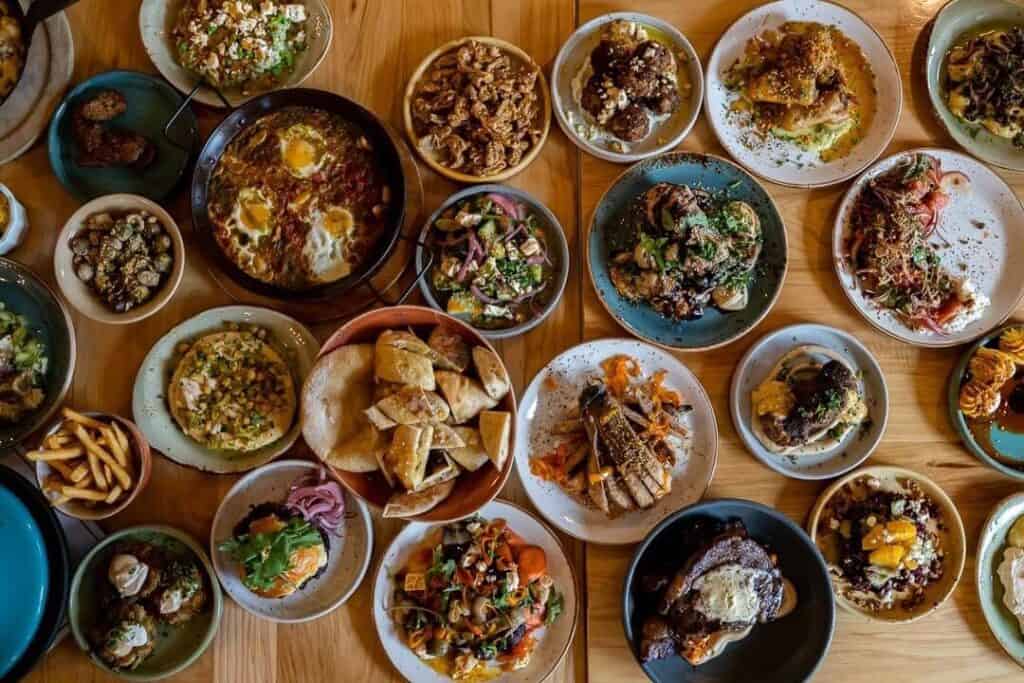 The newest jewel in the Eat Good Group Crown, Chef Adam Hegstead and his team took on the challenge of interpreting Mediterranean cuisine with a twist for Spokane, and it's a success from beginning to end.
You will definitely want to order the hummus and pita with preserved lemon, and seriously – order more pita. They make it in-house and it's some of the best I've ever had. Pillowy and comforting, it's the perfect pair with any cocktail. I'm especially a fan of the Old Fashioned inspired cocktail with a brûlée'ed orange.
This fantastic article was written by Erin Peterson of the Spokane Guild, a website devoted to celebrating awesome people and places around Spokane. In addition to being an award winning influencer and podcaster, Erin also hosts the Guild Awards, which recognize the best restaurants, bars, and more around Spokane.
We also run the Trending Spokane podcast and YouTube channel, which you can check out here: Trending Spokane
Looking for free things to do in Spokane after enjoying happy hour? Check out our list of the top free things to do in Spokane here!
Which happy hour special is your favorite? Let us know on our Facebook page here!