The Most Delicious Vegetarian and Vegan Restaurants in Spokane
This post may contain affiliate links. This means if you make a purchase, we may receive compensation at no cost to you. Please view our full disclosure policy for more information.
Are you a vegetarian or vegan in Spokane? Maybe you're thinking about going meatless, or have a friend or family member who is a vegetarian or vegan! If you're wondering what the vegetarian and vegan scene is like in Spokane, you'll definitely want to read our top recommendations for vegetarian restaurants in Spokane.
Many of these restaurants are also vegan or dishes can be made vegan for those of you avoiding all animal-based products as well!
Unfortunately, while there's not a vegetarian restaurant in every Spokane neighborhood yet, Spokane does have several sprinkled around the city. You're sure to find somewhere close-ish to you!
Many of our favorite vegetarian and vegan restaurants also offer happy hour – make sure to head over to our top happy hour recommendations here!
The Vegetarian Restaurant Scene in Spokane
Let's cut to the chase: Spokane isn't necessarily going to be a vegetarian or vegan-haven like Portland or even Seattle (yet!). Personally, I'd love to see a Veggie Grill here, but I'd also settle for more restaurants even being vegetarian-friendly. Also, if you're looking for most restaurants here to be accommodating toward vegetarians (to say nothing of vegans), you'll have to be clear, direct… and patient.
However, Spokane is getting better for vegetarians! I'm a lifelong vegetarian, and when I lived in Spokane last, we vegetarians had very limited options – and forget about asking restaurants if they had anything vegetarian-friendly. All of my fellow vegetarians can sympathize with me when I was told 'order a salad.'
Now, almost every restaurant in Spokane has at least a few things vegetarians can order, plus there has been a proliferation of vegetarian restaurants in Spokane. There are dedicated places vegetarians and meat eaters can go to and enjoy a meal (see Cascadia and Mizuna below) plus places specifically for vegetarians and vegans (like Allie's and Boots).
More people in Spokane are aware of vegetarianism, which means for the most part you won't be hassled or questioned about your decision. In addition, there are several Facebook groups for vegans (including vegetarians) in Spokane, like:
If you're a vegetarian or vegan in Spokane, don't worry – you'll fit in just fine and even though the culture in Spokane definitely leans toward the meat-eaters, you'll find something to eat here, and you'll find a community that is aware and accepting!
Below, we'll note whether a restaurant is fully vegan or vegetarian, so if you're looking for a specific type of food, you'll be able to find it quickly!
Vegetarian and Vegan Restaurants in Spokane
Allie's Vegan Pizzeria and Café (Vegan)
Seeing a need to offer the Spokane area a vegan option, Allie's Vegan Pizzeria and Café opened in 2016. With a menu that features cashew-based cheese, Allie's offers a dozen pizzas and flatbreads. Looking for some plant-based meat substitutes on your pizza? Allie's has you covered with ingredients such as substitutes that taste like pepperoni, sausage, and chicken, along with fresh vegetables.
Creative pizza names include The Legendary Hot Mess (Buffalo ranch, creamy cashew mac 'n' cheese, fried chick'n, and red onions, topped with mozzarella) and Veggie Pizza (creamy roasted garlic pesto, artichoke hearts, black olives, mushrooms, bell peppers, and mozzarella). The restaurant uses dairy-free cheese. Gluten-free pizza crusts are also available for an additional cost.
Allie's Vegan Pizzeria and Café also offers rice bowls featuring falafel and orange chick'n. On Wednesdays, Allie's offers a sandwich special, which rotates every week!
The restaurant features appetizers and a children's menu. Allie's menu is also available online for delivery. Finally, if you're looking for a brunch fix, make sure to follow Allie's Instagram page for brunch announcements. Allie's doesn't have brunch every weekend, but does announce their brunch options in advance for you to plan ahead!
RUT (Vegan)
Using a modern American-style menu as its foundation, RUT (pronounced as "Root") seeks to take diners on a culinary adventure with a menu starring tasty and delicious foods. RUT has a serious background, too: Founder Justin Oliveri was a co-owner of Cascadia Public House (see below!), which is an excellent place for vegetarians and meat-eaters alike. Chef Josh Lorenzen was a Sous Chef for Bijou Cafe in downtown Portland, and both founders are vegans themselves.
From wings to burgers and everything in between, RUT uses plant-based meat alternatives to create its burgers and sandwiches that can tempt anyone's appetite. A Thai cauliflower wrap includes crispy cauliflower tossed in Thai ginger sauce with cabbage, carrots, pickled cucumbers, and mint scallions. Its smaller plates include sweet potato fries, buffalo cauliflower wings, and white bean queso dip (with non-dairy cheese).
Our tips? Head over to RUT for happy hour (everyday from 3 to 5 pm and 9 pm to close) and enjoy one of the many fabulous drinks RUT has to offer along with a small plate (or two!). You also won't want to miss dessert at RUT, so leave room for items such as ginger apple crisp, coconut ice cream, and a chocolate brownie lava. You'll be challenged to walk away hungry.
Mango Tree (vegetarian options)
Mango Tree is a delicious downtown option offering a variety of Indian food dishes, including Daal Turka (lentils), Channa Marsala (chickpeas), veggie samosas and more. You can even get a veggie burger!
Pro-tip: Never had Indian food before or looking for a lighter meal? Visit Mango Tree for lunch, when you can order a lunch meal for $15, which includes one of three daily options, rice, naan, and salad!
Method Juice Café (Vegetarian)
Offering customers a menu featuring organic fruits and vegetables, Method Juice Café is truly a vegetarian's eatery. With smoothies, salads, and acai bowls, Method Juice Café seeks to provide customers healthy dining options.
From its Authentic smoothie, with coconut milk, banana, orange, pineapple, and vanilla, to the Mighty acai bowl with banana, peanut butter, raw agave, strawberries, granola and more, Method Juice Café creates delicious choices.
The restaurant's salads include a Caesar and massaged kale. You can also create your own salad, or choose from one of their rice bowls or curry. Method offers a few locations around Spokane, so make sure to check out their website for more information.
Mizuna (Vegetarian)
As a restaurant featuring a stellar Pacific Northwest menu, Mizuna realizes its customers want more than standard meat and potatoes. Offering both vegetarian and vegan options, Spokane diners have options when planning to dine out.
From meals like chickpea falafel small plates to field roast and quinoa meat loaf, stews, mushroom-mascarpone risotto and more, diners seeking alternatives don't have to settle for a side salad at Mizuna.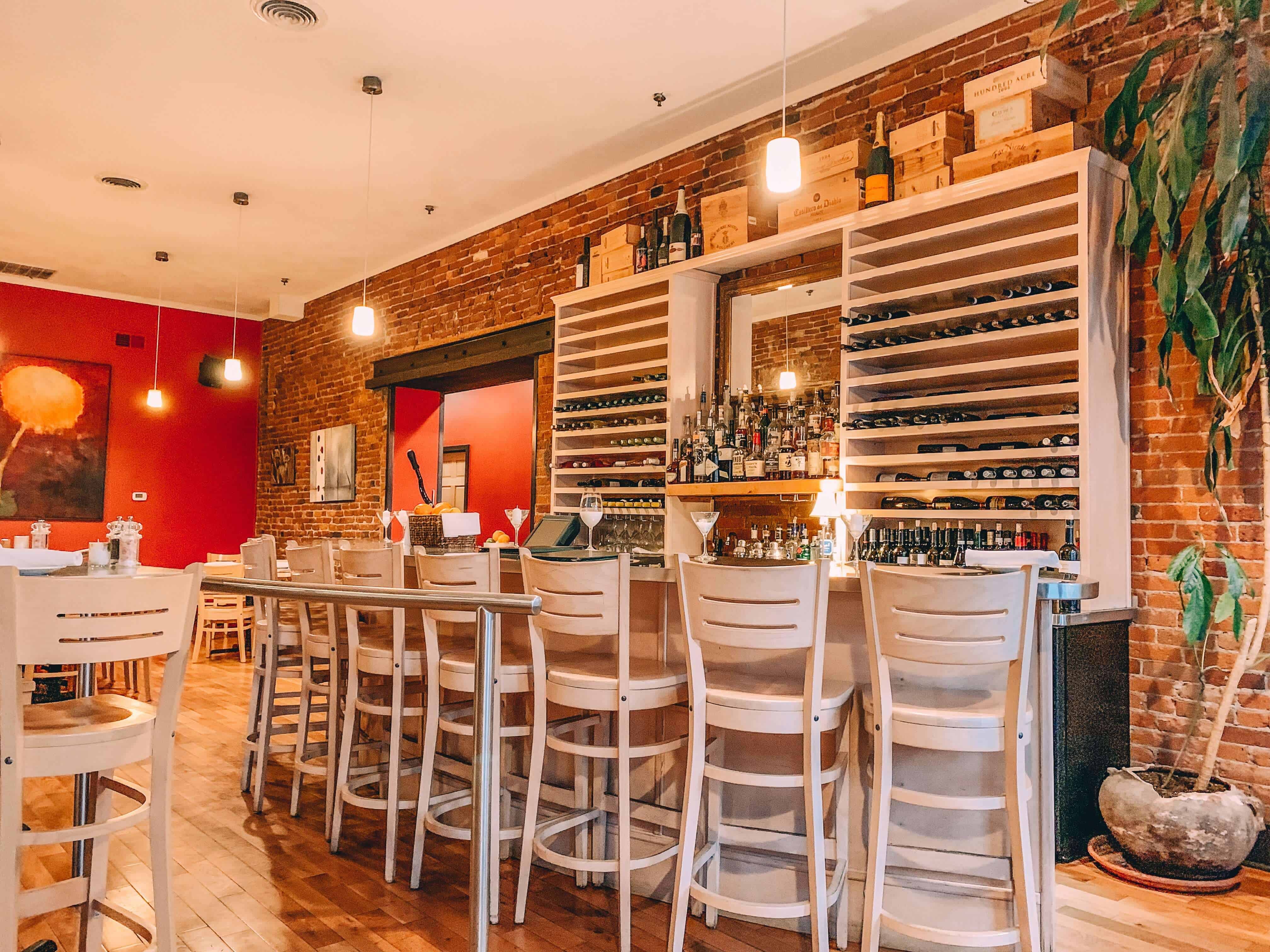 Mizuna also offers a variety of desserts as well, and many of them are gluten-free. They also have at least one vegan dessert option – make sure to go check out their full menu here!
For more information about Mizuna, including what to get and what to expect, check out our review of Mizuna here.
Queen of Sheba (Vegetarian and Vegan-friendly)
Just mention 'Queen of Sheba' around Spokane, and you'll get familiar nods. While Ethiopian food might not seem like a weekly visit, once you try Queen of Sheba, you'll be asking all your friends to go!
Queen of Sheba even offers a vegetarian and vegan-friendly menu, with options like Yemeshir Kik W'et (lentils), Shiro (ground chickpeas) and Yaterkik Alicha (yellow split peas), all served with injera (which you use to eat your delicious food!)
Check out Queen of Sheba's menu here.
Cascadia Public House (Vegetarian)
If you read our review of Cascadia Public House, you already know Cascadia is one of our favorite places to go with a mixed group (aka vegetarians and meat-eaters). Like Mizuna, Cascadia offers plenty of options for the meat eaters out there while also offering a dedicated plant-based menu for vegetarians. Add in an excellent drink menu, plenty of seating and attentive servers, and you've got a hit!
Vegetarians at Cascadia get their own plant-based menu with delicious options like garlic fries, BBQ tofu sandwiches, Impossible Philly, Beyond Mushroom Burger and more. Cascadia also offers many vegan options, from their Pretzels & Cashew Queso to their Small Planet TLTA (tofu, lettuce, tomato, avocado). There are also several gluten-free options too, like the pan-fried brussels, and cashew queso nachos.
Boots Bakery & Lounge (Vegan)
Boots Bakery & Lounge is an all-around great option if you're vegan and gluten-free. Boots opened in 2012 and is completely vegan and mostly gluten-free. Not sure if something is gluten-free? Just ask, and the Boots staff can point you in the best (and tastiest) direction. They're also happy to accommodate other dietary considerations – just let them know!
Boots also ranks highly for being a fantastic gluten-free restaurant in Spokane!
In addition to tasty meals, pastries, and coffee/tea drinks, Boots also makes delicious alcoholic drinks! Boots was founded by Alison Collins, a bartender with 10 years of experience (most notably at other popular vegetarian location, Mizuna!) – so Boots definitely knows how to make a good drink. Grab a Boots Frenchie (gin, limoncello, fresh-squeezed lemon and champagne) or a Boozy Chai (chai, Dewar's Scotch, choice of milk).
Boots' menu changes pretty regularly, but you can see a sampling of what they have (plus their drink options) at their website here.
Lucky You Lounge (Vegetarian and vegan options)
Yes, it might sound strange that a top-notch local music venue also offers delicious vegetarian food, but it's true! Lucky You Lounge gets rave reviews of vegetarians and meat-eaters alike, making it a great place to bring a mixed group of friends (vegetarian and not).
Lucky You Lounge's menu changes, so make sure to visit their site for the latest information, but you can look forward to options like:
Cauliflower fritters
Baba ghanoush
Veggie nachos
And more!
Little Noodle (Vegetarian options)
Little Noodle is a newcomer in terms of restaurants to Spokane, but it's small and mighty when it comes to vegetarian options! Little Noodle specializes in Asian cuisine, and offers highly reviewed fusions like the Pho-rrito (with traditional Pho fixings, wrapped in a warm tortilla) and more.
Can't miss vegetarian options from Little Noodle? The smoked tofu Musubi, tofu spring rolls, and Pho with smoked tofu!
Vegetarian in Spokane
Overall, Spokane has grown so much in the last ten years with regards to the vegetarian scene. You could maybe find one or two vegetarian places here ten years ago, and forget about anything vegan!
While it may not yet be a vegetarian-haven like Portland or Seattle, Spokane is no slouch when it comes to vegetarian and vegan fare. From Boots' vegan food to Cascadia's blend of vegetarian and meat-eating, there's truly something for everyone. If you're looking for vegetarian restaurants in Spokane, you definitely won't go wrong with one of our recommendations!
What's your favorite vegetarian or vegan restaurant in Spokane? Did we miss one? Let us know on our Facebook page!