Best Cheap Places to Grab a Quick Lunch in Downtown Spokane
This post may contain affiliate links. This means if you make a purchase, we may receive compensation at no cost to you. Please view our full disclosure policy for more information.
Prices on, well, everything have gone up lately – so where can you get a delicious, filling and relatively cheap lunch around Spokane?
While "cheap" nowadays may be relative, the restaurants below offer amazing value on delicious and filling lunch options in downtown Spokane.
If you're wondering "what should I get for lunch in downtown Spokane that won't break the bank?" you won't go wrong with any of these quick and delicious lunch restaurants!
Places to Grab a Quick Lunch Meal in Downtown Spokane
For over seventeen years, Soulful Soups has been welcoming Spokane locals for delicious and low-priced lunches. On Mondays through Saturdays, they serve at least five different soup options that are all fresh and made from scratch daily. They also bake their own famous beer-brewed bread to go along with your steaming cup of soup and a selection of rich sandwiches and fresh salads.
During the day, their cafeteria-style counter helps guests take their to-go-order meals back to the office, or you can choose to dine seated in their sweet little dining room. Twenty to thirty different soups are rotated in throughout the week, and you can find the current "soup-of-the-day" specials on their Facebook page.
Many of their soups are gluten-free, but feel free to ask about all the ingredients at any time. They offer daily discounts to support their local Spokane community.
Every day is "Industry Day" at Soulful Soup, so if you work in a restaurant, they'll gladly give you a 15% discount. Hop on your bike down to Soulful Soups and get a 15% discount. With a college-ID, they offer free fresh-baked bread with the purchase of a soup.
Soulful Soups caters and can deliver soup, salad, and bread to you hot and ready for your daily dining pleasure. Catering requires a minimum order for 10 people. If you're looking for a fun and cozy place to host your private event or party, you can also reserve their space for your special occasion.
All right, while Dick's is a local favorite to joke about, Dick's is iconic to Spokane and has been serving the same high-quality hamburgers since 1965. They're worth the walk or drive, depending on where in downtown Spokane you're coming from!
Dick's has always been one of the most reliable and inexpensive places to eat a quick lunch in the Spokane area. Whether you decide to eat in your car, drive home, or back to the office, Dick's has delivered the same burger and fries throughout their history. We highly recommend their fried chicken, Whammy burger and fries. They've also been voted the best Fish and Chips and malt-shakes around town!
In the early 1960s, Dick's was named the "Panda Self-Service Drive-In," which explains the cute little panda that remains on their sign to this day. Another great lesson in Spokane's vibrant history!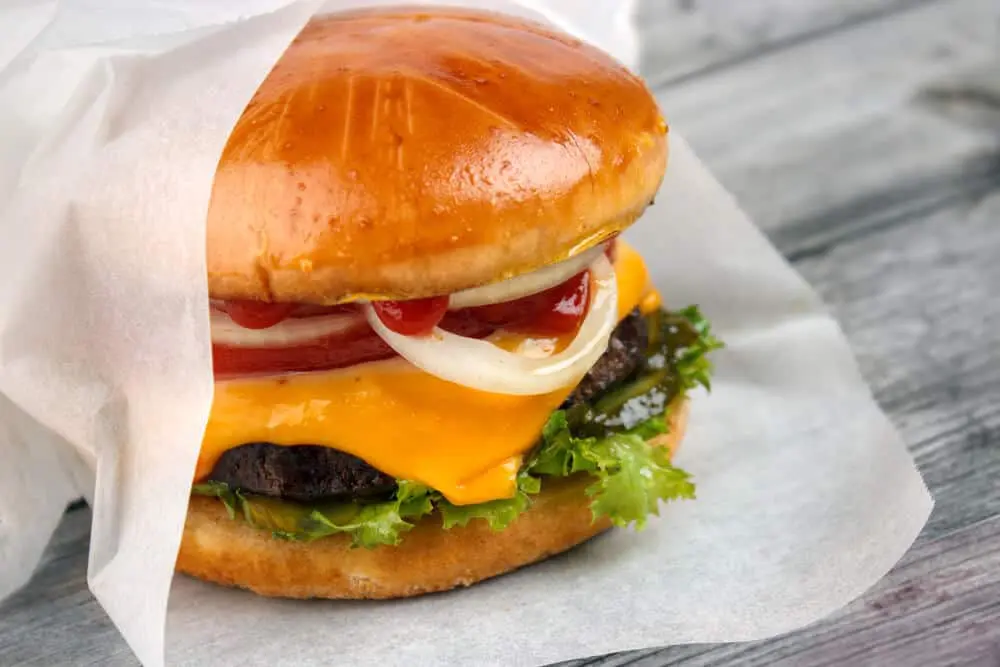 You can order the Whammy burger (a quarter-pound burger), fries, and a shake for around eight bucks. What a screaming deal in this up-and-coming city! What keeps people coming back to Dick's is their fast service, cheap food and delightful original recipes that have stayed true to their roots since their beginning. This may be the only place where "eat a bag of Dick's" is looked at as a sociable statement (we told you there would be jokes!)

Dick's offers outdoor seating, and take-away only, with overhead-heaters that will keep you warm while you wait for your food throughout the colder seasons.
Domini's is known for their huge portions and being a hyper-local Spokane business from the get-go! Even their "small" sandwich is HUGE.
Located in downtown Spokane, Domini's is a family-owned and operated business that serves traditional deli-style sandwiches. Talk about the ultimate YUM! They've become famous around town for their popcorn, soups, pickles, sodas, and their beer and wine selection.
Their massive sandwiches are complete on freshly-baked bread, piled high with thinly-roasted sliced meats, cheeses and some of the best homemade mustards you'll ever get your hands on. You can order a sandwich or deli-meats, cheeses, mustards and pickles by the jar to take home or back to the office with you.
This gem is an absolute throwback to the 60s with interior-decor that is sure to add charm to your lunch-break experience. Grab a sandwich, eat it there, or head out for a picnic in one of our lovely local parks. Make sure to scoop up a bag of their signature popped popcorn for snacking on later.
Domini's offers "whole," "small," and "tiny" sandwich sizes, all loaded with larger-than-life portions of deli-meats and cheeses stacked virtually a mile high. You can choose from a vast selection of corned beef, roast beef, salami, pastrami, pepperoni, liverwurst, turkey and tuna.
Locals love the friendly staff, and so will you. Domini's is definitely worth a stop for a unique and tasty experience in downtown Spokane.
Looking for a quick lunch spot in downtown Spokane that has a lot of heart – and incredibly tasty food? There's no better place than High Nooner!
High Nooner's sandwiches are not only huge, but they're also an incredible deal. Seriously – bring your appetite if you're planning on finishing a whole sandwich, side, and free cookie from High Nooner!
You can order half or whole sizes of High Nooner's sandwiches (half sizes are around $5-6 and full sizes are around $10-12). You also get a free cookie with your meal! Sides and sodas (including pickles!) are extra.
Our favorite sandwiches from High Nooner? You won't go wrong with the Club Nooner, Veggie Nooner, or Sundowner!
You can also order salads at High Nooner, plus Lil Nooners for the kids, or you can build your own Nooner from scratch!
Spokane Club Business Lunch Bar
Need a place to go for a business lunch that's quick, filling, healthy and relatively inexpensive? Go to the Spokane Club! The Spokane Club now offers a business lunch bar from Monday – Friday, 11 am to 2 pm, with an all you can eat salad bar for $17. This is an excellent deal, especially if you combine it with multiple business meetings, and it's healthy, too!
Orlando's Restaurant at Spokane Community College
Orlando's is run by the culinary students at Spokane Community College, and is a well-kept hidden gem among local Spokanites. Orlando's menu switches up regularly depending on the school term, so make sure to follow them online, but in the past you could get mac and cheese, French onion soup, salad, and much more.
Try Happy Hours Around Town
We'll be frank with you – prices are definitely going up in Spokane when it comes to going out, so it can be difficult to find something "cheap" to eat. However, many happy hours have returned to Spokane restaurants, with cheaper food and beverage options.
Happy hour won't typically fall during lunch time, but if you can wait it out, some happy hours around Spokane begin around 3 PM, so you could take a late, late cheap lunch option around Spokane to fill you up! Find the best happy hours in Spokane here.
Delicious, Quick and "Cheap" Local Lunch Options in Spokane
Being on the rise of becoming a "big city," Spokane offers many wonderful, quick and cheap-cheap-cheap food options for lunching any day of the week.
If we've missed any of your favorite spots to grab a quick and inexpensive lunch in Spokane, let us know! There's always room for us to try more food—after all, isn't trying true and local food one of the finest points in life? We think so. Thanks, Spokane, for always keeping out mouths watering and our bellies full.