Thanksgiving Meals Around Spokane: Where to Order or Dine In
This post may contain affiliate links. This means if you make a purchase, we may receive compensation at no cost to you. Please view our full disclosure policy for more information.
Looking for delicious places to get Thanksgiving meals in Spokane? You're in luck – from in-person Thanksgiving meals to delivery and/or pick up, there is something for everyone this year!
Take a look at our list below and let us know if we missed any restaurants. We have personally confirmed that all of these restaurants are doing Thanksgiving meals. If your favorite restaurant isn't on this list, please let us know and we will confirm and add it to this list!
We are constantly adding to and updating this list as restaurants sell out of Thanksgiving meals, so make sure to bookmark this page!
Looking for fun events in Spokane on Thanksgiving and beyond? Check out our local events and deals calendar here!
Restaurants Serving Thanksgiving Meals in Spokane, WA
Beacon Hill [Sold out!]
One of our absolute favorites, Beacon Hill, is offering a delicious Thanksgiving meal for 4 ($115). You'll want to get your orders in soon, though – by November 16!
Best of all, Beacon Hill will deliver your Thanksgiving meal! Delivery is free within 10 miles of Beacon Hill. You can also pick up – just leave a note within the order.
Note: We ordered Beacon's Thanksgiving meal in 2020 and it was so good! Highly recommend this, if it's still available by the time you're reading this!
LINC Thanksgiving Box
There's nothing better than a Thanksgiving meal that's farm-to-table, and that's exactly what you'll get with this year's LINC Thanksgiving Box!
We love our LINC boxes, and LINC is part of the community supported agriculture movement that's big in Spokane and the Pacific Northwest. This year, LINC is offering a variety of local produce to help you make the best Thanksgiving meal ever!
Each LINC Thanksgiving box will include 10 produce items nurtured by INW farmers from seed to harvest and will feed about 6 people. Place your orders by Sunday, November 14!
Spokane Club
Another fantastic reason to become a Spokane Club member? Their incredible meals! As a member, enjoy a Thanksgiving buffet meal for $49 (adults) or $24 (kids 6-12 years old, under 5s free). You'll get everything listed below!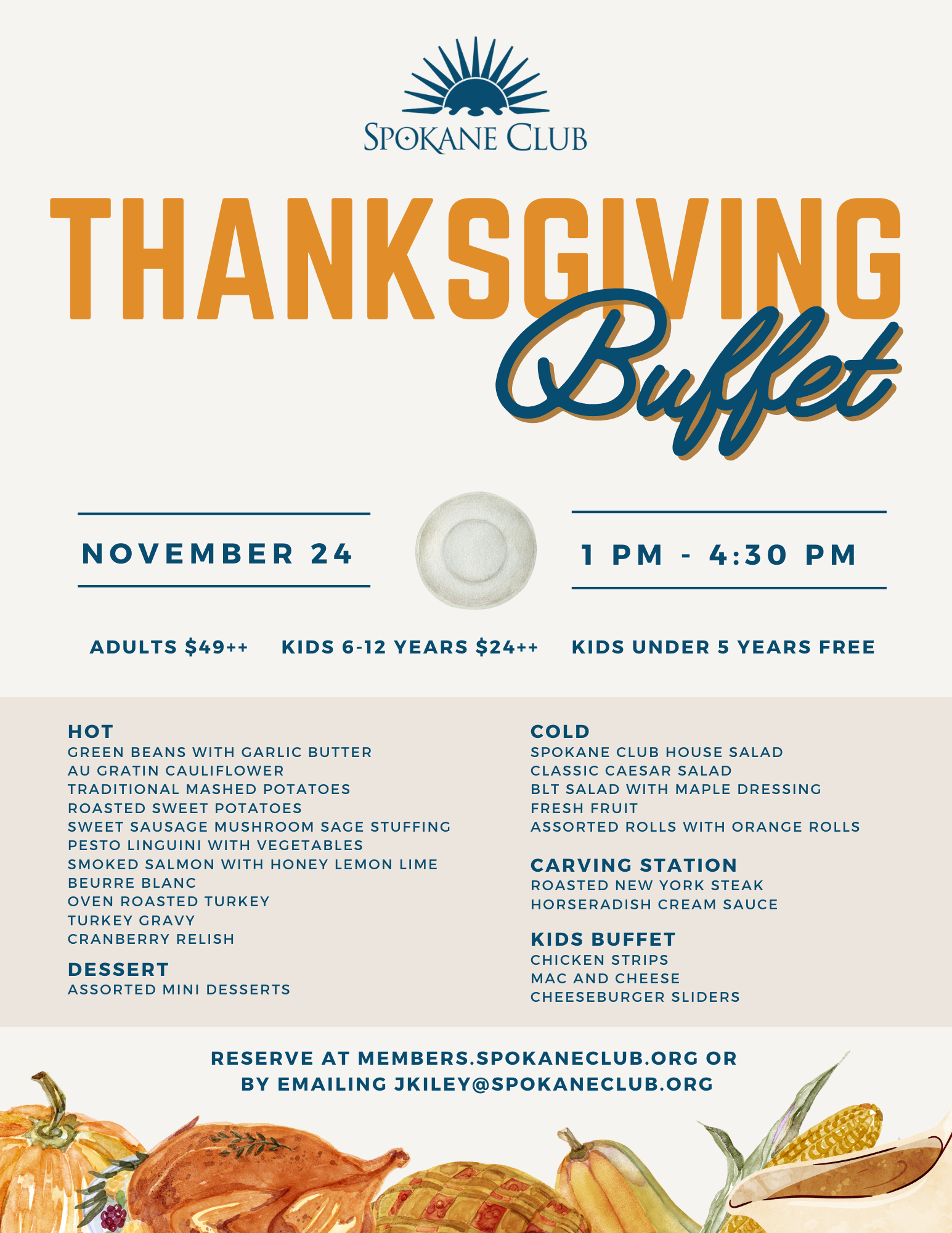 Be sure to make your reservation ahead of time! And if you'd prefer to take your Thanksgiving meal to go, visit the Spokane Club for more information about their Thanksgiving to-go dinner options.
Vieux Carre
Vieux Carre may be hard to say for those of us who don't speak French, but what's not difficult is how easy and delicious it is to eat their food! Vieux Carre is offering an incredible Thanksgiving take-and-bake option, with the following delicious menu:
You'll need to place your order soon – call them at 509-495-1400!
Shawn O'Donnell's
Shawn O'Donnell's has been offering delicious Thanksgiving meals for years now, and the best part about O'Donnells is that you can eat Thanksgiving dinner there, in person, or get a meal to go!
If you decide to order, your deadline is November 17, so order soon!
Mama's Take and Bake Dinners
Let Mama's do the cooking for you this year! You can place orders for Thanksgiving meals in Spokane in individual, couples, and family sizes, making this the perfect option for someone celebrating a smaller Thanksgiving.
More info:
Family feeds 6-8
7 pounds of carved turkey
2 pounds of spiral sliced black Forrest ham
4 pounds of mashed potatoes and gravy
4 pounds green bean casserole
Mama's cranberry sauce
16 biscuits
2 pounds of Mama's Mac and bacon
9×13 pan of stuffing
And homemade dutch apple pie
$225
Individual $17
Couple $35
the. Supper Club
Order a Thanksgiving meal from the. Supper Club this year and be prepared for leftovers! Each full meal comes with:
1, 8-10 pound Turkey,
Full sized buttery mashed potatoes with scratch made Turkey gravy on the side,
Stuffing,
Green Bean Casserole,
Sweet potato casserole,
Rolls OR Buttermilk Biscuits
Cranberry Sauce, my own secret recipe people special request all year,
& Pie of course!
The meal serves 6-8 people. Place your order here!
Cole's Bakery and Cafe
Cole's is a local favorite for gluten-free food in Spokane, and if you're looking for a tasty Thanksgiving meal the whole family can enjoy, take a look at this spread below! Make sure to place your early order by 11/14 or your regular pick up order by 11/18.
Inland Pacific Kitchen
IPK is back at it, but you'll want to order your delicious Thanksgiving meal from them soon – by November 14!
Your IPK Thanksgiving dinner will feed 4-6 people ($175) and include honey and smoked rosemary roasted chicken and gravy, brioche rolls, and sooo much more!
Place your order by calling 509-464-6541.
Spokane Tribe Casino
There are many reasons to love Three Peaks at the Spokane Tribe Casino (don't sleep on their delicious brunch!), including this fantastic in-person Thanksgiving meal!
Get the following meal for $32 per person (Sun Club member) or $37 pp (guest without Sun Club card) on November 24 from 11 AM to 8 PM.
Eat Good Group
The Eat Good Group is at it again with another huge Thanksgiving heat-and-eat meal! For $130, get a meal that will feed 4-6 people.
Place your order here.
Outlaw BBQ
Outlaw BBQ is offering the king of Thanksgiving meals this year – just check out this spread, which feeds 4-6 people ($149.95).
You'll want to get your orders in soon, though – orders are due by November 16! Place your order here.
SmokeRidge BBQ
SmokeRidge BBQ is offering two different kinds of Thanksgiving feasts this year, or you can order a la carte! They're taking pre-orders until they sell out, so make sure to get your order in sooner rather than later.
Allie's Vegan Pizzeria
Save a turkey and order vegan this Thanksgiving! Order from Allie's Vegan Pizzeria and get the following:
mash potatoes: $14
zucchini boat & stuffing: $16
turkie cutlets: $16
dinner rolls: $6
cheese ball: $10
baked cheesecake: $10
Place your orders here.
Palm Court Grill (Davenport Hotel)
Visit the Davenport's Palm Court Grill on November 24 from noon to 8 PM for a Thanksgiving feast! You'll want to make your reservations in advance on resy.com or by calling 509.789.6848.
TT's Brewery and BBQ
Let TT's make your whole Thanksgiving meal this year! Choose from turkey, brisket and ham, plus many delicious sides. Place your orders soon here!
Thanksgiving Sides, Desserts, and More
Looking for excellent options for pies, rolls and more? The following restaurants are offering Thanksgiving sides for pick up or pre-order!
Made With Love Bakery
One of our local favorites, Made with Love Bakery, is offering Thanksgiving pies and you'll want to place your orders soon!
Choose from Pumpkin, Apple, Triple Berry, and Pecan Pie and get your orders in here.
Rind and Wheat
Get almost your entire Thanksgiving meal this year from Rind and Wheat! It's a delightful assortment of options at R&W, including:
A trendy butter board!
Rolls
Squash mac and cheese (yum!)
Cranberry financiers
and more!
Place your order soon here!
Anthesis Co.
Get your Thanksgiving centerpiece from the lovely Anthesis Co.! What a beautiful way to brighten up your Thanksgiving table with this delightful centerpiece. Place your order here.
Best Cookies Ever Spokane
Not a pie person? Then get your cookies from local cookie company, Best Cookies Ever Spokane! We LOVE Best Cookies Ever Spokane – it's a locally owned, family company that really cares about its customers. Plus, the cookies are delicious!
This Thanksgiving, get yourself "pie cookies" with these delicious options:
Each dozen will include:
3 Pecan Pie Cookies
3 Apple Streusel Pie Cookies
3 Cream Cheese Pumpkin Pie Cookies
3 Cherry Pie Filled Cookies
Place your order here.
Thanksgiving Meals in Spokane
While we love in-person meals (no clean up! friendly service!), sometimes you just want to pick up or have a meal delivered for Thanksgiving! With the options listed above, you have a variety of options, from in-person dining to Thanksgiving meals delivered around Spokane and so much more.
This year, there's definitely something for everyone for Thanksgiving meals in Spokane!
Do you live in Spokane and are wondering what winter in Spokane is like? Check out our guide to winter in Spokane here!
Looking for Christmas meals in Spokane? Check out our Christmas dinners in Spokane list!