Things to Do for a Fun Weekend in Spokane Valley
This post may contain affiliate links. This means if you make a purchase, we may receive compensation at no cost to you. Please view our full disclosure policy for more information.
Looking for fun things to do in Spokane Valley, Washington? Spokane Valley is actually pretty different from Spokane, but you might not know that if you've never been to "the Valley" before!
Whereas in the past, Spokane Valley may have got a reputation for being a little boring, the Valley has really stepped it up in terms of unique restaurants, shopping, activities and recreation, nightlife and more. After you read this list, you'll want to add Spokane Valley to your "must visit" list, even if it is just for a weekend!
Got here by mistake but really looking for things to do in Spokane? We got you covered! Here are all the fun things to do in Spokane, Washington.
Outdoor Activities and Recreation in Spokane Valley
One of Spokane Valley's best attractions is the Centennial Trail. It's a beautiful and natural walk in Spokane Valley that can take you right past Krispy Kreme donuts for a little snack (no judgment!)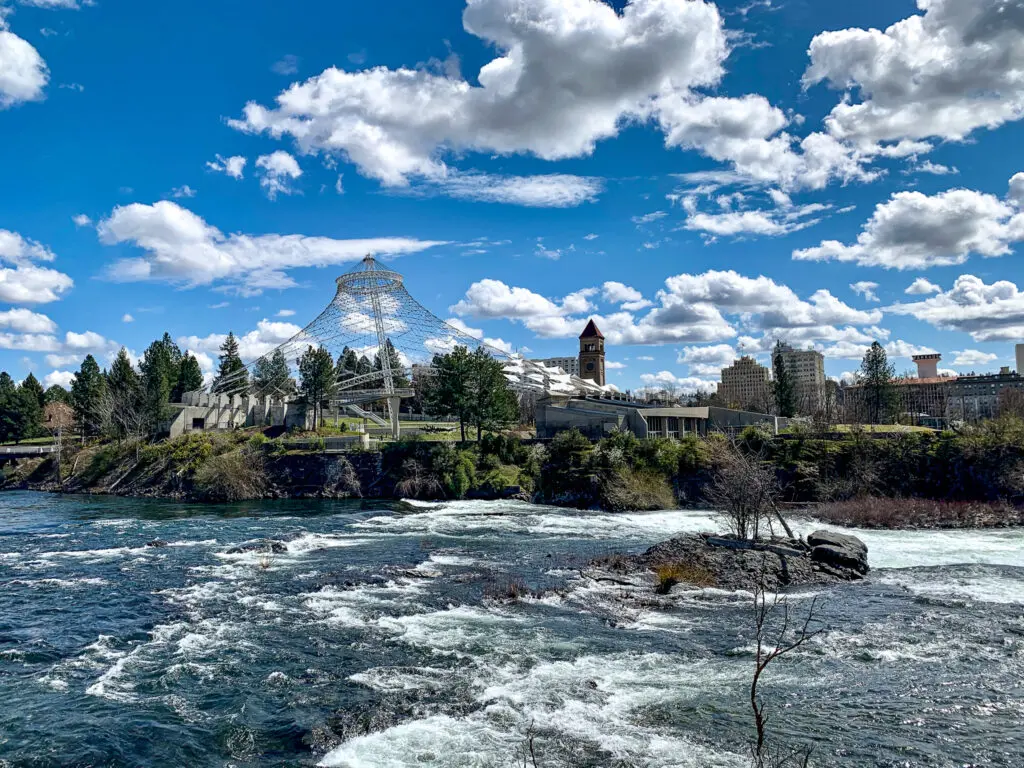 The Spokane River Centennial Trail and adjacent park lands are part of a sixty-three-mile State Park in Washington and Idaho. The trail is a national treasure for both Spokane residents and visitors to the Inland Northwest. Spanning forty-three miles, the Centennial Trail tours from Coeur d'Alene, Idaho through the border, past Spokane, ending at Nine Mile Falls, Washington.
Following the contours of Spokane River, there are many access points (including Maringo, Islands, and Barker) dotted along the river. It allows access for walkers, bikers, roller blading and there are even some horseback riding entry points. The entire trail is completely paved and only allow for non-motorized vehicles, keeping your activities safe.
If you love hiking in Spokane, you won't want to miss Dishman Hills in Spokane Valley.
Dishman Hills is public property consisting of three land parcels—Dishman Hills Natural Area, Iller Creek and Glenrose. The mission of the Dishman Hills Conservancy protects the wildlife while allowing Spokane and Spokane Valley community to connect with nature while educating them on conservation and conscious recreation.
We envision a vibrant, continuous ecosystem from the Dishman Hills Natural Area and the Rocks of Sharon to the Stevens Creek Trailhead that is permanently protected, well managed, and recognized as an asset to the Greater Spokane Community.
The trail at Dishman Hills Natural Area takes you 3.8 miles in a loop that features the beautiful flora, fauna and landscapes of Spokane Valley, Washington. It's a heavily-trafficked trail with dogs allowed on leash that is best between April and November.
Kiddos and adults both enjoy Mirabeau Point Park's 55-acre property. The park contains a Discovery Playground, waterfall, meadows, and natural areas with numerous trails for finding wildlife and wildflowers. If you're visiting Spokane Valley on a Friday evening in summer, make sure to go for the Spokane Valley Farmers Market to find a mix of farm-stands, food, artists, craftsman and musicians.
The Discovery Playground provides a safe space that stimulates multi-sensory outdoor play. An accessible playground, all ages and abilities are welcome to play, laugh, learn and grow. All senses are accounted for in this lovely playground—sight, scent, sound and touch activities are provided to support human development in educational and social manners.
In addition to farmers market vendors, Spokane Valley Farmers Market also offers live entertainment, the Discovery Playground, Kids KERNEL program and more.
Previous Spokane Valley Farmers Market vendors have included:
Crepe Cafe Sisters
A Piece of Chocolate
Big Barn Brewing Co
Bombshell Sweets
Shopping in Spokane Valley
Green Acres Vendor Mall grew from a small building to a lofty 14,000 square-foot vendor-mall hosting over two-hundred vendors currently. There's a large demand for local thrift and antique shopping and this vendor mall is definitely one of the best. There's so much to search through and the employees and owners are all spunky, fun and helpful. They consider all their vendors to be business partners and family.
Throughout the summer, they have special outdoor family-friendly flea markets, so be sure to check their schedule when headed to Spokane Valley. People of all ages are welcome for an eclectic "picking'" experience. At Green Acres Vendor Mall, they have such an array of items, you can spend 25 cents on things or 2,500 dollars on some more expensive vintage antique items.
Green Acres Vendor Mall is dubbed "the place to be when you want to flea." Here, you can spend hours treasure hunting with your family or friends, or simply ask their staff to help you find what you're looking for. This is definitely a do-not-miss activity in Spokane Valley if you're down for shopping.
Things to Do in Spokane Valley
Want to basically be your own character in an action/thriller movie? At Escape Spokane Valley, you can race against the clock, beat impossible odds, and overcome obstacles you've never thought you could.
Escape rooms are puzzling adventures where you, your friends and family get locked inside a room for an hour and have to find clues that will allow you to solve riddles, put together puzzles in a quest to escape the themed room you're in.
Escape rooms are great for company outings and team-building. Take your family, friends, business or employees to this escape room to strengthen your team work, communication skills and bond with one another. In an escape room, naturally, strong leaders will emerge along with great team players and intellectual problem solvers.
Spokane Valley's Heritage Museum was constructed in 1912 in the Opportunity Town Hall building. If you're a history buff, this museum is a great place to check out to find the history of Spokane Valley and the surrounding area. Inside the museum are exciting and interactive exhibits that feature Spokane's regional history.
The museum is home to wide-ranging regional archives, and their collection is always growing. You'll find this museum to be an interesting source for history and information on Spokane Valley. Archives include local history, regional history, and national history. This museum is sponsored by the Spokane Valley Historical Society who collects, preserves, researches and provides the museum with interpreted historical data on the Valley's sites.
Looking for a fun, active and entertaining skate session in Spokane Valley? Roller Valley is a great place for those of any age. Whether the weather is nice, or blowing freezing gusts of snow in the winter, Roller Valley is open and ready to provide you with a great indoor skating experience.
Roller skating is not only fun, it's also a super-active exercise activity. While skating for only one hour, you can burn six-hundred calories. At Roller Valley, you can combine exercise-filled recreation with family-friendly fun, entertainment and food.
Paint and Sip in Spokane Valley
At Painting with a Twist in Spokane Valley, you can get creative without any previous art skills. Painting with a Twist hosts many fun painting activities such as themed trivia paint parties, date nights, paint-on-your-own times, family days, holiday parties, and morning painting sessions. Painting with a Twist in Spokane Valley is the only "paint and sip" type business where attendees don't have to be 21+ years of age.
You don't need to be good at art to join in the fun at Painting with a Twist. It's fun to just simply go, get creative, have a laugh and create a piece that you'll be excited to take home with you. Here, they have fun artists that dress in costume, accept song-requests, play games and keep everyone entertained.
Places to Eat and Entertainment in Spokane Valley
Spokane Valley has grown by leaps and bounds when it comes to delicious food options. While you can still find hidden gems, people are starting to learn that the Valley has some delicious and affordable dining options. Here are some of our can't miss favorite places to eat in Spokane Valley!
Crimson Hearth
If you love breakfast or brunch, make it a point to visit Crimson Hearth! Crimson Hearth is a delightful locally opened restaurant serving breakfast and lunch, with tasty items like:
Breakfast scrambles
Eggs benedict
Made-from-scratch cinnamon rolls (a must order!)
Plus sandwiches, soups, hamburgers and more. There's really nothing better than soup and a sandwich from Crimson Heart in the winter… or breakfast any time!
Crimson Heart is also one of our favorite brunch spots in Spokane (the Spokane-area, that is!), too!
Just American Desserts
Located in an unassuming part of Spokane Valley, Just American Desserts is one of those places where "if you know… you know." Locally owned by Spokane resident Eva Roberts, Just American Desserts makes absolutely mouth-watering cakes and cookies. They're perfect for any celebration – even a completely made up one!
Think any old bakery will do for your celebration? Think again! Eva participated in Season 7 of the Holiday Baking Championship and was one of the final contestants. While she didn't win the whole thing, the celebrity judges all raved about her delicious desserts – especially her caramel. Well, we can confirm – it's all incredible and very affordable. Don't miss out on Just American Desserts!
TT's Brewery and Barbecue
TT's Brewery and Barbecue (aka "TTs") is THE place to go in Spokane Valley if you love smoked meats! TT's is renowned for its delicious BBQ, and TT's typically offers specials during the holidays for those who want to pick up to-go meals.
Uno Mas Taco Shop
Uno Mas is a relative newcomer to Spokane Valley, but if it's anything like its Spokane-based sibling, it's going to be packed! Uno Mas is the creation of local celeb chef Chad White and is known for its thick tacos. We've tried several so far (the pescado… yum!) and you really can't go wrong with any of them!
Iolite Lounge
Love craft cocktails served in a speakeasy vibe? Then you're going to love Iolite Lounge, which calls itself "a modern take on a speakeasy." This low-key lounge is getting rave reviews and is sure to be busy soon, so if you haven't been yet, be sure to head over soon!
If you've always thought of Spokane Valley as Spokane's sleepy cousin, think again! The Valley has a lot going on and continues to grow and get new restaurants seemingly every month. If you're looking for fun things to do in Spokane Valley, make sure to bookmark this list!