Hiking in Spokane: Trails the Whole Family Will Enjoy
This post may contain affiliate links. This means if you make a purchase, we may receive compensation at no cost to you. Please view our full disclosure policy for more information.
Feeling a little stir-crazy and want to take advantage of the warmer weather we're having? Looking for a fairly easy day hike you can take the whole family to? If you're looking for fun hiking in Spokane, we've got you covered.
Below, we'll cover easy to moderate hikes around Spokane. You can take the whole family to some of these hikes, or just take the more adventurous among you if you want to try the harder trails.
Note: 'easy' is definitely a relative term! What is easy to use may not be as easy to everyone in your family. As much as possible, we've included photos or videos below so you can get a feel of the trail for you and your family.
Looking for more things to do around Spokane?
The Best Trails for Easy Hiking in Spokane
1. Indian Painted Rocks
Where: 5626 W Rutter Parkway, Spokane
What: 3.3 miles nature trail, fairly moderate to easy hiking
Now is the perfect time to hike the Painted Rocks nature trail! The Painted Rocks nature trail is a 3.3 fairly busy nature trail in Spokane. It features a river and plenty of fairly easy, flat hiking. You can park at the trail head, although you will need a Discover Pass to park there.
While the loop is 3.3 miles, you don't have to walk the whole thing – you can double back if it gets a little long. You will go through some climbing in parts, but when you get to the top of the loop, you're rewarded with incredible views.
This type of hike in Spokane is best for those looking for a mild hike – good for older folks and younger kids. While it will be busier than other trails, it's a great trail if you're just recovering from winter and are a little creaky!
Making this one of the best hiking trails in Spokane, Indian Painted Rocks is rich in history. Some interesting facts about Indian Painted Rocks:
The rock art at Indian Painted Rocks is from the Native Americans living along the Little Spokane River and were painted over 250 years ago!

The meaning of the images painted are still up for debate – some people say they depict the European settlers in the area, but others disagree. No one knows for sure – what do you think?

The rock formation containing the paintings can be found near the Indian Painted Rocks trailhead parking lot. Look for the metal grate protecting the site.
The below video gives you a great idea of what the Painted Rocks trail looks like – you can stop it at minute 4!
2. Bowl and Pitcher Loop Trail
Where: 4427 N Aubrey L White Parkway, Spokane
What: 2 miles, good for all skill levels
Bowl and Pitcher Loop Trail is another excellent option for first-timers, kids, families, and older folks. Considered one of the best hikes in Spokane, Washington, this loop trail has it all!
This loop trail is 2 miles, features a river and is good for all skill levels. It's also accessible year round and dog-friendly (on leash) so it's truly a great place to visit with the entire family.
A Discover Pass is required to park near the trailhead, and you can technically start the loop trail at Riverside State Park or near Bowl and Pitcher itself. There is a paved road for running and biking as well as a hiking trail that runs alongside the river.
People recommend sticking with Trail 25, as it parallels the river and offers great views. This trail also offers a lot of shade, which is why it's one of the best hikes in Spokane, particularly in the summer.
Although the loop is short at only 2.1 miles, you'll see the river, incredible rocks, and beautiful views of Spokane.
Check out the video below for some gorgeous aerial views of Bowl and Pitcher – this is definitely a 'must add' to your hikes in Spokane list!
3.
3. Indian Canyon / Mystic Falls
Where: 4812 W. Canyon Drive, Spokane
What: Less than a mile, although there are a variety of trails. Trail 121 will lead you to the waterfall. There are some inclines and mud at certain times of the year, but otherwise family-friendly
This is another one of the best hiking spots in Spokane, great for the entire family, but be careful because in the spring it can get a little muddy.
There are a variety of trails throughout Mystic Falls, although Trail 121 in particular will lead you to the waterfall. This loop also connects to 102 and 120, which will get you back to the parking lot and help you determine how long or short you want your hike to be.
A Discover Pass is not necessary for Mystic Falls.
The video below will give you a good idea of what you can expect while hiking in Spokane at Mystic Falls, although in the summer you can likely expect less mud!
4.
Mirabeau Springs / Mirabeau Point Loop
Where: 2426 N Discovery Pl, Spokane Valley
What: Mirabeau Point Loop specifically is less than 1 mile and fairly easy in incline
If you're looking for another easy, quick hike, Mirabeau Point Loop in Spokane Valley has you covered! Yes, this is a hiking trail in Spokane Valley, but it's well worth the drive.
This loop specifically is .9 miles (less than 1 mile!) and is a moderately trafficked, easy loop with gorgeous mountain views.
If you're looking for a longer hike, there are many more hiking trails in the park. You can certainly do the Point Loop short hike, or go for longer hikes at well-marked trails. Take a longer loop of around 1.7 miles and hike to the Islands trail, which connects you to Centennial Trail!
There are also several flat, shady spots for picnicking, so if you think you'll get hungry or want to make a day of it, pack some snacks!
In addition, these trails are dog-friendly but remember dogs must be leashed and everyone must stay on the path.
In the summer, you can enjoy the Friday Farmer's Market at Mirabeau Meadows, completing with organic produce, cider, food trucks and more!
A Discover Pass is not needed for Mirabeau Point Park since it is a city park.
5.
Iller Creek Trail
Where: 9102 S Stevens Creek Road, Spokane
What: A moderate hike (roughly 5 miles) with various inclines, good for more experienced hikers or hiking family.
Iller Creek Trail, also known as the Iller Creek Conservation Area Trail, is an excellent roughly 5 mile loop near Spokane that features a river and gorgeous views of Spokane Valley.
Iller Creek Trail is definitely among the most gorgeous places for hiking in Spokane. From March until mid-July, expect to see an abundant array of wildflowers plus the seasonal stream.
The hike itself is mostly shaded and overall would not be a difficult hike for people who have hiked a few times before. It is a longer loop (about 5 miles) so do plan on spending a few hours there if you're the type of hiker who likes to amble.
The best part of Iller Creek? This is one of the top-recommended hikes for new people to Spokane! Whenever we asked people about the best hiking in Spokane, everyone recommended 'the Rocks of Sharon'… we didn't know what they meant until we discovered Iller Creek!
The Rocks of Sharon happens to be one of the best outdoor rock climbing destinations in Spokane, but even if you don't hike, they offer incredible views of the city. It's definitely Instagram worthy!
Dogs are allowed on this trail, but must be kept on a leash.
A Discover Pass is not required for Iller Creek.
Fun fact about Iller Creek and the Dishman Hills/Glenrose areas: the long-term vision for Glenrose and Iller Creek is to connect the two areas and Dishman Hills Natural Area to create a large, wilderness-like area within 5 miles of downtown Spokane. Pretty cool!
If you want to get an idea of what the hiking at Iller Creek is like, take a look at this excellent walk-through video here (you can keep the sound off):
Mountain Hiking in Spokane: 5 Moderate Hikes Around Spokane
Looking for something a little more challenging? Ashley Luke, a guest contributor for Everyday Spokane, breaks down even more enjoyable trails. Grab your hiking boots and get ready for an adventure with these mountain hiking trails in and around Spokane!
The Inland Northwest offers many different hiking options varying in length, difficulty and elevation gain. No matter your skill level, you can find a perfect pairing in Spokane and the surrounding areas. In the time of COVID, nature is calling for us to head outdoors, even as the days shorten and the crisp air settles into the region. So what are you waiting for? It's time to explore.
1. Trail 121: Waterfall Loop Trail-Palisades Park
The waterfall loop offers eager hikers an opportunity to not only walk on trafficked trails, but also traverse deeper into the woods. Though only a 1.1 mile loop, you can unleash your inner explorer as you cross over Indian Canyon Creek multiple times, ultimately arriving at a small waterfall. If you're careful, you can navigate across the creek safely and dryly using strategically placed logs and rocks.
Parking is available along the road near the trailhead. Start the loop by heading to the left along Trail 102. Keep your eyes peeled at about the .4 mile mark when you will head off of the main trail and down toward the creek; it's easy to miss if you aren't looking for it. There is slight elevation gain at the tail end of the trail as hikers head toward their car from the creek bed.
2. Bowl and Pitcher Loop Trail-Riverside State Park
Yes, we covered Bowl and Pitcher above as an easy day hike in Spokane, but you can make it more challenging! Riverside State Park is a wonderful Spokane gem offering plenty of hiking options and amazing scenery.
There are multiple out-and-back hikes following the curves of the Spokane River, and there are plenty of side routes that take you around rocky terrain or down to the water. One big perk of these trails is that they are easy to identify and follow.
The Bowl and Pitcher Loop includes both forested and waterfront hiking, providing the perfect opportunity to take in the beauty of fall. If you start off on this 2 mile loop, I would suggest heading right after you cross the bridge and then banking to the left so you walk through the forested portion first. There's a good chance you will stumble across some mule deer in close proximity to the trail.
When you notice a few paths converging, head towards the river and you'll overlook a beautiful rock formation. Then follow the river back towards the bridge and parking area. *You will need a Discovery Pass for this trail.
3. Rimrock Conservation Loop Trail-Palisades Park
As fall settles in, it's worth driving around and enjoying the many overlooks offered in Spokane. The Rimrock Conservation Palisades Park Loop offers 2.9 miles of easy terrain and breathtaking views of the entire city. It's a perfect place for a fall photo op!
Walk along the bluff's edge for a little over one mile before turning into the woods. You'll eventually run into private land surrounded by barbed wire, so be careful not to trespass. The trail is perfect for a casual hike or trail bike riding.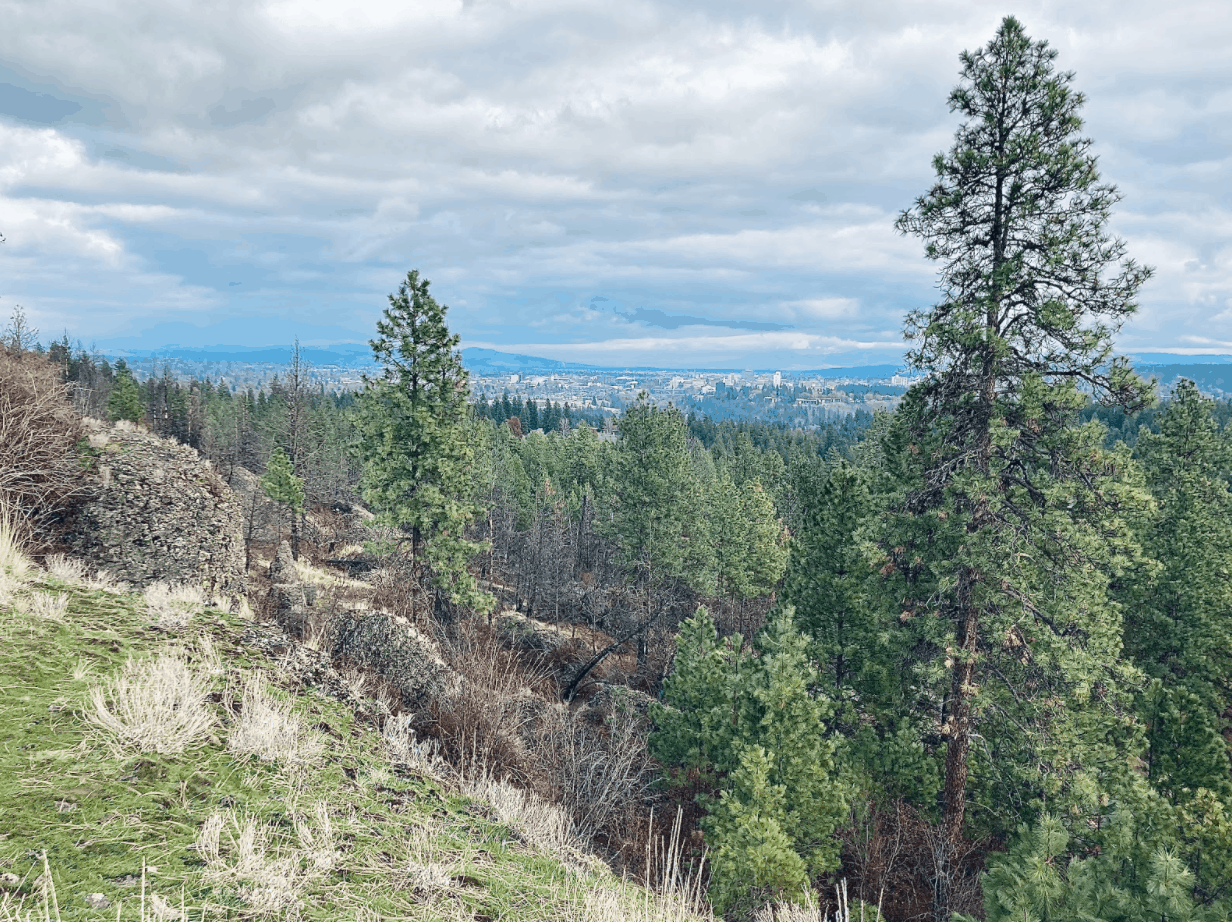 4. Liberty Creek and Edith Hansen Loop Trail-Liberty Lake Regional Park
If you're looking for a more challenging hike, check out the Liberty Creek and Edith Hansen Trail Loop. At 8.5 miles and with an elevation gain of nearly 1,400 ft, this trail is moderately difficult but worth the effort. Be sure to check the weather before you head out since it is a longer trek and make sure to pause along the trail to take in the views.
After a relatively flat first mile, stay left toward the waterfall. This makes for an easier ascent. Be aware that regardless of which way you hike, the descents are pretty steep and a walking stick is helpful.
When you pass the waterfall and continue along the trail, you will eventually stumble upon a small structure; pass that and you will find a bigger cabin surrounded by stumps. This offers a great midway point where you can stop for a snack or just take a breather. *There is a $2/person charge to enter Liberty Lake Regional Park.
5. Across the Border Bonus: Mineral Ridge National Recreation Trail-Coeur d'Alene
If you're heading to Coeur d'Alene, it's worth taking a bit more time to continue down Interstate 90 to reach this trail. The 2.5 mile moderate loop offers 649 ft in elevation change.
The trail is well marked and easy to follow, and the views are worth the trek to the top of the hill. Fall in love with the towering trees and unobstructed Lake Coeur d'Alene views. This trail will easily become a family favorite!
6. Bottleneck Lake and Snow Lake Trail-Kaniksu National Forest
About 2.5 hours outside of Spokane and just west of Bonners Ferry, ID, the Bottleneck Lake and Snow Lake trail offers hikers unparalleled views of the mountains and the color-changing tamaracks. If you don't mind the drive or are looking to get away, this trail is a must!
You can easily tailor your route to fit your interests, though in its entirety the trail spans 10.3 miles and sees a 2,444 ft change in elevation. As the name suggests, the trail includes two different lakes.
At about a mile in, you will come to a split and pick which lake you would like to hike to. It's about 3 additional miles to Snow Lake (the bigger of the two) and about 1.75 miles to Bottleneck Lake. Hiking boots and tall socks are highly encouraged, especially during the fall.
Though the beginning of the trail might not look snowy, towards the top there can be significant amounts of snow and much colder weather waiting for you, so be prepared. We identified bear, moose and deer tracks along the route and the views didn't disappoint. Be aware you will have to cross some streams, but there are rocks and logs so you can do so while staying dry.
No matter what's going on in the news, Spokane will always have amazing things to do outdoors. From hiking in Spokane, to enjoying the downtown Pavilion, to all of the outdoor free activities Spokane offers, there's no reason you have to go stir-crazy indoors!
We'd love to hear from you! Where's your favorite place to go hiking? Share your top spot over at our Facebook group here!
Looking for more things to do around Spokane?