Cascadia Public House: A Win for Vegetarians and Meat Eaters!
This post may contain affiliate links. This means if you make a purchase, we may receive compensation at no cost to you. Please view our full disclosure policy for more information.
As a vegetarian, it can sometimes be tough finding places that make delicious food that satisfy both meat-eaters and vegetarians. This is especially true when it comes to pub food – burgers, wings, nachos – they're all delicious, but typically not vegetarian friendly! So where is the best place in Spokane where vegetarians and meat eaters can eat – happily? Cascadia Public House!
Looking for even more vegetarian or vegan-friendly options? Make sure to check out our top vegetarian restaurants in Spokane here!
We recently visited Cascadia Public House, as we were both looking for pub food. I'm a vegetarian and Blake is a meat eater, and we're always on the hunt for delicious places that will make both of us happy. Yes, I know, a vegetarian who likes pub food? We do exist!
We found Cascadia's menu online and, after seeing the vegetarian Impossible Burger, I knew we had to try it out.
Cascadia Public House is located at 6314 N Ash Street, Spokane, WA.
Cascadia Public House – Vegetarian Menu
Before we get too into Cascadia Public House's vegetarian options, let me reassure you: there are plenty of meat options at Cascadia. There are burgers, fish and chips, drumsticks and much more. No meat eater will be disappointed visiting Cascadia Public House!
But above you can see the options for vegetarians – there is more than one option! And there are even more options on the shareables section of the menu for vegetarians too.
Special note to vegans: there are a lot of vegan options at Cascadia Public House, too! The capital V on the Cascadia menu denotes meals that are vegan, lowercase v denotes meals that are vegetarian. You can even get vegan cheese at Cascadia!
Get the Appetizers at Cascadia Public House!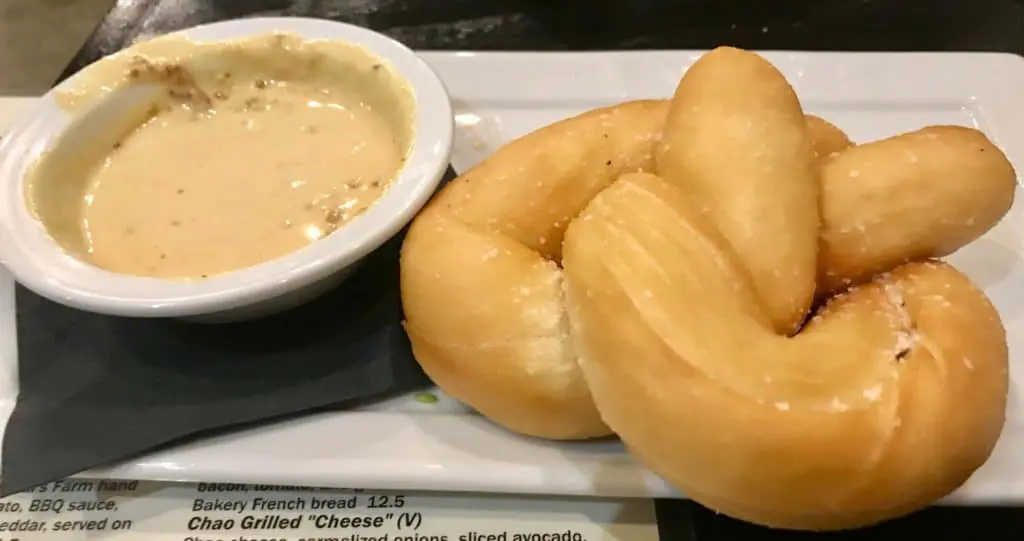 If you're not sure what to start with at Cascadia, get one (or several!) things from the Shareable section of the menu.
We chose the pretzel and cheese (photo above) – you actually get two pretzels, but this appetizer was so delicious, I was barely able to get a photo! The pretzels are light, chewy, and soak up just the right amount of pretzel cheese. Seriously, the best pretzel we have ever had! (Yes, even better than My Fresh Basket!)
We also tried the Tofu Buffalo sticks, and they were so good, I couldn't get a clean picture!
Cascadia's beer menu rotates (you can see their offerings inside on a TV screen), but when we visited, we both got the tangerine wheat. It was delicious!
Cascadia Public House's Happy Hours are everyday:
Monday – Saturday from 3 – 6 p.m.
Sunday all day
Late night happy hour from 10 p.m. – close
Burgers at Cascadia Public House
We were pretty full after our appetizers, but we both ordered burgers. Blake ordered the Cascadia Burger (delicious!) and I ordered the Impossible Burger. It didn't quite look like the picture below, but close!
People either love or hate the Impossible Burger because it does so closely resemble a traditional burger. [Meat eaters, suspend disbelief here for a second. This burger is completely meat-free and Blake said 'it doesn't taste like a burger,' but this is the closest thing many vegetarians have. Just go with it.]
Personally, I didn't end up loving it! This wasn't the fault of Cascadia at all – again, it's a meat-like consistency and flavor that vegetarians either love or hate, and I guess I fall into the 'didn't love' category. However, Cascadia Public House offers many other non-meaty burgers for vegetarians, like the Small Planet TLTA and the Bean Beet Burger.
Plus, if you like the Impossible Burger, this is one place you can actually get it in Spokane.
Overall, we really enjoyed Cascadia Public House, and it's a great place to bring out of town guests, stop in to watch a game, or just hang out with friends. There's plenty of seating on both the bar and restaurant sides, and although parking can be a challenge, it shouldn't stop you from visiting.
If there's only one thing you order from Cascadia, make it that pretzel! You won't regret it.
Have you visited Cascadia Public House? What were your thoughts? Share with us over on our Facebook page!