26+ Fun Things to Do in Spokane, Washington This Winter
This post may contain affiliate links. This means if you make a purchase, we may receive compensation at no cost to you. Please view our full disclosure policy for more information.
Are you looking for something to do, but just can't think of anything fun to do around Spokane? Lucky for you, we've been there, so we decided to put together a list of the best things to see and do in Spokane.
Spokane has scenic views, beautiful parks, fun indoor and outdoor activities, and plenty of walking trails. Whether you've lived here all your life or just moved here, we think we've come up with something for everyone! Here are some of our top 20+ things to do in Spokane, WA.
Looking for things to do this weekend in Spokane? Our events and deals in Spokane page will help you find something fun to do today!
Reach thousands of locals a month.
Outdoor Things to Do in Spokane, WA
In the historic South Hill neighborhood, Manito is the perfect place to take your family, your significant other, or your flower-loving friend for photos and a stroll around Mirror Pond.
1702 S. Grand Blvd
Spokane, WA 99203
The photos below are from fall and summer, but Manito is truly gorgeous to visit year-round!
One can find ponderosa aplenty alongside buttes of basalt in the state's second-largest state park. Sixty miles of winding, forested trails are just that close to downtown Spokane.
4427 N. Aubrey L. White Pkwy
Spokane, WA 99205
Not to be confused with Riverside State Park, Riverfront Park is right in the center of everything downtown. Riverfront boasts the Looff Carrousel of 1909, Spokane Falls, the Pavilion (which hosts concerts!) and the Numerica SkyRide Gondola, not to mention miles of the Centennial Trail. It's a fun place to visit the clock tower, enjoy the Spokane Falls skyride, and offers plenty of space as a great picnic area!
In the summer months, enjoy food trucks during Riverfront Eats and various events/holiday celebrations. The City of Spokane does an excellent job hosting all sorts of activities throughout the summer, including live music the whole family will enjoy, in downtown Spokane.
507 N. Howard St.
Spokane, WA 99201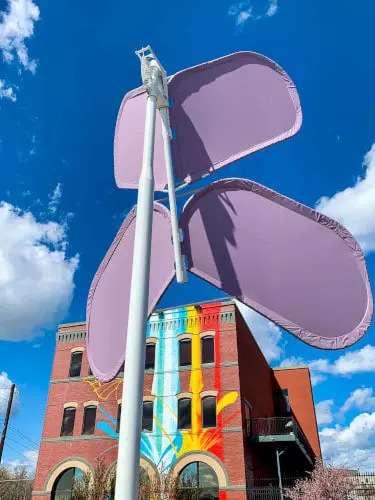 4) Garbage Goat
Can you really say you've experienced Spokane if you haven't visited the Garbage Goat? I would argue you cannot! Luckily, the Garbage Goat is downtown in Riverfront Park, so you can't miss him – just looks for a line of people holding trash!
Make sure you definitely add this photogenic goat to your list of 'things to do in Spokane' while you're here visiting – or if you're a recent transplant.
Spokane has some of the best parks I've ever seen, and Mirabeau is no exception. This park offers beautiful views of waterfalls and a multi-sensory discovery playground for active and curious kids. There are also plenty of places to take an easy walk or hike – it's one of my favorite places to get a long, fairly easy walk in!
13500 Mirabeau Pkwy
Spokane Valley, WA 99216
Related: The Best Easy to Intermediate Hikes in Spokane, Washington
Liberty Lake's Pavillion Park hosts summer concerts and family fun, including Spokane's Lilac Festival in mid-May.
727 N Molter Rd
Liberty Lake, WA 99019
7) Hiking Trails Around Spokane
Take a hike around Spokane! While you can certainly visit sites like AllTrails to learn about tougher, more challenging hikes, there's something to be said for 'easier' hikes, too!
Some of our favorites include Bowl and Pitcher Loop, Iller Creek Trail and more. Check out our full list of hiking options here: Hiking in Spokane.
8) Have a Picnic Around Spokane
One of the best things to do in Spokane? Get outside and enjoy the weather (in the spring, summer and fall – maybe not winter, unless you're skiing/snowboarding/snowshoeing. Learn more about winter in Spokane here!)
However, when the weather is nice, we love to visit local parks, including Riverfront Park, and bring a picnic basket and blanket. Especially at Riverfront Park in downtown Spokane, people watching in the summertime is the best!
More Things to Do Around Spokane
Looking for more fun things to do around Spokane? Check out these posts below!
9) Enjoy a Farmer's Market
If you love farmers markets, you're going to LOVE the summer season in Spokane! There is a farmers market almost every single day of the week in Spokane, including several on Saturdays.
Check out the video below to see which farmers markets around Spokane are our favorite, and for the full list of farmers markets around Spokane, visit our guide to Spokane County Farmers Markets.
10) John A. Finch Arboretum
Finch Arboretum is an incredible gem almost in the middle of Spokane. The Arboretum offers a self-guided walking tour and encourages guests to visit at any time of the year, but particularly the fall!
According to Finch Arboretum "the Mountain Ash, Maple and Oak trees are the most well-known for their berries and leaf colors. The artistry of these fall colors create incredible photographs and backdrop for beautiful wedding events."
Finch Arboretum is a definite 'can't miss' activity, especially if you're looking to celebrate fall in Spokane.
11) Spokane Indians Baseball Game
The Spokane Indians baseball team is a beloved institution in Spokane, and for good reason! From all of the community-building they do, to their commitment to recycling and reducing plastic waste, the Spokane Indians baseball team and organization are truly one to give kudos to!
In addition to their community-building efforts, attending a Spokane Indians baseball game is just good old fun! Throughout the summer, the team has different events and theme nights, from Star Wars to 'Bark in the Park' (yes, you can bring your furry friend!) – and even fireworks on many nights! Head to Avista Stadium for all of fun activities hosted by the Spokane Indians, and enjoy a terrific minor league baseball team right here in Washington state!
Pro-tip: Fireworks nights at the stadium get PACKED, especially in July! Make sure to go early and consider ducking out a little earlier to beat the traffic… otherwise pack a lot of patience and just be kind to your fellow baseball game attendees!
Indoor Things to Do in Spokane, WA
It's no surprise the Northwest Museum of Arts and Culture is always on lists of 'things to do in Spokane'. In Browne's Addition neighborhood, find this Smithsonian-affiliated museum that showcases culture from the international to the local, including those from the Five Nations Tribes. Don't miss the Campbell House, a "living history" home.
The MAC's exhibitions are always rotating, and they've brought incredible sights from the clothing of Downton Abbey to Dreamworks Animation and more! Check out the MAC here.
The science center is home to the Mobius Children's Museum. Mobius frequently has educational activities and events for the whole community (some are free but some require admission), so make sure to head over to the Mobius Discovery Center list of events for all the latest.
The Spokane Symphony Orchestra has its home at the historic theater, which was built in 1931 and, after closing for some years beginning in 2000, reopened in 2007.
1001 W Sprague Ave
Spokane, WA 99201
Come catch a basketball game, a campus tour, or grab a book in the Foley Center Library. The Jundt Art Center and Museum, the St. Aloysius Church, and the John J. Hemmingson Center, a three-story building with an all-glass exterior and almost 4 acres of floor space are work a visit.
502 East Boone Avenue
Spokane, WA 99258-0102
16) Throw Some Hatchets!
Axe throwing, hatchet throwing – whatever you call it, it's taking off in Spokane! From Heber Hatchers to Jumping Jackalope and more, this one-of-a-kind experience is unique and fun. The perfect way to enjoy a night out in Spokane!
17) Paint and Sip in Spokane
Want to feel like a professional artist among friends? Visit one of the many paint and sip locations around Spokane to paint beautiful images while drinking (alcoholic and non). You'll be taught by a professional to ensure the best quality artwork, even if you're the complete opposite of Picasso (or maybe if you're exactly like him!)
18) GoKarts & Wonderland Family Fun Center
If you really want to get your adrenaline pumping, check out FastKarts in Spokane for fast paced fun! There, you can race gokarts against family and friends – it also makes a great date night for those competitive couples!
Go beyond gokarts when you visit Wonderland Family Fun Center, which offers tons of fun for the whole family, including younger children. You'll find bumper boats (perfect for the summer time!), mini golf, arcade fun and much more. Plus, you can enjoy pizza and drinks, making it a great place to spend several hours in the summer, for little kids up to big!
19) Trampoline Parks
One of the best things to do in Spokane for families is definitely get out kids' excess energy out at trampoline parks! There are several trampoline facilities around Spokane, and many offer opportunities to book time for parties, compete in Wipeout games, dodge lasers through the Lazer Maze and much more!
20) Escape Rooms in Spokane
There are several escape rooms all around Spokane and Spokane Valley, with varying levels of difficulty – and horror! During the Halloween season, several escape rooms offer haunted options, but there's something for everyone year round!
21) Laser Tag in Spokane
Visit LaserMaxx in downtown Spokane for a truly great way to run around and have a ton of fun! As someone who's visiting LaserMaxx as a kid and an adult, I can guarantee laser tag in Spokane is fun for kids of all ages. This is one of the best places around Spokane for parents and kids – plus, it's indoors, making it a great way for kids to get out their energy in a safe way during the winter months!
You can visit LaserMaxx as general admission, or book birthday parties and other group events ahead of time. With party rentals, you can add on a pizza option to feed the whole group. Plus, while you're waiting, you can enjoy basketball, skee-ball and air hockey.
22) Lilac Lanes
Think Lilac Lanes is only bowling? Think again! This is a super fun summer activity in Spokane, Washington, especially when it's hot!
In addition to bowling, Lilac Lanes also offers poker, dining, and a golf simulator. Whether you're a bowling enthusiast, a gaming enthusiast, or simply looking for a great time, Lilac Lanes & Casino provides a welcoming atmosphere and top-notch entertainment options.
Eating and Drinking Things to Do in Spokane, WA
23) Hitters Batting Cages
You don't have to be a baseball or softball pro to visit Hitters! Hitters batting cages in Spokane are for people who want to hit the ball around while catching up around good drinks.
If you want to happen to improve your form and get better – well, that's a bonus! Learn more about Hitters here.
24) Flatstick Pub
If you can't decide what to do around Spokane or where to go, but know that you'd like to actually do something instead of 'just' eat, head to Flatstick Pub in downtown Spokane!
In addition to drinks and pizza, Flatstick Pub offers mini golf and duffleboard, getting you out of your seat, moving around, and enjoying your time spent with friends (or maybe a first date?!)
Learn more about Flatstick here.
Looking for date night ideas around Spokane?
25) Spokane Comedy Club & Gamers Arcade Bar
If the Spokane Comedy Club isn't on your list for 'things to do around Spokane', you definitely need to add it! Spokane Comedy Club is a city staple, and has a variety of acts and activities going on all the time.
Visit a comedian, of course, but also check out the Comedy Club for trivia, local stand up, and so much more. Check out the Comedy Club's calendar here.
Want to make it a date night? A great option is to visit Gamers Arcade Bar, right next to the Spokane Comedy Club, before your show starts! Gamers Arcade offers all sorts of fun games from the 80s and 90s, plus pinball and more. You'll also get $1 off your drinks if you let them know you're attending a Comedy Club show next door!
On this unique street, find many options for food and fun, including the Garland Sandwich Shoppe and Mary Lou's Milk Bottle. In the summer, visit the Garland Farmers Market, where you'll find fresh produce, locally made products and more. Check out our list of farmers markets around Spokane for more information!
Finally, don't forget about Garland Theater! In the summer, Garland offers free movies for the kids, plus hosts a variety of nostalgic and current movies.
27) Walk Around Spokane Neighborhoods
The best time of year to walk around Spokane neighborhoods? Let's be upfront: it's fall! Particularly in parts of Spokane with big trees (South Hill, Audubon, Peaceful Valley, Browne's) and decent sidewalks, you can't miss a walk around our neighborhoods in the fall.
Almost every single neighborhood has a delightful park with big old trees, but the ones listed above are virtually guaranteed to have every park in the neighborhood a dazzling shade of red, orange, or yellow – depending on when you go! Spokane's South Hill neighborhood is particularly fun to enjoy almost year round, as you can walk through tree-lined streets (keeping you cool in the summer) to Manito Park, which offers a beautiful rose garden, duck pond, playground equipment, the Park Bench Cafe for a snack, and much more. Out of all of the city parks, it's one of my favorites!
Pro-tip? Plenty of neighborhoods have coffee shops and bakeries tucked in between rows of houses, like Garland, South Hill, and Kendall Yards. Grab a coffee and a cookie and get outside!
Summer Fun in Spokane
Planning out your summer bucket list in Spokane? Spokane really comes alive in the summer. If you want to plan your Spokane summer bucket list, make sure to check out our Instagram Reel all about summer fun, from outdoor concerts to food truck festivals, here!
Some can't miss activities?
Riverfront Moves (free outdoor exercise classes, like yoga and barre!)
Arbor Crest's summer concert series
Shakespeare in the Park
Storytime at the Carrousel
In late summer (September), head over to the Spokane County Interstate Fair, where you'll find live music, fair food, ferris wheel and other rides, and so many fair activities. Even if you only go once during the multi-day event, the summer fair is not to be missed!
Fall Events in Spokane
If you're visiting Spokane in the fall, you're arriving at a beautiful time! Spokane in the fall is one of our favorite seasons, and there are so many things to do! Must do fall activities in Spokane include:
If you want to see just a little peek of what Spokane looks like in the fall, take a look at the photos below.
You can also watch our video, all about fall in Spokane, here: Your Guide to Fall in Spokane
Visit Green Bluff in the Fall
It goes without saying that a visit to Green Bluff is a 'must do'… and must eat and must see! I've covered what you should do at Green Bluff if you only have an afternoon to spend, but you could spend hours upon hours visiting all the family farms, apple- and pumpkin-picking, visiting goats, drinking cider, and more.
Watch our video all about Green Bluff in the fall below! Your Guide to Green Bluff in the Fall
Truly, fall is the time to visit Green Bluff. It's great in the summer, but it really picks up in the fall and even a bit in the winter. Many places in Green Bluff, including High Country Orchard and Beck's Harvest House serve breakfast and lunch, so it's easy to plan a whole day on the Bluff.
Some highlights include:
Tons of fresh produce, including apples, peaches, squash and pumpkins at High Country Orchard every weekend in October, and most weekends in September. You can enjoy their fall vendor fair during this time as well!
Fall festivities at Knapp's U-Pick farm – Enjoy a host of fall fun every week at Knapp's on Green Bluff. In addition to their multi-acre pumpkin patch, they'll also have a children's straw bale maze, a scarecrow-makin-station, pumpkin cannon and more! Learn more about dates and times on their website here.
Sunset Orchard on Green Bluff – You can't miss Sunset Orchard on Green Bluff, which typically holds a fall festival on weekends in September and throughout October. For hours and days, visit their website.
Get your 'world famous' pumpkin donuts from Beck's Harvest House this fall! Seriously, Beck's always has a ton going on and it's so centrally located in Green Bluff, it's a don't miss! During the Fall Festival, you will be able to get pumpkin donuts from 10 AM – 5 PM on the weekends, and from 10 AM – 12 PM on Fridays. You will need to make a reservation for Beck's Fall Festival. At the Fall Festival, you'll find local food trucks, a giant corn maze, pumpkin land and more!
Do you LOVE apples? You probably should if you live in Spokane! Walter's Fruit Ranch (one of my favorites) hosts a Fall Festival until October 31, and Walter's has a ton of apples! This year, enjoy apple and pumpkin picking, the Press Plate Bar, live music, wiggle worm rides and so much more! You'll need to make reservations for Walter's.
Siemer's Farm – Siemer's is having an exciting Fall Harvest Festival this year, which lasts from September 23 to October 29, Saturdays and Sundays from 10 am to 6 pm. There, you'll enjoy pumpkin picking, bouncy castles, mazes and more! You will also need to purchase a wristband ahead of time.
The Farmhouse on Green Bluff – The adorable Farmhouse on Green Bluff is hosting a Fall Festival (September 24 – October 29, Sundays only from 12 pm to 5 pm). At the Fall Festival, enjoy live music, pumpkin donuts, wine/beer/seltzer, dog park, and more!
Finally, if you really love local produce during the fall, you definitely want to visit Eleven Acres Farm. You can find all of their produce listed on their Today's Produce page, and just trust me when I say they offer a lot of squash!
Spooky Fun in Spokane
We've covered some of the best haunted houses (and scary stories) around Spokane, but there is even more you can do to get into a spooky frame of mind!
Possibly the most frightful place to observe the Halloween season, Silverwood Theme Park in Idaho transforms into Scarywood at night. Scarywood is back for 2023! Buy your tickets online to save a few bucks, and remember: Scarywood ends on October 28 and reverts back to traditional Silverwood, so go sooner rather than later!
Not sure if Scarywood is too scary for you? Take a look at this video footage of Scarywood from 2017:
Want to get away from Spokane for haunted fun? We've rounded up some of the best ghost towns in Washington!
Fall Colors in Spokane
Almost anywhere you go in Spokane during the fall is going to be beautiful, particularly if you're able to go up to the South Hill or 5 Mile, where you'll climb the hills and look down at all the lovely, changing colors and fall leaves. But if you really want some to see fall colors around Washington state, especially Spokane, you won't want to miss:
According to this interactive fall foliage prediction map, we can expect Spokane to see peak fall colors around October 3-10th, so head out then!
Pumpkin Patches in Spokane
If you're looking for amazing pumpkin patches in Spokane to get fun fall photos or to pick out your perfect Halloween pumpkin, there's no better place to go than Green Bluff. Some of our top recommendations for pumpkin patches in Spokane include:
Eleven Acres
Sunset Orchard
Knapp's Farm
If you're looking for even more pumpkin patches a little outside of Spokane, you have options! Prairie Home Farm in Coeur d'Alene has you covered with their fun pumpkin patch. Simply grab a wagon and head to the patch! In addition to the pumpkin patch, Prairie Home Farm also has family photo ops with old time tractors, sunflowers, and a picture station!
Looking for more pumpkin patches around Washington state? Check out our article: 22 Pumpkin Patches in Washington State
Corn Mazes around Spokane
This year, visit the corn maze at Beck's! For the 2022 Fall Festival, Beck's is hosting a giant corn maze that you can enjoy on the weekends.
Head up to Colville to enjoy a 12 acre corn maze, pick pumpkins, and enjoy local produce! The Colville Corn Maze will be open until October 31.
Knapp's U-Pick Farm will also have a straw bale maze during its Fall Festivities in October.
As you can see, there is so much to do in and around Spokane in the fall! Spokane in the fall is gorgeous and, in my opinion, the best time to visit Spokane. Gonzaga actually holds its Fall Family Weekend during the most gorgeous time of the year in Spokane (fall), so if you're visiting for that, make sure to bookmark this page and enjoy everything Spokane has to offer!
Winter Activities in Spokane
When it's cold outside, you might think Spokane shuts down… but that couldn't be further from the truth! The winter season in Spokane is a big deal, and as such, there are many things to do during the winter time of year.
Some of the best winter activities in Spokane to enjoy include:
Downhill Skiing: Enjoy the thrill of skiing at Mt. Spokane Ski and Snowboard Park, with 52 runs and night skiing options. Children's Choice Tubing Hill is perfect for family fun.
Ice Skating: Experience the unique Numerica Skate Ribbon at Riverfront Park, offering a 650-foot long ice skating route. Don't miss the festive atmosphere during the holiday season.
Cross Country Skiing: Riverside State Park and Indian Canyon provide cross country skiing trails for beginners and experienced skiers.
Snowboarding: Mt. Spokane Ski and Snowboard Park offers four terrain parks with rails, jumps, and natural features.
Snowshoeing: Explore the scenic trails at Mt. Spokane Ski and Snowboard Park or Newman Lake at McKenzie Conservation Area.
Discover the best winter activities in Spokane and make the most of the snowy season! Whether you're a skiing enthusiast, an ice skater, or enjoy the tranquility of snowshoeing, Spokane has something for everyone. Embrace the winter wonderland and create unforgettable memories.
Free Things to Do in Spokane | Fun Things to Do in Spokane with Kids
Looking for fun and free things to do in Spokane? Lucky for you, Spokane is a great place to enjoy free activities, from walking the Spokane river, visiting the Japanese garden, enjoying splash pads and much more! Plus, many of these free Spokane activities are fun to do with kids, too! If you're looking for a place to go in the summer with kids, check out these free things to do.
The Best Free Things to Do in Spokane
Centennial Trail
Spokane Falls
Riverfront Park
Huntington Park
Sculpture Walk
Heritage Walk
Free art galleries
First Friday
Parks
Spokane Falls
If you love water, nature, and free views, you won't want to miss Spokane Falls. Have you ever seen photographs or postcards of Spokane? Chances are, the Spokane Falls are in them – Spokane Falls is the pride and joy of Spokane!
Spokane Falls consists of the Upper and Lower Falls. The Upper Falls is the site of the Upper Falls Dam and Power Plant. The Lower Falls is the site of a second dam, the Monroe Street Dam. A gondola ride will cost you some money, but walking around the falls and enjoying the sights and sounds are absolutely free.
Huntington Park
While few people may know the actual name of the park in downtown Spokane (along the Falls), chances are you've seen and possibly walked around this park! Huntington Park, located between City Hall and the Washington Water Power building (home of Mobius Science Center) was recently renovated. Huntington Park connects to Riverfront Park and has stunning views of the Lower Falls, with a 360 degree overlook walk way.
In addition to the views, Huntington Park now boasts a new grassy area, art pieces and interpretive exhibits. If you want to really enjoy the roaring falls, be sure to visit Huntington Park between March-May. Of course, any time is a good time to visit Spokane – it's beautiful all year round!
Centennial Trail
One of my absolute favorite things to do for free in Spokane is walk the Centennial Trail. Centennial Trail is a nearly 40-mile paved recreational trail for pedestrians and non-motorized vehicles (bikes, non-motorized scooters, etc.). It's a National Recreational Trail, and it stretches from Sontag Park in Nine Mile Fills to the Washington/Idaho state line.
Centennial Trail extends for another 24 miles beyond the Washington state border into Idaho as the North Idaho Centennial Trail, through Post Falls and into Coeur d'Alene.
Centennial Trail also connects Gonzaga to downtown Spokane, so if you're a student (or visiting parent/friend), you can easily park at Gonzaga and walk into downtown. It's a leisurely, fairly short and safe walk – and 100% free!
Spokane Sculpture walk is a guide to sculptures in Riverfront Park and along Centennial Trail. The Sculpture Walk begins on Washington State University's downtown campus and ends on the southeast corner of the Monroe Street Bridge.
The Heritage Walk is a free downtown walking tour that explains the history of the mountain northwest. This self-guided tour goes through many gorgeous historic buildings, homes and monuments. You can click on the link above to learn more or visit the downtown Spokane information center to pick up a printed brochure.
Free Art Galleries in Spokane
The Jundt Art Museum is a gem located on the Gonzaga campus! The Jundt Art Museum houses Gonzaga's growing permanent collection of almost 5,000 objects and also showcases temporary art exhibitions. Throughout the year, the Museum showcases work by local, regional, national and international artists.
Gonzaga's collection includes work by:
Rembrandt
Goya
Delacroix
Rodin
Picasso
Chihuly (no need to visit Seattle!)
Warhol and more
Chase Gallery
The Chase Gallery is located on the lower level of Spokane City Hall. The Gallery is free and open while City Hall is open, generally Monday through Friday from 8 am to 5 pm (closed holidays). You can also visit the Gallery during First Friday from 4 to 7 pm.
First Friday
On the First Friday of every month, venues around Spokane open up for an evening of art and live music. First Friday is the perfect opportunity to try new places, or just enjoy all of the free music and art while soaking in the sun and great weather!
Farmers' Markets
Much like Green Bluff, you might not be able to get away from the farmers' markets around here without buying anything (I know I certainly can't leave without at least a drink in the hot summer months!) but the farmers' markets are all free to attend! Read more about farmers markets around Spokane.
Spokane Parks
There are so many amazing parks in and around Spokane, it will take you several days to enjoy them all! Some of our favorites include:
During the summer, many local Spokane parks also offer free splash pads – fun for kids and parents alike! You can find a full list of Spokane park splash pads here.
Free Things to Do Around Spokane
Green Bluff is absolutely one of my favorite places to visit in Spokane! Green Bluff is the perfect place to visit with friends, family and out of town guests. While you probably won't be able to resist buying any local produce, pies, or donuts (seriously, try the pumpkin donuts from Beck's!), there's plenty to do and see at Green Bluff for free.
Green Bluff is located about 15 minutes north of Spokane at the foothills of Mt. Spokane. Green Bluff is broken into two loops, the East and West loop, and farms offer a wide variety of fruits, vegetables (U Pick and they pick!) plus pies, wines, and more.
The Spokane City Drive is a self-guided driving tour highlighting many of the city's most unique spots! Your tour begins at Riverfront Park and goes through the arts district, Browne's Addition, South Hill, Riverside State Park and more.
Hiking Trails Around Spokane
Looking for more of a challenge after walking Centennial Trail? Well, you're in luck, because there are plenty of free trails of varying difficulty all around Spokane! Some of our favorites include:
Get our full list of beginner to intermediate hikes around Spokane.
Free Events at the Spokane Public Library
There are so many free and fun events at the library, it deserves its own section! No matter which library is closest to you, you'll find fun, free entertainment. Everything from movie nights to origami to escape rooms – it's all free!
Check out the full calendar of events near you here.